TGI Friday's Nine Layer Dip – it has become the standard dip for game watching, parties, and much more. This is bean dip brought to a new level: refried beans, bacon, cheese, taco seasoning, tomatoes, green onions, and so much more. This is easy to put together and has all of the best ingredients that Mexican food has to offer.

Make this TGI Friday menu item for your next party
The TGI Friday's Nine Layer Dip is one of the menu items that really put TGI Friday's on the map. Can you go to a party nowadays without there being a layered bean dip any more? No. I think this is a standard appetizer that everyone loves to serve.
What makes this dish extra special? I think is it is seasoning of the beans with taco seasoning. This careful step of seasoning the beans during the preparation is really key to making this dish taste extra amazing.

The ingredients in this recipe are very common and easy to find, you will want to add refried beans, taco seasoning, guacamole, sour cream, chopped tomatoes, cilantro, shredded cheese, black olives, bacon, and green onions.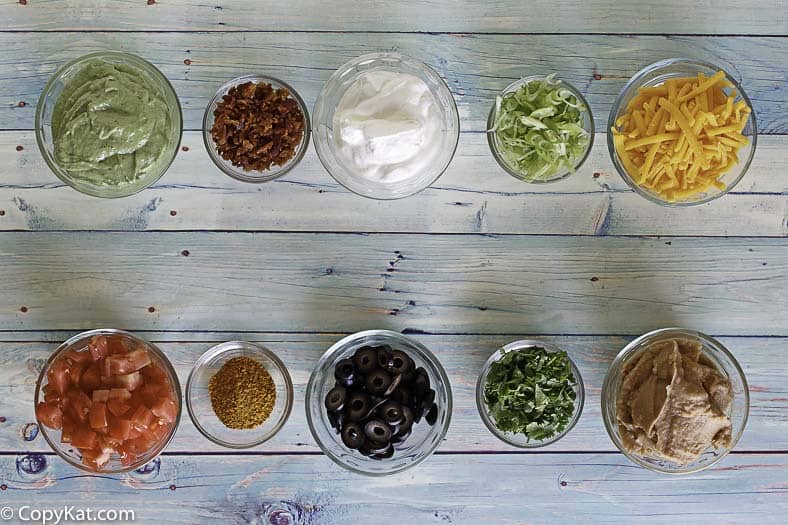 Now if you want to lighten up the recipe, you may want to substitute the sour cream for a light sour cream. You could also use fat-free refried beans and a low-fat cheddar cheese. If you want to make it Vegan, you can use vegan-friendly "sour cream", and "cheese", and you an omit the bacon. So this recipe is very flexible.
There is no reason why you need to buy this multi-layer dip at the store, you can make it at home, and enjoy a wonderful fresh layer dip.
Try more TGI Friday's Copycat Recipes
TGI Fridady's Fire Bites
Baked Potato Skins
One Hour in the Candy Store
TGI Friday's Nine Layer Dip
The TGI Friday's Nine Layer Dip is can be made at home.
Ingredients
2

strips

lean bacon

16

ounces

refried beans

1/2

cup

sour cream

1/2

teaspoon

taco seasoning

3/4

cup

cheddar cheese

shredded

3/4

cup

guacamole

1/3

cup

tomatoes

diced

1

tablespoon

cilantro

choped

2

tablespoons

black olives

sliced

2

tablespoons

green onions

sliced
Instructions
Fry diced bacon until done; add refried beans and cook slowly, stirring frequently until the bacon and bacon drippings are mixed through (about 15 minutes). Remove from heat and set aside. Mix taco seasoning with sour cream and set aside.To built 9 layer dip, place ingredients in this order:Refried beans, placed on a serving platter and spread out to 1ñ1 1/2 inches thick. shredded cheese prepared sour cream/taco seasoning guacamole diced tomatoes diced cilantro black olives sliced green onion 1/4 cup cheese for garnish, if desiredServe with crisp corn chips and a very cold beverage of choice. Makes a great snack or light lunch.
Nutrition Facts
TGI Friday's Nine Layer Dip
Amount Per Serving
Calories 120
Calories from Fat 72
% Daily Value*
Total Fat 8g 12%
Cholesterol 14mg 5%
Sodium 353mg 15%
Potassium 127mg 4%
Total Carbohydrates 7g 2%
Protein 4g 8%
* Percent Daily Values are based on a 2000 calorie diet.
Last Updated on