Carrabbas Mussels in White Wine Sauce is an appetizer you can easily recreate at home.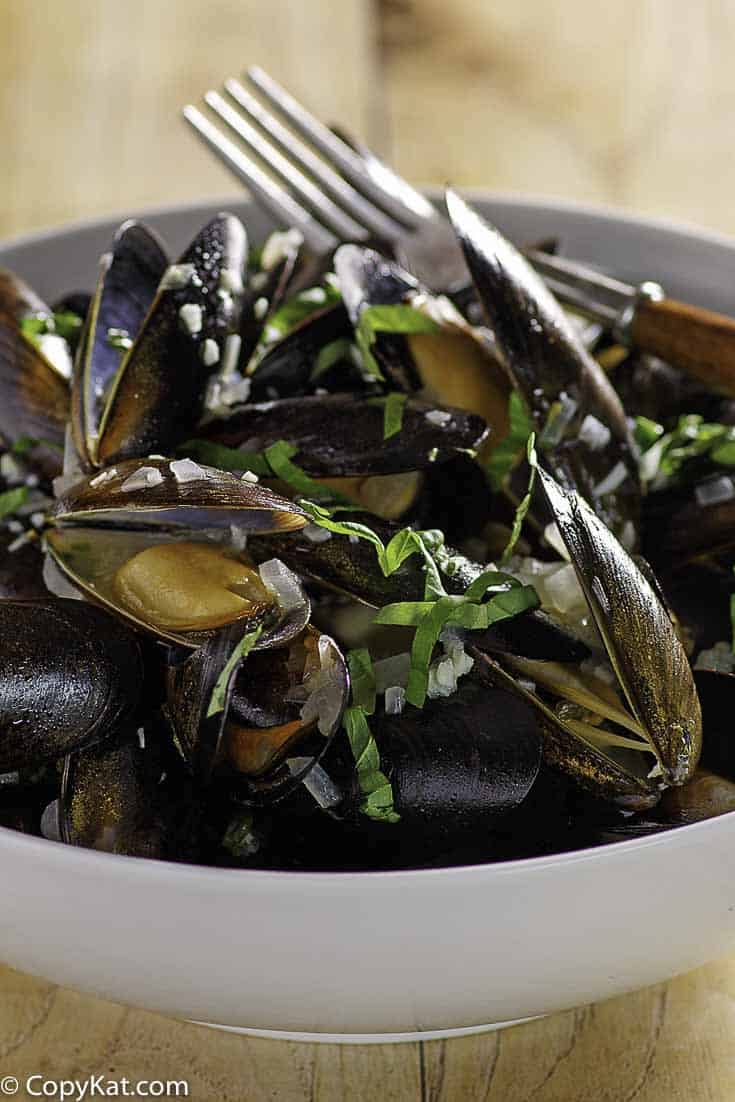 One of Carrabbas most famous menu items is their mussels in white wine sauce. You can make these at home they are easy to make. Mussels are sold in many large grocery stores. The ingredients for this dish are easy to find your local grocery store.
How to Select Fresh Mussels
Mussels are a critical part of this dish. There are a few tips for selecting mussels. Mussels should be sold in mesh bags, or loose on the ice, or in a highly chilled environment. They should smell like the ocean. Mussels should be moist and not dried out when you purchase them. From my days in working in the grocery store business I learned the seafood department should smell like the ocean, not spoiled fish.
When you purchase your mussels you should remove them from the wire mesh, and place in a bowl. You should place a damp towel or paper towel over them. They should be cooked within a day or two. If any water collects at the bowl it should be discarded daily.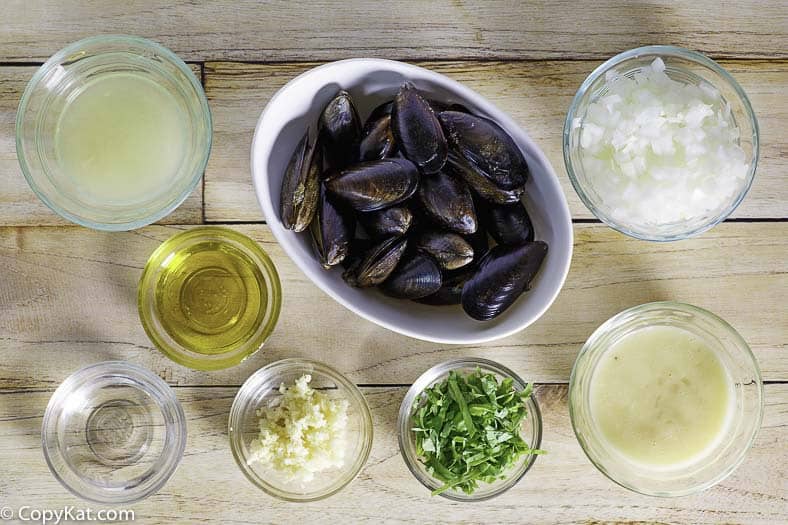 Carrabbas Mussels with White Wine Sauce can be used as an appetizer or a main dish. If you enjoy this appetizer you may enjoy these other copycat recipes from Carrabbas.
Carrabbas Chicken Bryan
Carrabbas Italian Butter
Carrabbas Sausage and Lentil Soup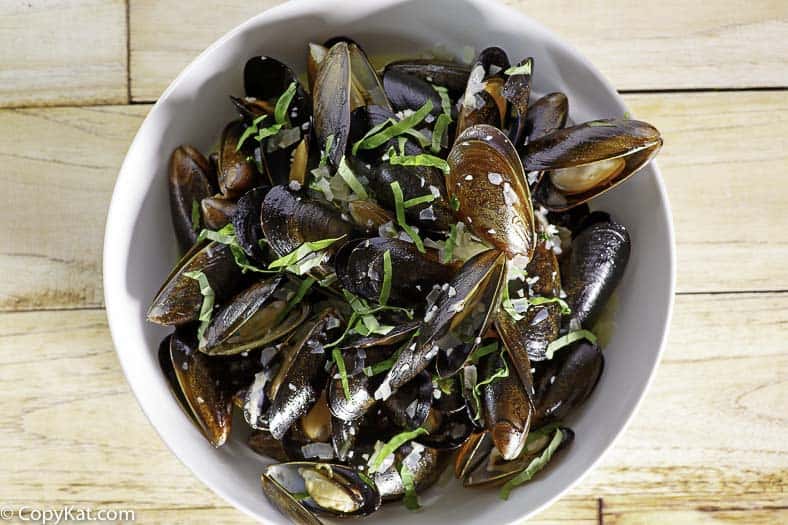 Source San Antonio Express News. Carrabba's Italian Grill is a popular chain of restaurants many are found in Texas. Their fare is similar to Macaroni Grill.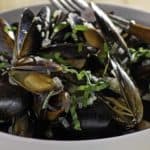 Carrabbas Mussels in White Wine Sauce
You can make Carrabbas Mussels in White Wine Sauce at home.
Ingredients
4

cups

mussels

2

tablespoons

extra-virgin olive oil

2

tablespoons

chopped yellow onion

2

tablespoons

chopped garlic

2

tablespoons

pernod (licorice- flavored liqueur from France)

1

to

2 tablespoon chopped fresh basil

2

tablespoons

lemon juice
Lemon Butter Sauce
2

tablespoons

clarified butter

start with 4 ounces

2

tablespoons

garlic

chopped

2

tablespoons

onion

chopped

6

talblespoons

lemon juice

2

tablespoons

dry white wine
Instructions
Soak mussels in cold water for several minutes, then scrub with a stiff brush and remove "beard" (the little tuft of fibers protruding from the shell), either with a sharp knife or by pulling on it with a damp cloth. Rinse mussels again in cold water. Heat olive oil in a 10-inch skillet; add mussels. Cover with another 10-inch skillet or lid and cook until shells begin to open, about 2 minutes. Remove top and add onion and garlic and toss. Cover pan again and cook for 1 minute. Remove top and add Pernod, basil, lemon juice and lemon butter sauce. Return to flame for 30 to 45 seconds with top off skillet. Discard any mussels that did not open. Serve in a deep bowl. LEMON Simmer 2 to 3 minutes to reduce liquid. Remove from heat and swirl in cold butter until sauce is smooth and emulsified.
Butter Sauce Recipes
BUTTER SAUCE: 2 tablespoons clarified butter (you'll need about 1/2 stick butter; directions follow) 2 tablespoons finely chopped yellow onion 2 tablespoons finely chopped garlic 6 tablespoons fresh lemon juice 2 tablespoons dry white wine Kosher salt White pepper 2 tablespoons cold butter To clarify butter: Melt 1/2 stick butter over low heat. When melted, remove from heat and set aside for several minutes to allow the milk solids to settle to the bottom. Skim the clear (clarified) butter from the top and discard sediment. (This can be done ahead.) To make sauce: Heat clarified butter, add onion and garlic and saute until transparent. Add lemon juice and white wine and season to taste with salt and pepper.
Nutrition Facts
Carrabbas Mussels in White Wine Sauce
Amount Per Serving
Calories 237
Calories from Fat 144
% Daily Value*
Total Fat 16g 25%
Cholesterol 40mg 13%
Sodium 221mg 9%
Potassium 276mg 8%
Total Carbohydrates 7g 2%
Protein 9g 18%
* Percent Daily Values are based on a 2000 calorie diet.