Olive Garden Florentine Lasagna is a spinach and mushroom based lasagna.  You can either do this one with a marina or even an Alfredo sauce. If you are looking for a meatless meal this makes a hearty meal, and is likely to please even the meat lovers.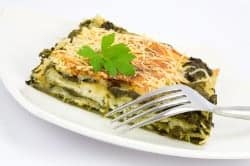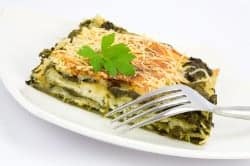 Olive Garden Florentine Lasagna
Looking for more of your Olive Garden favorites, we have many other Olive Garden Recipes at CopyKat.com.
Olive Garden Florentine Lasagna
Author:

CopyKat.com

Recipe Type:

CopycatRestaurant Recipes, CopyKat Recipes, Main dish Recipes, Pasta Recipes

Prep time:

25 minutes

Cook time:

1 hour

Serves:

8
This is a tasty meatless meal, the whole family will enjoy!
Ingredients
1 pound fresh spinach

1 pound coarsely chopped fresh mushrooms

1 cup chopped onion

2 cloves minced garlic

2 tablespoons olive oil

3 cups Ricotta cheese

1 and 2/3 cups Parmesan cheese divided

1 egg

1/2 teaspoon salt

1/2 teaspoon black pepper

3/4 teaspoon dried basil

3/4 teaspoon dried oregano

16 lasagna noodles

4 and 1/2 cups shredded mozzarella cheese

marinara sauce or tomato-cream sauce as desired

extra Parmesan cheese
Directions
Steam spinach until tender; press out excess moisture and chop coarsely. Cook mushrooms, onions and minced garlic over medium-high heat until onions are tender; drain excess liquid and cool. Mix ricotta cheese, 2/3 cup Parmesan, egg, salt, pepper, basil and oregano in large bowl. Add cooled spinach and mushroom-onion mixture and mix on low speed until just blended. Cook lasagna according to package directions; rinse under cool water and drain thoroughly. Place four lasagna strips in bottom of lightly oiled 9 by 13 inch pan, overlapping slightly. Top with 2 cups of spinach filling.
Sprinkle with 1 and 1/2 cup shredded cheese and 1/3 cup Parmesan. Repeat layering two more times and top with remaining four lasagna strips. Spread 1 cup of marinara or tomato-cream sauce over top and cover tightly with foil. Preheat oven to 350 degrees and bake, covered, for 1 hour. Remove from oven and keep warm at least 30 minutes before cutting. Top with extra Parmesan cheese. (Can be refrigerated for a day in advance of baking if desired.)
Print Recipe