Cracker Barrel Hash Brown Casserole is a favorite recipe of many people who go to the Cracker Barrel Old Country Store.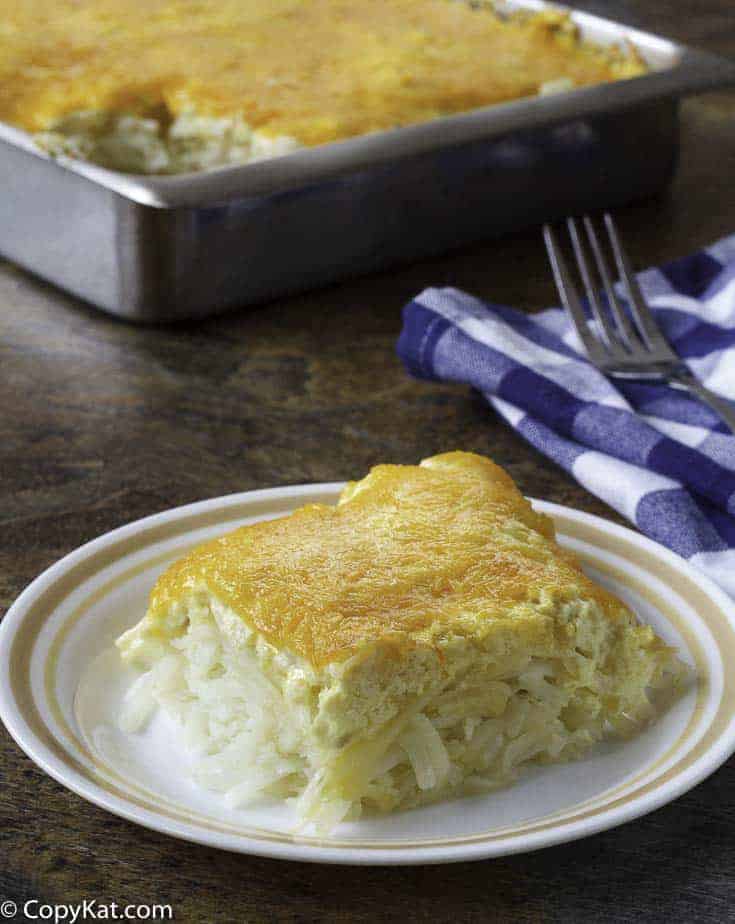 They often go just for the Cracker Barrel hash brown casserole. I can't go to the Cracker Barrel without ordering it! This casserole is rich with cheese, a touch of sour cream, onions, and more. You don't have to leave home to have a taste of the Cracker Barrel hash brown casserole, which is a special breakfast treat. but one of the best things about the Cracker Barrel hash brown casserole is you can serve it for any meal. I really like this for lunch or dinner, too. One thing is for certain: now you won't wonder how to make the Cracker Barrel Hash Brown casserole anymore!
Cracker Barrel Hashbrown Casserole
If you like Cracker Barrel recipes, you may want to try some of these.
Cracker Barrel Mushroom Braised Pot Roast
Cracker Barrel Sunday Chicken
Cracker Barrel Broccoli Cheddar Chicken
Cracker Barrel Hash Brown Casserole
Author:

CopyKat Recipes

Recipe Type:

Side Dish

Prep time:

10 minutes

Cook time:

45 minutes

Serves:

10
This classic casserole is one of our favorite recipes at CopyKat.com. You don't even need to be an experienced cook to make this dish—it is easy.
Ingredients
Nonstick cooking spray

1 (2-pound) package frozen hash browns, thawed

Salt and pepper

1/4 pound (1 stick) margarine or butter

1/2 cup minced onion

1 (8-ounce) container sour cream

1 (10.75-ounce) can condensed cream of chicken soup

2 cups shredded Colby cheese (I prefer sharp cheddar)
Directions
Preheat the oven to 350 degrees F. Grease a 9 x 13-inch baking pan. Spread the potatoes in the pan. Season with salt and pepper. Melt the butter in a medium bowl in the microwave. Add the onions, sour cream, and soup and mix together. Pour the soup mixture over potatoes. Sprinkle with the cheese. Bake for 45 minutes, or until all is completely warm and the cheese begins to melt.
Print Recipe