Thanks to Nancy Berry for this wonderful submission! If you like cookie recipes don't forget to check out Fields Best Cookie Book Ever!: 130 Delicious Cookie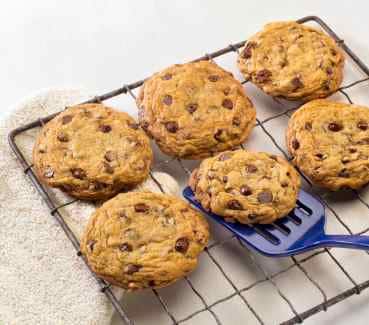 Double Tree Chocolate Chip Cookies
Double Tree Hotel Chocolate Chip Cookies
Author:

CopyKat.com

Recipe Type:

Cookie Recipes, CopyKat Recipes, Dessert Recipes

Prep time:

10 minutes

Cook time:

15 minutes

Serves:

10
These are the tastiest cookies ever!
Ingredients
1 1/2 cup butter -- softened

1 1/2 cup granulated sugar

3/4 cup firmly packed brown sugar

4 eggs

2 1/2 teaspoon Vanilla

1 teaspoon lemon juice

3 cup all-purpose flour

3/4 cup old-fashioned oatmeal -- uncooked

3/4 teaspoon Baking Soda

1 teaspoon Salt

1/4 teaspoon Ground Cinnamon

3 cup Semi-Sweet Chocolate Chips -- Ghirardelli

1 1/2 cup chopped walnuts
Directions
Preheat oven to 375 degrees. Line baking sheets with parchment paper. Place the butter in a large bowl and cream lightly with an electric mixer. Add the sugars and beat on medium speed for about 2 minutes. Add the eggs, one at a time, beating well after each addition. Add the vanilla and lemon juice and mix well. In a separate bowl, stir together the flour, oatmeal, baking soda, salt and cinnamon. Add to the creamed butter mixture and stir well to blend. Add chocolate chips and walnuts and stir to combine. Using a 1/4 cup measure or a 2-oz ice cream scoop, drop the batter on the parchment-lined pans, leaving 2 -3 inches between each cookie. Bake for 13 - 15 minutes or until lightly browned around the edges. Remove from parchment and cool on wire racks.
Yield: approximately 4 dozen
Print Recipe