This is a delightful marinade to dress up chicken. Garlic, apple juice and more make this extra special.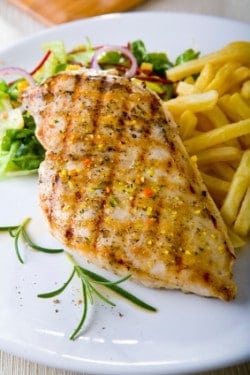 Bill Knapp's Chicken Marinade
Bill Knapp's Chicken Marinade
Author:

CopyKat.com

Recipe Type:

Chicken Recipes, CopyKat Restaurant Recipes, CopyKat Recipes, Main dish Recipes

Prep time:

10 minutes

Cook time:

20 minutes

Serves:

1
This gives a wonderful flavor to chicken!
Ingredients
1/2 cup Honey

1/2 cup Apple juice

2 teaspoon Garlic Powder

1/2 teaspoon ground Ginger

2/3 cup Soy Sauce

1/2 cup Cider vinegar

2/3 cup Vegetable. oil
Directions
Mix all together in a blender and let chicken set over night in fridge. You may want to grill, or bake. To grill this remove chicken from marinade, let the marinade drip off. Cook in a medium high heat pan with little oil. To bake, remove chicken from marinade, set chicken in a baking dish, and bake at a 350-degree oven for 15 to 20 minutes, or until done.
Print Recipe