Please note this is for the glaze only. You will get a wonderful quality of glaze, but we can not duplicate the actual ham.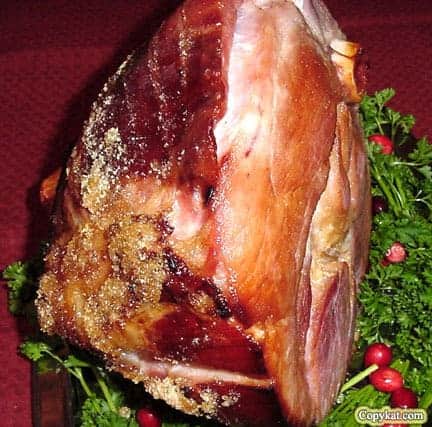 Logan Farms Honey Glaze
Logan Farms Honey Glaze
Author:

CopyKat.com

Recipe Type:

CopyKat Restaurant Recipes, CopyKat Recipes, Dips/Sauces, Main dish Recipes, Meat Recipes

Prep time:

10 minutes

Cook time:

10 minutes

Serves:

1
This glaze is wonderfully tasty!
Ingredients
10 pound Precooked or Partial Cooked Ham

1/2 cup Honey

1/8 teaspoon Ground Allspice

1/2 - 3/4 pound Unrefined Sugar (not granulated sugar)
Directions
Cut 1/8" deep strips through ham skin, about 1/4" apart. This step may be omitted if the ham is a spiral cut ham. Mix the spices with honey. If you are using a 1/2 of ham place the sliced side down on the baking tray. Pour the honey mixture over the ham, making sure that is covered completely. Place ham in the refrigerator uncovered for two hours. When time is up remove ham from refrigerator and pat excess moisture and cover with unrefined sugar. Place back in refrigerator for half an hour while oven is preheating. Bake ham uncovered at 325 - 350 degrees according to directions if partial cooked or bake until heated through.
This glaze is very different and will give that ham dinner a time to remember.
Print Recipe