Natasha's Cafe generously submitted this. This is a filling vegetarian soup that tastes delicious and gets better the second day.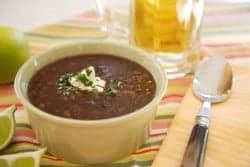 Natasha's Cafe Black Bean Soup
Natasha's Cafe Black Bean Soup
Author:

CopyKat.com

Recipe Type:

Copycat Restaurant Recipes, CopyKat Recipes, Soup Recipes

Prep time:

10 minutes

Cook time:

10 minutes

Serves:

1
This soup is very tasty!
Ingredients
4 cup Dry Black Beans

8 cup water

2 carrots, sliced

4 stalks celery, sliced

2 onions, diced

2 green peppers, diced

4 tomatoes, blanched, skinned and chopped

5 cloves garlic, crushed

1 teaspoon red wine vinegar

Basil, Oregano, and Thyme
Directions
Soak dried black beans in water overnight, rinse and cover with 1 quart of water in large pot or kettle. Cook over medium heat until tender. Add water as needed to maintain 1o water level. Add sliced carrots, celery and vinegar (optional). Saute onions and green peppers and garlic in wok until browned. Add to pot. Add tomatoes and cook until carrots are tender. Add salt, pepper and spices to taste. Garnish with a dab of sour cream.
Print Recipe