Sweet Tomatoes is a great salad bar and more restaurant. Everything is made fresh daily. This version of clam chowder features a nice Rosemary flavor, its unexpected, but really enhances the soup.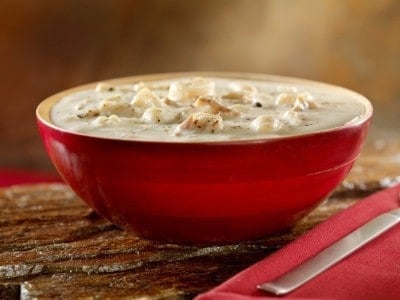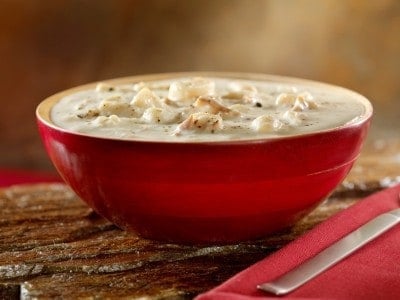 Sweet Tomatoes Clam Chowder
Sweet Tomatoes Clam Chowder
Author:

CopyKat.com

Recipe Type:

Copycat Restaurant Recipes, CopyKat Recipes, Favorite Recipes, Soup Recipes

Prep time:

10 minutes

Cook time:

30 minutes

Serves:

4
This clam chowder is very tasty!
Ingredients
3 Slices Lean Bacon (diced)

1/2 cup Diced Onion

2 cup Scaled Whole Milk

2 cup Potatoes Cut Julienne Style

1/2 cup Half and Half

1/4 teaspoon Thyme Leaves

1/4 teaspoon Finally Diced Fresh Rosemary

1/2 teaspoon Celery Salt

1/4 teaspoon Sugar

1 6 ounces Can of Minced Clams
Directions
Cook potatoes until they are done but firm. Drain water off and set aside. Place 1 1/2 Cups milk and half and half into a saucepan on medium temperature and heat just until it starts to boil. Immediately remove from stove and set aside. Scalding milk will help prevent it from curdling. When the potatoes have cooked cut into large Julianne slices.
In large pan fry bacon on medium high temperature to render grease from bacon and when done carefully take bacon from pan and leave grease. Place onions in bacon drippings and saute until clear. Add scalded milk, cooked potatoes, clams with juice, and seasonings. Bring to a slow simmer and stir occasionally, cook for 25 - 30 minutes. Chowder may be thicken now by adding flour to 1/2 cup of milk mixing well and slowly adding to chowder and stirring constantly until thick as desired and creamy.
Print Recipe