Houston's Artichoke Spinach Dip is a more complex spinach dip than most that you may have tried.  This appetizer has become my go to dish for large parties, and gatherings.  This recipe has multiple cheeses and a hint of garlic to make this artichoke spinach dip extra tasty.  We hope you enjoy this version.  Houston's Artichoke Spinach Dip has to be one of my favorite artichoke spinach dips, it is full of flavor, and this is one of the most popular recipes at CopyKat.com.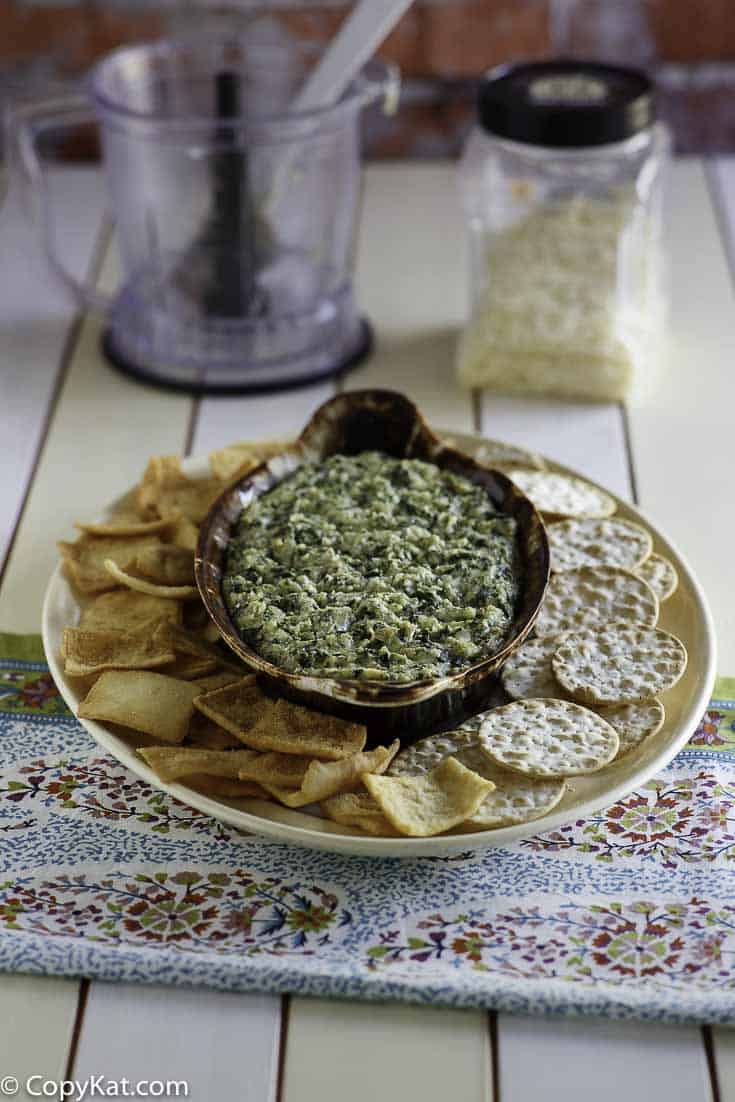 Houston's Artichoke Spinach Dip
I have to confess I think that I love most anything that Houston's offers. Houston's is an upscale American dining experience. I have never been disappointed with anything on their menu. While I love to dine there, it can be more expensive than many other restaurants that are out there.
This spinach dip is served piping hot at the table, I know you will love this treat. It is made with frozen spinach, artichokes, and several different types of cheese. You are going to love this flavor combination. Be sure to serve this dip with plenty of corn tortilla chips.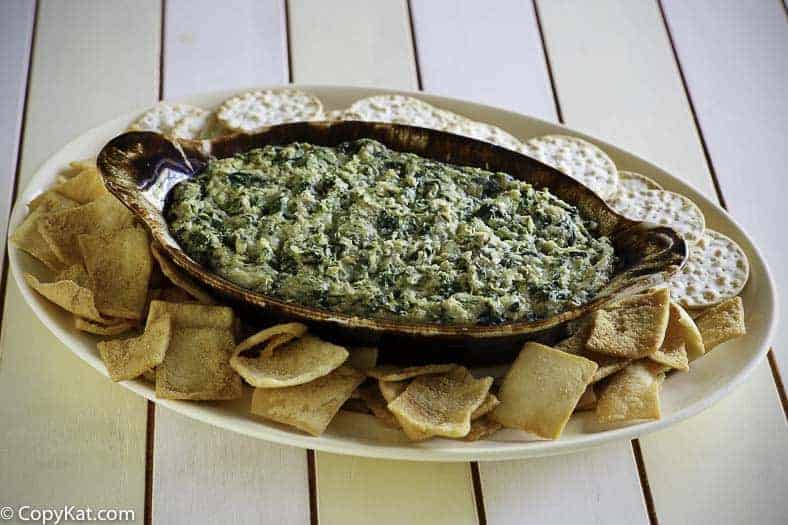 Houston's Artichoke Spinach Dip
Author:

CopyKat Recipes

Recipe Type:

Appetizer, copy cat recipe,

Prep time:

10 minutes

Cook time:

35 minutes

Serves:

8
This dip is beyond tasty! It is a hit at every party I make it for!
Ingredients
1 (6.25 ounce) jar marinated artichokes (drained)

1 (10 ounce) package frozen chopped spinach (thawed and drained very well)

1/2 teaspoon minced garlic

1/3 cup freshly grated romano cheese

1/4 cup Freshly grated parmesan cheese

1 cup shredded mozzarella cheese

1/3 cup heavy cream or half and half

1/2 cup sour cream
Directions
In food processor blend artichokes, Romano cheese, garlic and Parmesan cheese for about 1 - 1 1/2 minutes. Artichokes and cheeses should be minced, but should not be pasty.
In a mixing bowl add drained spinach, cream, sour cream, mozzarella, stir well. Spoon into mixing bowl mixture from food processor. Blend all ingredients. Mixture should have a medium thick consistency. Spray an oven proof shallow serving dish. Pour artichoke mixture into baking dish and bake for 20 - 25 minutes at 350 degrees.
Artichoke dip should be a little bubbly and cheese melted through. Remove from oven and serve with your favorite heated tortilla chips, sour cream and salsa and enjoy.
Print Recipe
This is the perfect dish for a party.  You can make this ahead dish before serving, and store it pre-made in your refrigerator for a few days.  This heats up very well, and can be popped into the oven just before when you need to serve up this dish.