Marina Cafe Seafood Bisque has to be one of the best seafood bisques I have have tried, packed with crab, shrimp, fish, and so much more, this will make your mate so happy. The Marina Cafe is located in Destin Florida. Fellow viewer Jill sent in this wonderful bisque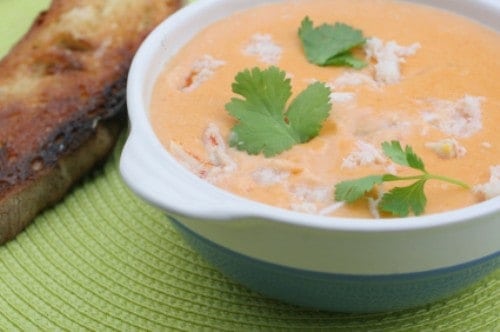 Marina Cafe Seafood Bisque
Marina Cafe Seafood Bisque
Author:

CopyKat.com

Recipe Type:

Copycat Restaurant Recipes, CopyKat Recipes, Seafood Recipes, Soup Recipes

Prep time:

10 minutes

Cook time:

30 minutes

Serves:

8
This is a wonderful mix of seafood flavors!
Ingredients
1 stick butter

1/2 onion, diced

1 tablespoon garlic, chopped

1/2 stalk celery, diced

1 cup Italian tomatoes, crushed

1/2 cup flour

1/4 cup sherry

1 cup white wine

2 cup heavy cream

1 quart milk

2 ounces scallops

4 ounces shrimp, baby

2 ounces crawfish tails

2 ounces lump crabmeat

1 cup clams, with juice

10 ounces fish, diced

1 teaspoon lemon juice

1/2 bunch green onion, chopped

1 teaspoon paprika

2 tablespoons basil, chopped

Salt, to taste

Black pepper, to taste

Cayenne pepper, to taste
Directions
Melt the butter in a heavy bottom pot and saute onions, garlic, celery, and tomatoes for 10 min. Stir in the flour until all is incorporated. Slowly add sherry, white wine, cream and milk, stirring continuously. Bring to a slow boil. Add all of the seafood ingredients, lemon juice, green onions, and paprika. Bring back to a slow boil. Simmer for 20-30 minutes add the basil and season to taste with salt, black pepper, and cayenne.
Print Recipe