This has been a favorite of many while growing up.  Don't miss this classic dish!
Horn and Hardart Macaroni and Cheese
Horn and Hardart Macaroni and Cheese
Author:

CopyKat.com

Recipe Type:

Copycat Restaurant Recipes, CopyKat Recipes, Pasta Recipes, Side Dish recipes

Prep time:

10 minutes

Cook time:

35 minutes

Serves:

4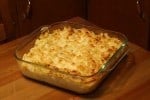 This is a yummy side for any meal!
Ingredients
1 cup Elbow Macaroni - cook according to package directions

1/8 teaspoon Cayenne Pepper

1 1/2 cups Milk

2 tablespoons Light Cream

1 1/2 tablespoons Butter

1/4 cup Canned Tomatoes

1 1/2 tablespoons Flour

1/2 teaspoons Sugar

1 1/2 cups Cheddar Cheese

Salt to taste

White Pepper to taste
Directions
Preheat oven to 400 degrees. Combine milk and cream in a small saucepan and bring to a simmer over moderate heat. While the milk warms, heat the butter in another saucepan over low heat for 1 minute until foaming. Add the flour and cook, stirring for 3 minutes. Pour the hot milk into the butter -- flour mixture and cook, stirring with a wire whisk or wooden spoon for a few minutes, until thickened. Add the cheese to the white sauce, about 1/4 cup at a time. Stirring until the cheese has melted and the sauce is smooth. Add the cayenne, salt and white pepper to taste. Stir the tomatoes and the sugar into the cheese sauce, combine the macaroni and cheese sauce and pour into a buttered casserole dish, Bake for 25 to 30 minutes.
Print Recipe