This is the style of barbeque sauce that I grew up with, this is a two step basting process.  First you baste the meat with a flavorful basting sauce, and when the meat is almost done, then you add the real barbeque sauce.  Recipe comes from Sue A. Mertens Minick from Hazelwood, MO. She actually found this site on the internet! And yes, she is family 🙂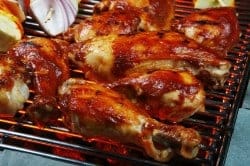 Missouri Style Barbeque Sauce
Missouri Style Barbeque Sauce
Author:

Sue Minick

Recipe Type:

Dips/Sauces, Family Recipes, Meat Recipes

Prep time:

10 minutes

Cook time:

10 minutes

Serves:

8
This is the basting sauce for a Missouri style grilling.
Ingredients
Basting Sauce

1 cup White Vinegar

2 cups Water

2 tablespoons Worcestershire Sauce

1 teaspoon Red Pepper

1/2 cup Butter

Cook until mixed. Use as a baking sauce for chicken or pork steak until nearly cooked. Then use the finishing sauce for the last part of the cooking.

Finishing Sauce

1 1/2 cup Butter

1 tablespoon Tabasco Sauce

2/3 cup Worcestershire Sauce

2 cup Catsup

2/3 cup White Vinegar

1 large onion, diced

1 teaspoon Salt

1/2 teaspoon Pepper

1 Garlic Bud, chopped

2 teaspoon Chili Powder
Directions
Combine all ingredients and cool until slightly thick. Use during the last part of cooking the meat.
Print Recipe