This is a great Jell-O salad. Adding fruit cocktail, and marshmallows takes this simple fruit Jell-O salad to a new level.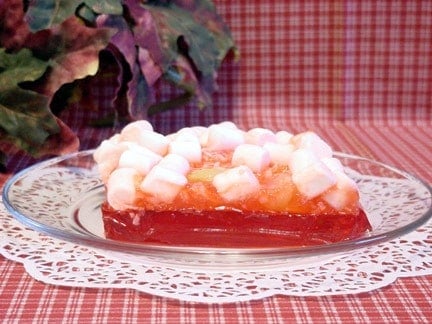 Furr's Cafeteria Fruit Punch Jell-O Salad
Furr's Fruit Punch Jell-O Salad
Author:

CopyKat Recipes

Recipe Type:

Copycat Restaurant Recipes, CopyKat Recipes, Salads Recipes

Prep time:

10 minutes

Cook time:

30 minutes

Serves:

10
Furr's Fruit Punch Jell-O Salad is a favorite of so many kids!
Ingredients
3 packages Mix Fruit Jell-O (3 ounce Package)

3 cups Boiling Water

2 1/2 cups Cold Water

1 Can Fruit Cocktail (14.5 ounce drained)

1 cup Flaked Coconut

1 cup Miniature Marshmallows
Directions
Place Jell-O in a mixing bowl add 3 cups of boiling water, stir to dissolve Jell-O. Place the two and one half cups of cold water in Jell-O and blend thoroughly. Pour one cup of gelatin in small bowl and set aside and do not chill. Place Jell-O in a serving dish or 13" x 9" pan. Chill Jell-O until soft set.
When Jell-O is soft set remove from refrigerator. Place fruit cocktail that has been drained, on top of Jell-O. Sprinkle coconut on top of fruit cocktail place marshmallows on top of all and arrange evenly. Press all very lightly with a spoon. Finally pour the reserved liquid Jell-O mixture on top of marshmallows. Place Jell-O back into the refrigerator until the salad is completely set.
Print Recipe