Old Fashioned meatloaf like mom used to make.  This even has the sauce on top, it's just yummy.  This recipe features a delicious glaze on top of this meatloaf.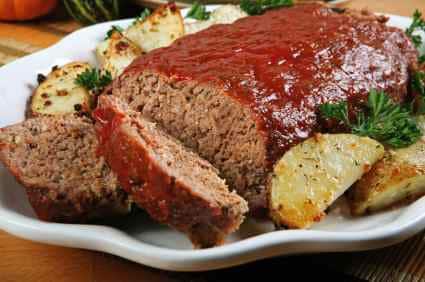 Meatloaf
Monna Joe's Meatloaf
Author:

Dallasblue

Recipe Type:

Main dish Reicpes, Reader's Recipes, CopyKat Recipes, Meat Recipes

Prep time:

10 minutes

Cook time:

1 hour

Serves:

6
You can enjoy this delicious meatloaf complete with a tangy sauce.
Ingredients
2 pounds Ground Beef

2 Eggs

2 teaspoons Thyme Leaves

2 teaspoons Heinz 57 Sauce

1/2 Medium Onion

1/2 Green Bell Pepper

2 Stalks of celery

Salt/Pepper to taste

1 tablespoon Granulated garlic

1 cup Italian Style Bread Crumbs

2 tablespoons Lea & Perrins

1 tablespoon Heinz 57

Glaze

1/2 cup ketchup (I only use Heinz)

1/4 BBQ Sauce
Directions
Preheat oven to 350 degrees. Puree onion, green bell pepper, and celery. In a bowl whisk together eggs, Heinz 57, Lea & Perrins, thyme, salt, pepper, granulated garlic, and pureed vegetables. Mix well. Add ground beef and bread crumbs. Stir to combine.
Shape meat into a loaf and place in a baking dish. Bake for 45 minutes. Remove from oven.
Combine glaze by mixing together ketchup and BBQ sauce. Pour glaze over meatloaf and return meatloaf to the oven for an additional 15 minutes.
Thanks to dallasblue for sharing this recipe.
Print Recipe