If you like and have the time, make the dressing in the morning. The longer it sits, the better it is. Wash your spinach ahead of time. Makes for easy preparation later. You can also do the grilling early. That way, all you have to do is mix it all before serving.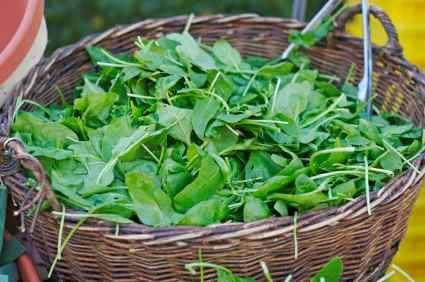 Spinach Salad
Spinach Salad
Author:

Shelli via CopyKat Recipes

Recipe Type:

Salad Recipes, Side Dish Reicpes

Prep time:

10 minutes

Cook time:

10 minutes

Serves:

4
Enjoy this creative spinach salad that is packed with all sorts of vegetables and more.
Ingredients
1 Bag of baby spinach leaves

1 Egg plant

1 Yellow Bell Pepper

24 Snap Peas (pea pods will also work)

10 spears fresh Asparagus

Pickled Garlic

Sundried Tomatoes packed in Olive Oil

Olive Oil

1 fresh lemon

1 garlic clove (crushed)

Sugar

White Balsamic Vinegar

salted pumpkin seeds
Directions
Wash all vegetables well. Peel and slice Egg Plant. Then put into a drainer and salt. Let sit until most of the liquid has come out. Grill pepper, asparagus and egg plant. After grilling pepper, put into an air tight container. Just set the other veggies aside. After 20 minutes, peel the pepper. Slice asparagus into 1 inch pieces and slice egg plant into strips. Right before serving, mix all veggies together, including sundried tomatoes (sliced) and whole pickled garlic. For dressing, pour in olive oil (about 1/4 cup to ½ cup (depending on how big your salad is), white balsamic vinegar (about half the amount of the olive oil), garlic clove, grated peel from lemon, juice from lemon and 2 teaspoons of sugar. Shake like crazy. Then dress your salad right before serving. It is some work, but well worth it.
Print Recipe