A friend of mine sent me a link to this sandwich, I didn't believe Denny's Fried Cheese Melt really existed. I thought the Denny's Fried Cheese Melt was a joke. It's not, my friends, it is not a joke. Now, first let me say, this isn't something that we should eat everyday, or even once in awhile, we should eat this once in a great awhile. What is this you ask? This is essentially a Grilled Cheese on Sourdough bread, with the addition of 4 deep fried cheese sticks served with a side of marina sauce. Have they pushed our desires for cheesy goodness to far?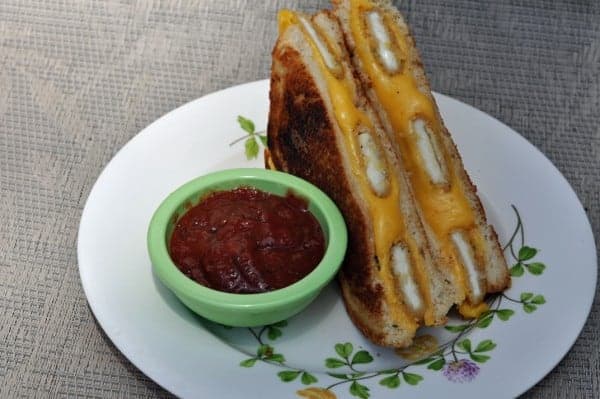 Denny's Fried Cheese Melt
For this recipe I recommend purchasing a box of frozen TGI Friday's Cheese sticks that come in the freezer section of your grocery store, you can make your own cheese sticks from scratch, but I feel if this is the dish you are eating, you would be willing to take this liberty of using a prepackaged product, this also comes with the side of marina already in the box. What I especially like about their cheese sticks is that they are flatter, and will make your sandwich making easier.
Denny's Fried Cheese Melt in the news
Denny's Fried Cheese Melt at CBS News
Huffington's Artickle on the Denny's Fried Cheese Melt.
Denny's Fried Cheese Melt is described as Culinary Terrorism
Denny's Pushes Cheesey Gooey Tolerance to a new level.
So let me conclude with that a couple of bites of this sandwich isn't bad, its honestly tasty. I can not finish this much cheese. I had to include in it my collection of free copycat restaurant recipes. Denny's do not always share the same menu across the US, and everyone should at least see what is available at Denny's. I am not stating that everyone should eat this sandwich every day, or even once in awhile, it isn't healthy. I have got to wonder how many people actually order this sandwich and how long it will stay on the menu.
Denny's Fried Cheese Melt
Author:

CopyKat Recipes

Recipe Type:

Copycat Restaurant Recipes, CopyKat Recipes, Main dish Recipes

Prep time:

10 minutes

Cook time:

10 minutes

Serves:

1
These sandwich is cheese overload, this is a fun treat for the cheese lover!
Ingredients
2 slices sourdough bread

2 teaspoons softened butter

4 slices of American cheese - Kraft Delux American Cheese Slices are recommended

3 prepared cheese sticks - Prepare according to package directions.
Directions
Heat a skillet low to medium heat. Butter one slice of bread, and place in skillet, cover bread with cheese, you may need to break the cheese slices apart, but be sure to cover the entire piece of bread. Lay down cooked cheese sticks in equal distances from each other, top with remaining cheese, and buttered slice of bread. Cook on both sides until golden brown. Serve with Marina sauce.
Print Recipe