Olive Garden Berry Sangria is a light and refreshing beverage. The Olive Garden offers a couple of different types of sangria: their regular sangria and this berry sangria.
Unlike many other sangrias, the Olive Garden Berry Sangria is simply wine, refreshing fruit juices, and some fresh fruit. I know many other sangrias contain a variety of alcohols in them for added flavoring. One of my favorite qualities of the Olive Garden Berry Sangria is that this contains a little less alcohol than other types of sangria, so I donít feel I am going to get weighed down by drinking too stiff of a drink.
You can use seasonal fruit in this beverage. The fruit that is often served in the glass adds a nice touch to the sangria. I have seen blueberries, and once or twice I recall seeing a Blackberry, in addition to strawberries, so I would encourage you to add whatever fruit looks beautiful and fresh at your local market.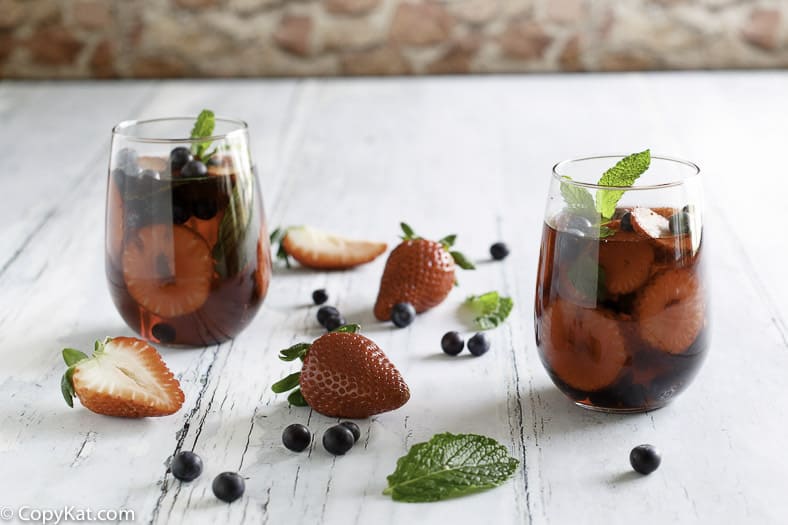 Some people say that Monin Blackberry Syrup is what Olive Garden really uses. You can order the syrup online.
Olive Garden Berry Sangria
Love the Olive Garden Berry Sangria? You can try these other sangria recipes.
Pina Colada Wine Cocktail
Skinny Sangria
Apple Pie Sangria
Red White and Blue Sangria
This blog post contains an affliate link.
Olive Garden Berry Sangria
Author:

CopyKat Recipes

Recipe Type:

Copycat Restaurant Recipes, CopyKat Recipes, Drink recipe

Prep time:

10 minutes

Cook time:

10 minutes

Serves:

8
Ingredients
750 ml red wine (I used Merlot)

2 cups cran-raspberry juice

1/4 cups simple sugar syrup

fresh berries such as strawberries, blackberries, or blueberries to garnish
Directions
Combine all ingredients except the fresh fruit in a large container; stir well to combine. Let mixture stand a couple of hours before serving. When serving, place ice into glass, then fresh fruit and sangria and garnish glass with a strawberry.
Print Recipe
Sangria is often made with a variety of liquors and fruit. I have to tell you a little story about an experience I had with making Sangria. I loved to do parties with themes. I did a tapas night about a year ago. For my tapas party, I wasn't measuring as accurately I should have. I ended up with about half a bottle of orange liquor into my sangria. It was sooo tasty. About an hour into this tapas party, I was wondering why I felt so tipsy. My portions were way off on the sangria. I would encourage you to measure all ingredients of the sangria. When making sangria did you know you can use almost any type of wine you enjoy? I have made sangria with white, rose, and red wines. I personally prefer to start out with a wine that isn't too sweet but has a nice fruity characteristic to it. Wines I like to use are Merlot, Shiraz (just because it is one of my favorite types of wine), and roses. You can find many other Olive Garden Recipes here at CopyKat.com, you can make a whole meal with all of the recipes available here. Other Sangria Recipes Emeril Lagasse's Sangria Recipe Drink Mixer's Sangria Recipe