Panera's broccoli cheese soup is a favorite of so many of us. This creamy, broccolio cheese soup is perfect for a hearty lunch. This is easy to make—just take frozen broccoli, fresh carrots, and two types of cheese to make this soup. You can purchase bread bowls from the grocery store—then you will have broccoli cheese soup just like at Panera Bread.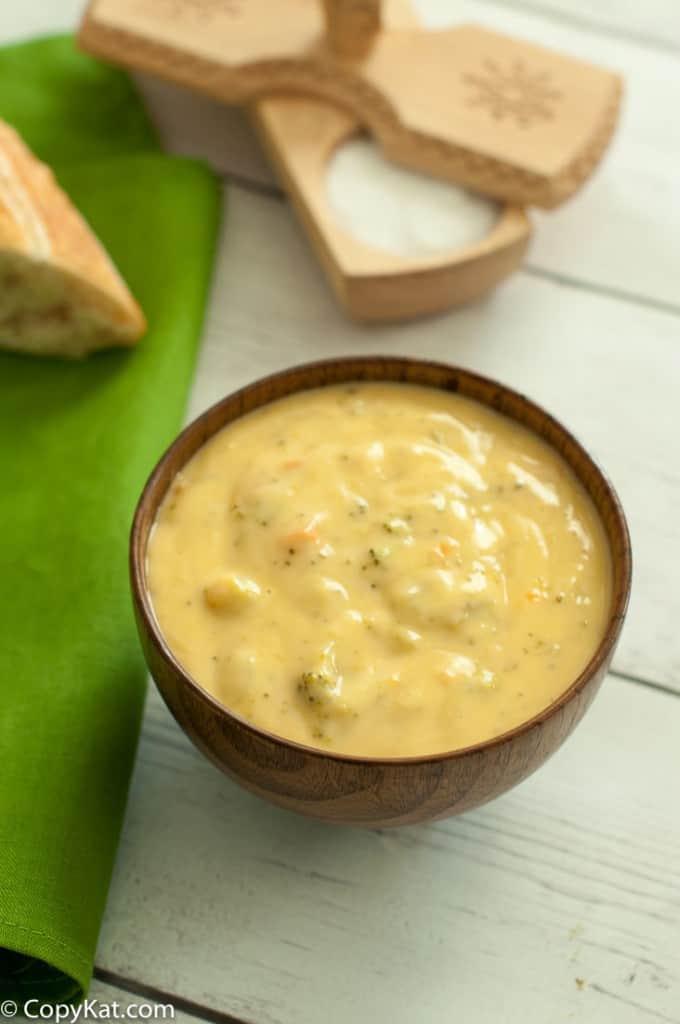 Broccoli cheese soup is one of those soups that just warms the soul. I love to serve this style of soup with popovers or fresh yeast rolls with butter. This recipe calls for loaf-style processed cheese food —you might know this as Velveeta, but in this recipe, a store brand is good to use. If you are concerned about salt, use low-sodium chicken broth. Keep the heat at medium-low to medium, and stir frequently so the soup doesn't scorch. If you need to reheat this soup, I suggest you reheat on the stovetop and add a little milk to the soup because it may become very thick after it is refrigerated.
Panera Bread is known for their delicious homemade tasting soups. They use high-quality ingredients, and this recipe copycats those flavors. There are fresh carrots and onions in here. For the broccoli you can use frozen or even fresh broccoli. I sometimes choose frozen because it is chopped up and ready to go. I know you can put this recipe together in no time, it is so easy to prepare.
If you enjoy Panera Bread recipes you may want to check out these recipes
Panera Bread Honey Walnut Cream Cheese Spread
French Onion Bistro Soup
Baked Potato Soup
Panera Bread Copycat Recipes
Panera Broccoli Cheese Soup
Author:

Stephanie Manley

Recipe Type:

Soup

Prep time:

10 minutes

Cook time:

30 minutes

Serves:

6
Panera Broccoli Cheese Soup is easy to duplicate. Try this recipe—it tastes just like it does in the restaurant.
Ingredients
2 tablespoons butter

2 tablespoons all-purpose flour

1/2 cup chopped yellow or white onion

1 cup half-and-half

1 (16-ounce) package frozen chopped broccoli

1 (16-ounce) loaf processed cheese (Velveeta or a store brand)

2 (14.5-ounce) cans low-sodium chicken broth

1 cup julienne-cut carrots (shredded carrots are okay)

8 ounces shredded cheddar cheese (2 cups)

Salt and freshly ground black pepper
Directions
In a large saucepan, melt the butter. Stir in the flour and onions. Cook for about a minute, then slowly add the half-and-half, about 1/4 cup at a time, whisking until thickened and smooth. When all of the half-and-half is incorporated, add the broccoli and processed cheese. When the cheese is completely melted, add the chicken broth 1 cup at a time, stirring occasionally, until soup is well mixed and has a consistent texture. Add the carrots and simmer for about 10 minutes. Stir in the cheddar cheese and cook for 10 minutes more. Season with salt and pepper to taste. Serve when all the cheese is fully melted and blended through.
Print Recipe