Boston Market Sweet Potato Casserole has to be one of my favorite ways to make candied sweet potatoes. Now, if you don't live near a Boston Market restaurant, you can either drive far or make your CopyKat recipe for these holiday favorites.

You don't have to buy this sweet potato casserole from the restaurant. To make these, with a little bit of elbow grease, you can have a great-tasting sweet potato casserole any time of the year. This sweet potato recipe combines a thick oatmeal cookie–like crust, fluffy melting marshmallows, and a sweet and savory potato layer. It is hard to resist this dish.
We are going to make this whole thing from scratch. Don't let the idea of cooking from scratch intimidate you. It is easy to do, and you can even watch the video see how it is done. But if you don't want to bake your sweet potatoes, you can buy cans of pureed sweet potatoes, both work equally well.
Make Ahead Notes
If you want to make this ahead of time, I suggest you bake this fully, and then reheat the 2nd day in the oven. The raw eggs in this dish make this undesirable to mix ahead 1 day and to bake the second day.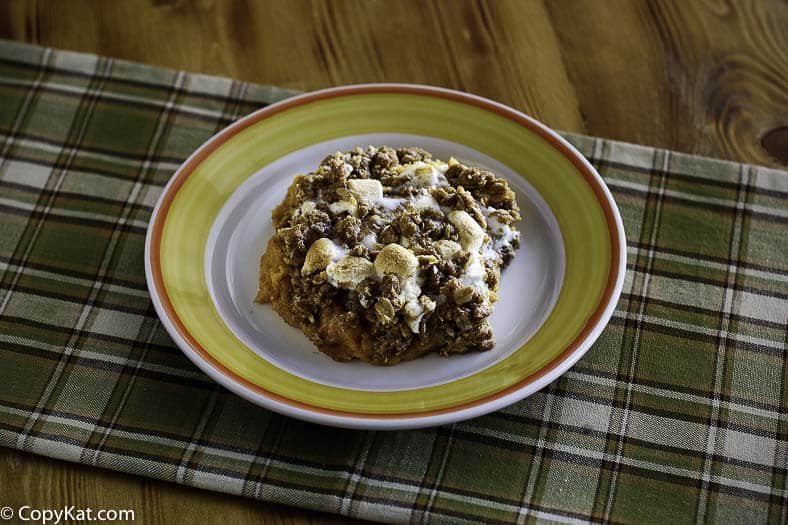 Check out these copycat holiday favorites
Quick and Easy Broccoli Rice Casserole
How to Make Roast Beef in the Oven
Rudy's Creamed Corn
Boston Market Sweet Potato Casserole
The Boston Market Sweet Potato Casserole tastes perfect any time of year.
Ingredients
5

pounds

sweet potatoes

4

tablespoons

butter

2

eggs

slightly beaten

1

teaspoon

salt

1

teaspoon

ground cinnamon

1/2

teaspoon

vanilla extract

1/2

teaspoon

ground nutmeg

1/2

cup

dark brown sugar

1/4

cup

heavy cream

Nonstick

cooking

spray

Oatmeal

Cookie

Crust

1/2

cup

all-purpose flour

1

cup

dark brown sugar

1/4

teaspoon

salt

1

cup

quick-cooking oats

1/2

teaspoon

ground cinnamon

1/4

pound

butter

2

cups

miniature marshmallows
Instructions
Preheat the oven to 350 degrees F.

Wrap sweet potatoes in foil, place them on a baking sheet and bake for about 1 hour. After 1 hour, test by piercing with a fork; if you can pierce them easily, they are done baking. If not, bake them a little longer and test again. Allow the sweet potatoes to cool until you can handle them, remove foil, and remove skins by simply pushing off the skins from the flesh of the potato.

Place the cooked potatoes into a large bowl. If using canned sweet potatoes, skip the baking. Just open the cans and drain off the syrup. Mash the sweet potatoes with the butter using a pastry blender or a potato masher until mostly smooth.

Add the eggs, salt, cinnamon, vanilla, and nutmeg and beat until you have a uniform mixture. Add the brown sugar and cream and mix well. Oatmeal Cookie Crust Combine the flour, brown sugar, salt, oats, and cinnamon in a medium bowl and stir together well. Stir in the butter with a fork until you have a crumbly mixture. If you had turned off the oven, heat it again to 350 degrees F. Lightly coat a 9 x 13-inch baking pan with cooking spray.

Spreading the sweet potatoes in the pan. Top with the marshmallows, then crumble the oatmeal crust on top of the marshmallows. Bake 30 to 45 minutes.
Nutrition Facts
Boston Market Sweet Potato Casserole
Amount Per Serving
Calories 456
Calories from Fat 126
% Daily Value*
Total Fat 14g 22%
Cholesterol 64mg 21%
Sodium 483mg 20%
Potassium 704mg 20%
Total Carbohydrates 78g 26%
Protein 5g 10%
* Percent Daily Values are based on a 2000 calorie diet.
Cook Time
1
hour
30
minutes
Total Time
1
hour
50
minutes