How to make chicken gravy is a question you may have asked yourself. Making homemade gravy isn't difficult to do. It is actually fairly easy. Whenever I bake up a chicken, I am always thinking of mashed potatoes and some homemade chicken gravy. I have such fond memories of Sunday dinner at my grandmother's house and chicken gravy was definitely a part of that picture.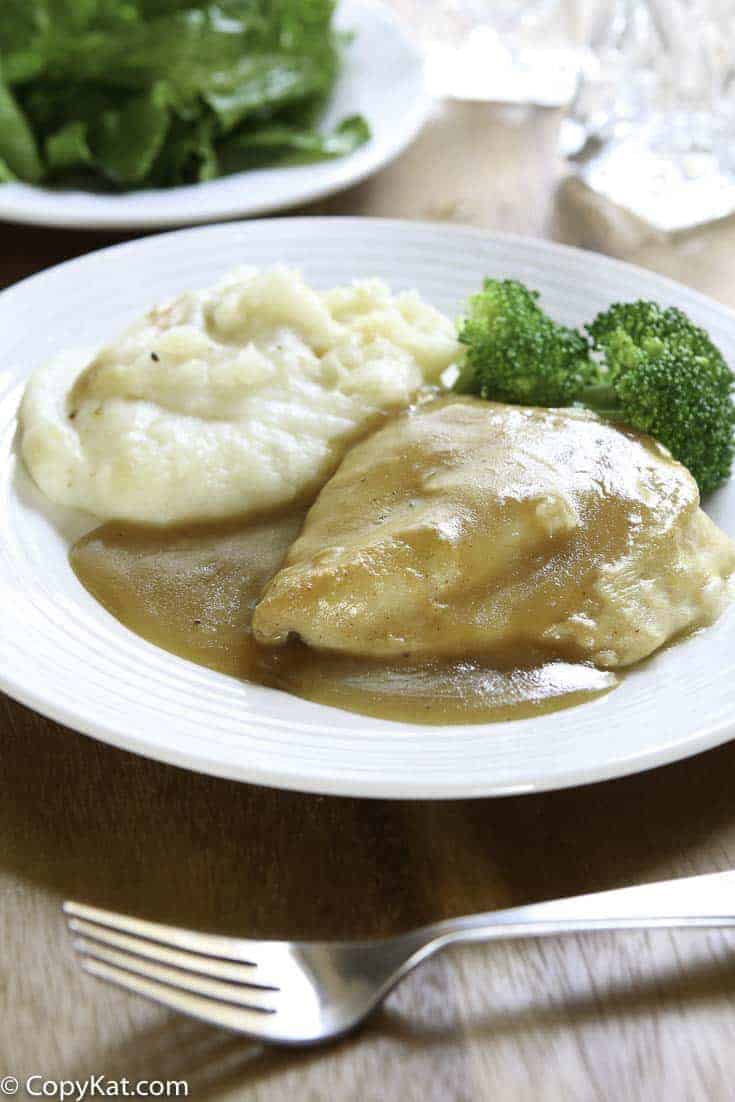 How to Make Chicken Gravy
There are actually several methods of making a gravy. I am going to show you what I think is one of the easiest ones to make and one that practically seasons itself. This style of chicken gravy is the one to make after bake a chicken. Since you baked your chicken, you have already seasoned the bird perfectly, and you have flavorful pan drippings that are just crying out to be made into gravy. When it comes to which liquid to use in your gravy, you can use chicken broth as I do in this recipe, or you may want to use milk instead.
Chicken Gravy can be made from Chicken Broth
Sometimes you don't have happen to have a freshly baked chicken to have pan drippings, you can make chicken gravy with chicken broth. You can start by making a simple roux out of flour and butter, and use either chicken broth or chicken stock for the base of the gravy. Chicken gravy made this way can be very flavorful and better than any gravy you would get from jar or make from a mix.
Love Gravy Be sure to check out these other gravy recipes
Sausage Gravy
Ikea Meatballs and Gravy
Chicken Fried Steak and Southern Cream Gravy
How to Make Chicken Gravy
Learn how to make delicious chicken gravy from scratch with this easy recipe.
Ingredients
3

tablespoons

pan drippings from a roast chicken

3

tablespoons

all-purpose flour

2

cups

chicken broth, a little more for a thinner gravy

1

to

2 tablespoons heavy cream (optional)
Instructions
Heat the pan drippings in a skillet over a medium-high heat. Whisk in the flour to make a "roux." Cook this roux for a minute or two to remove any raw taste of the flour. This is a critical step, so make sure you have cooked this for at least a full minute before adding the liquid. Add one-third of the liquid and whisk together. This will turn very thick after a moment or two. Add the next third of the liquid, and whisk, making sure all lumps are removed. Once this has thickened fully, you can add the remaining liquid. If your gravy is too thick to your personal liking you could add some additional liquid, or even finish with a tablespoon or two of heavy cream if you desire.
Nutrition Facts
How to Make Chicken Gravy
Amount Per Serving
Calories 50
Calories from Fat 36
% Daily Value*
Total Fat 4g 6%
Cholesterol 11mg 4%
Sodium 252mg 11%
Potassium 47mg 1%
Total Carbohydrates 2g 1%
* Percent Daily Values are based on a 2000 calorie diet.