While dining at the Olive Garden recently, I noticed a menu item was now on their menu that they brought back due to popular demand. Olive Garden Sausage and Pepper Rustica is a fabulous dish to make, it easy to prepare, and makes an inexpensive and filling dinner.
Olive Garden Grilled Sausage and Pepper Rustica is a dish combines Italian sausage, fresh mozzarella cheese, and peppers to make this flavorful dish. I love that there is a hint of spice which really brings out the flavor of Italian sausage. They make their dish with penne pasta, but if you don't happen to have any of this on hand, I think any pasta that you have will do. If you want to be low carb or gluten-free, you can take a pass on the pasta. It makes a hearty dinner all by itself.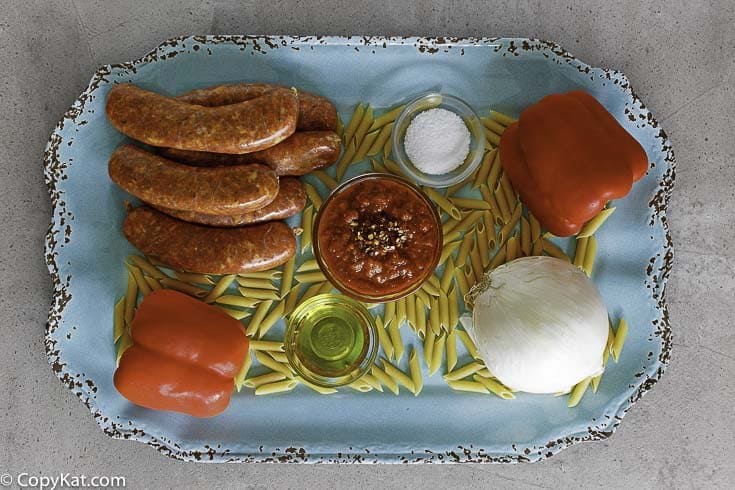 For my recipe, I used red and yellow bell peppers. This is primarily due to the fact I hate, loathe, green bell peppers. Please feel free to use any type of bell pepper that you and your family enjoy. I have made my dish with spiral pasta.
If you wanted to make this recipe low carb you could use some of the low carb pasta, or even some of the whole wheat pasta for this dish.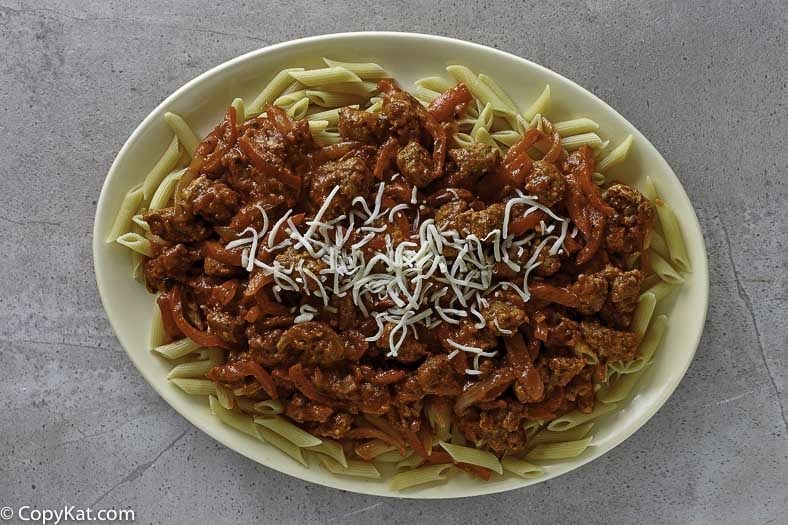 What's next
– Check out these Olive Garden Copycat Recipes
Olive Garden Zuppa Toscana
Olive Garden Pumpkin Cheesecake
Olive Garden Grilled Sausage Rustica
Olive Garden Grilled Sausage and Pepper Rustica
Author:

CopyKat Recipes

Recipe Type:

Copycat Restaurant Recipes, CopyKat Recipes, Main dish Recipes, Pasta Recipes

Prep time:

10 minutes

Cook time:

20 minutes

Serves:

4
You can prepare this grilled sausage and pepper rustica just like the Olive Garden does.
Ingredients
1 pound Italian Sausage

2 bell peppers you can use red, green, yellow, or orange

1 cup of sliced onion you can use white or yellow

1 jar 26 ounce jar of marina sauce (I recommend Barilla Spicy Marina)

1/4 - 1/2 teaspoon red pepper flakes (optional)

1/2 teaspoon salt

2 tablespoons olive oil

1 pound dry penne pasta
Directions
In a large skillet over medium heat, pour 1 tablespoon of olive oil, slice sausage into bite-size pieces and cook sausage until browned. Remove sausage from pan and set aside. Add remaining 1 tablespoon of olive oil to the pan and add sliced peppers and onions and season with salt and cook until onions are transparent, and the peppers have cooked until they are tender. Add browned sausage to pan and stir thoroughly. If you want this to be spicy add red pepper flakes 1/4 to 1/2 teaspoon depending on how spicy you want. Add sauce to pan and heat well. Add 1/2 cup shredded mozzarella cheese and stir in melted cheese. Pour this over cooked pasta and mix well.
Print Recipe