Olive Garden Grilled Chicken and Alfredo Sauce is a recipe that many of you have asked for, and I am to please. I have to be honest, when people ask what recipe is my favorite, it will be the Olive Garden Alfredo sauce, it is what started me down the path of replicating favorite restaurant recipes at home.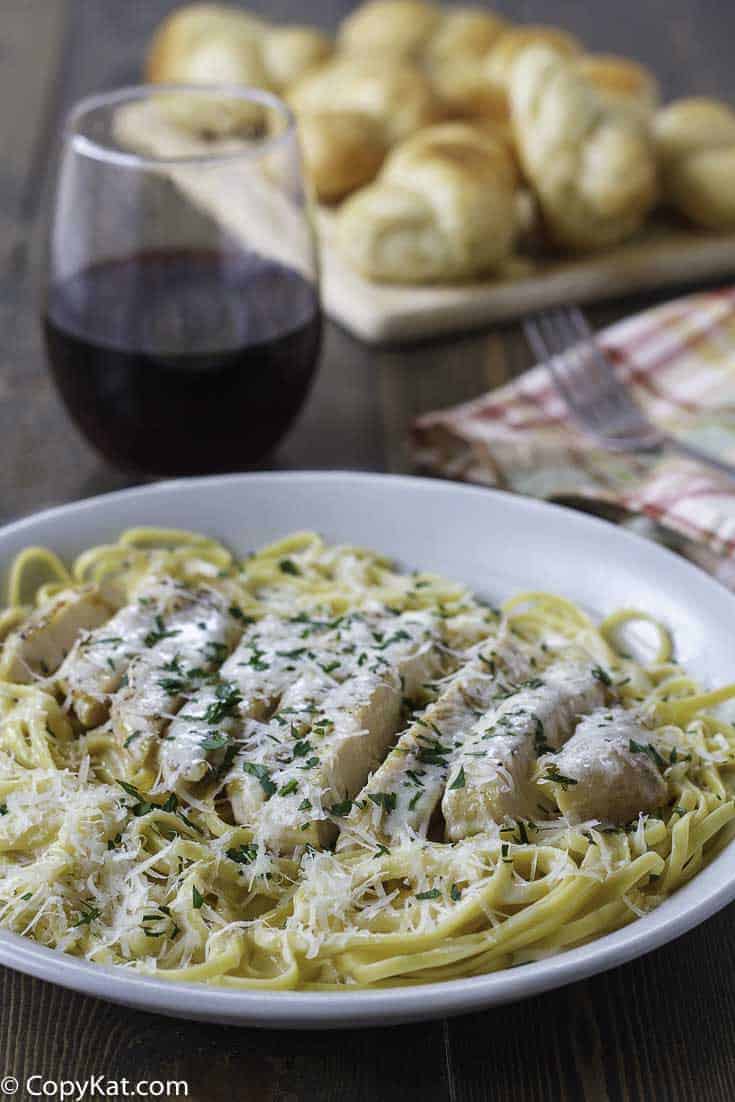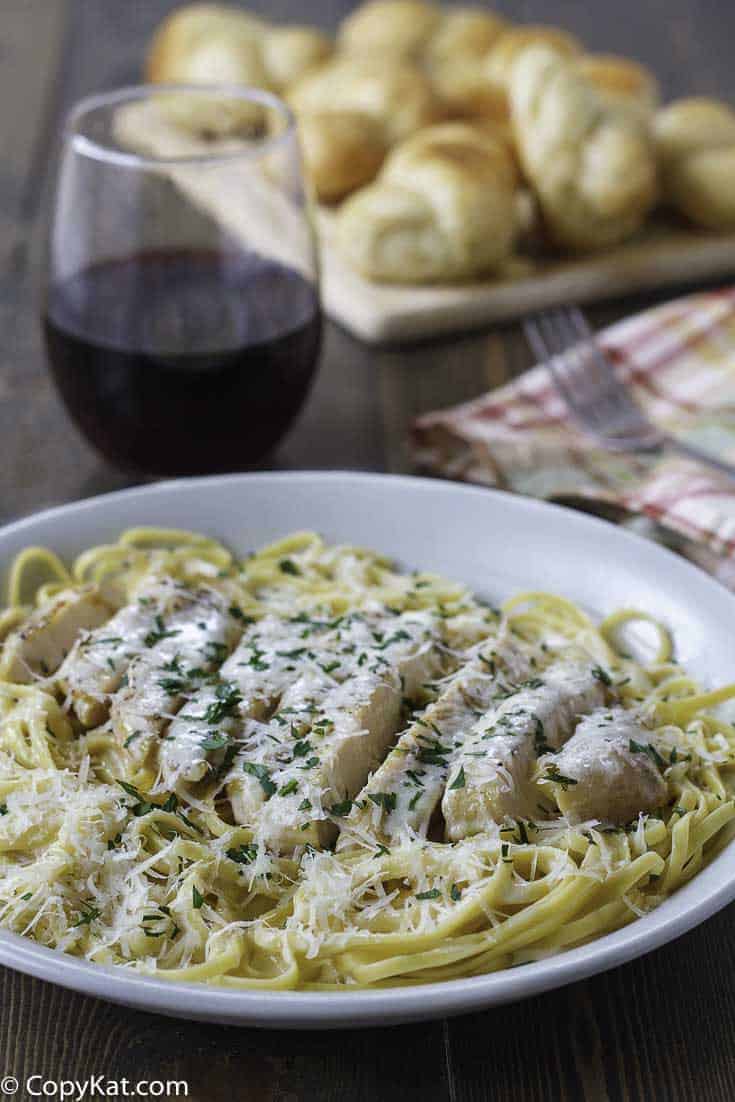 Over twenty years ago I grew up in deep East Texas. Going into town was a big treat, and we didn't do so very frequently, to me, the Olive Garden was the place to go for fancy dining. A lot has changed since then, I live in Houston, and I get to go out for dinner frequently to many lovely restaurants. This Alfredo sauce is what put me on this journey. I still find it one of my favorite recipes to make. I still love this creamy pasta.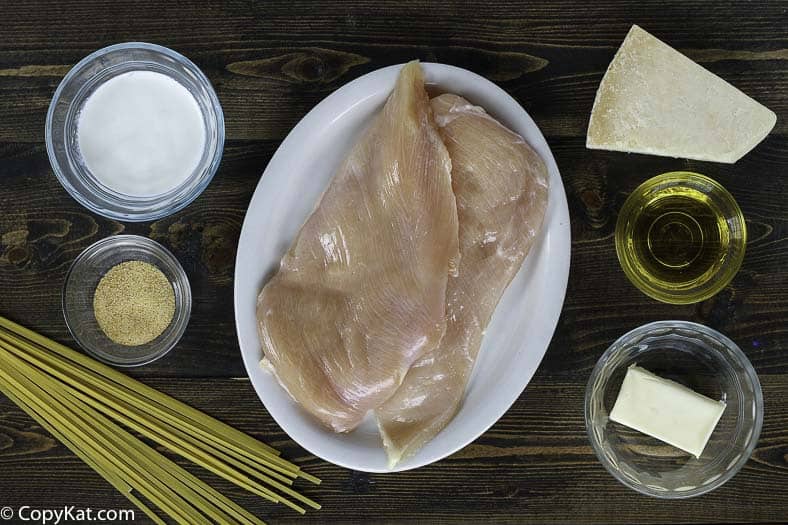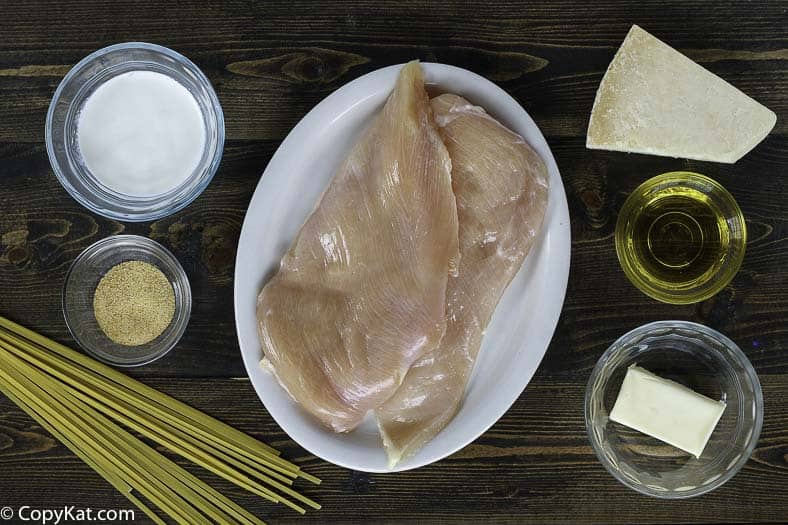 When I turn this into a main dish I love to grill up some chicken with this dish. You can order this from the Olive Garden, but now you can make it at home.
If you can't enjoy this dish all at once I suggest that you store the sauce and the pasta in different dishes. If you do not store the sauce in its own dish, and store it with the pasta the pasta will soak up all of the sauce.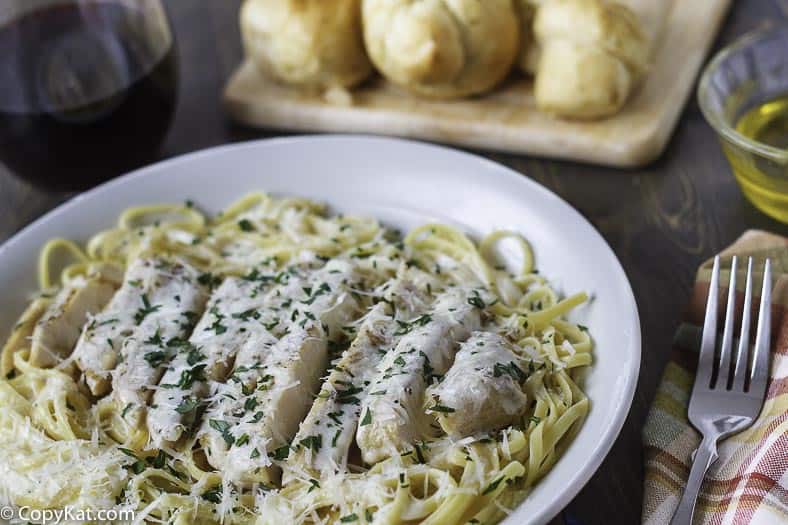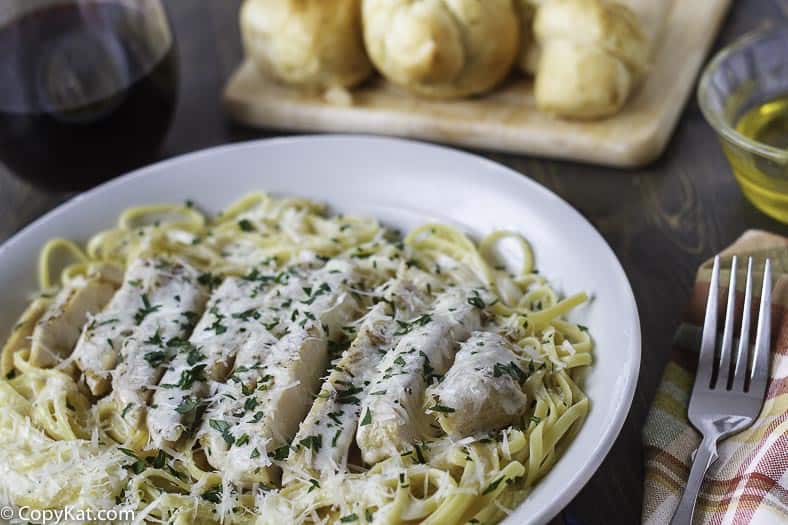 Olive Garden Grilled Chicken and Alfredo Sauce
Author:

Stephanie Manley via CopyKat.com

Recipe Type:

Main Dish

Prep time:

10 minutes

Cook time:

20 minutes

Serves:

2
Enjoy this classic dish from the Olive Garden with this copy cat recipe.
Ingredients
2 chicken breasts

salt and pepper

2 teaspoon olive oil

8 ounces dry pasta

2 cups heavy cream

1/2 cup (1 stick) butter

1/2 to 3/4 cup grated Parmesan cheese

1/2 teaspoon garlic powder (optional)
Directions
Preheat your grill to medium-high heat. Brush with oil and then season the chicken breasts with salt and pepper. Grill 5 to 7 minutes on the first side and then flip the chicken over and grill for another 3 to 4 minutes, or until cooked through.
Cook pasta according to package directions.
Prepare the Alfredo sauce by combining the cream and butter in a saucepan over medium-high heat. Do not let the mixture come to a boil, but heat until small bubbles begin to form. Add the Parmesan cheese and whisk quickly. Add the garlic powder and continue to whisk. The sauce will thicken after a minute or two.
Cut the chicken breasts into strips. Serve by placing half the pasta on each plate, then topping it with sauce and a sliced chicken breast.
Print Recipe