The Olive Garden Baked Parmesan Shrimp is a delicious new recipe which has a creamy Parmesan sauce with shrimp, breadcrumbs, and fresh chopped tomatoes.  This is an elegant main dish because you can serve up individual servings.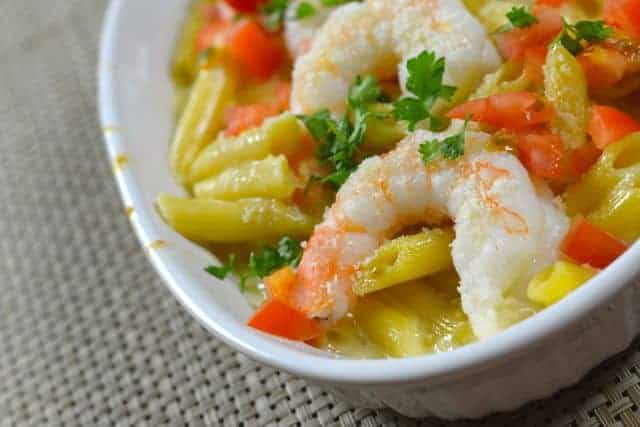 Don't you just love a dish that looks much fancier than it is to prepare? I do. This dish is served with shrimp, but if you don't like shrimp, you could easily use chicken, sausage, or perhaps even some crab meat. I love how this dish is served up in individual casserole dishes so it makes a lovely presentation. You could use any pasta that you have on hand, so it may be a good way to use up small bits of pasta that you may have. Best of all you can prepare this in about 30 minutes. Did I mention it was easy.
The Parmesan sauce is so easy to make, you will quickly put this sauce together. The breadcrumbs are not pictured in the video, but you can add those in. They do add a nice crunch to this pasta dish.

Olive Garden Baked Parmesan Shrimp
Author:

Stephanie Manley via CopyKat.com

Recipe Type:

pasta

Prep time:

15 minutes

Cook time:

10 minutes

Serves:

2
You can prepare this dish made famous by the Olive Garden tonight for dinner. It is so easy to make.
Ingredients
8 ounces pasta cooked according to package directions

4 ounces butter

1 pint heavy cream

8 ounces Parmesan cheese

8 ounces cooked shrimp peeled and deviened

1 Roma tomato cut into small pieces

2 teaspoons fresh chopped parlsey

Optional

2 tablespoons bread crumbs

2 teaspoons Parmesan cheese

1 tablespoon melted butter
Directions
Preheat oven to 350 degrees. In a medium size saucepan combine butter and heavy cream. Heat until butter is melted completely and the mixture comes to a simmer. Add Parmesan cheese into pot and stir until melted. Season with salt and white pepper if desired. Place cooked pasta in bowl, and stir in sauce, mix to coat pasta evenly. Pour pasta into 2 or 3 small casserole dishes.
Optional step - Bread Crumbs
Combine bread crumbs, melted butter, and Parmesan cheese in a bowl. Stir to coat bread crumbs.
Sprinkle bread crumbs (if desired) onto casserole dish, place several pieces of shrimp onto casserole, and place in the oven. Bake until all is heated through.
Garnish with chopped tomatoes and parsley if desired.
Print Recipe