When you are first learning how to cook, biscuits may seem difficult. I promise they aren't difficult. Making seven-tiered wedding cakes that look presentable are difficult. This is learning how to not over mix your ingredients so you get soft fluffy biscuits. This recipe is part of my learn to cook series, where I am cooking every recipe out of my old home economics cookbook.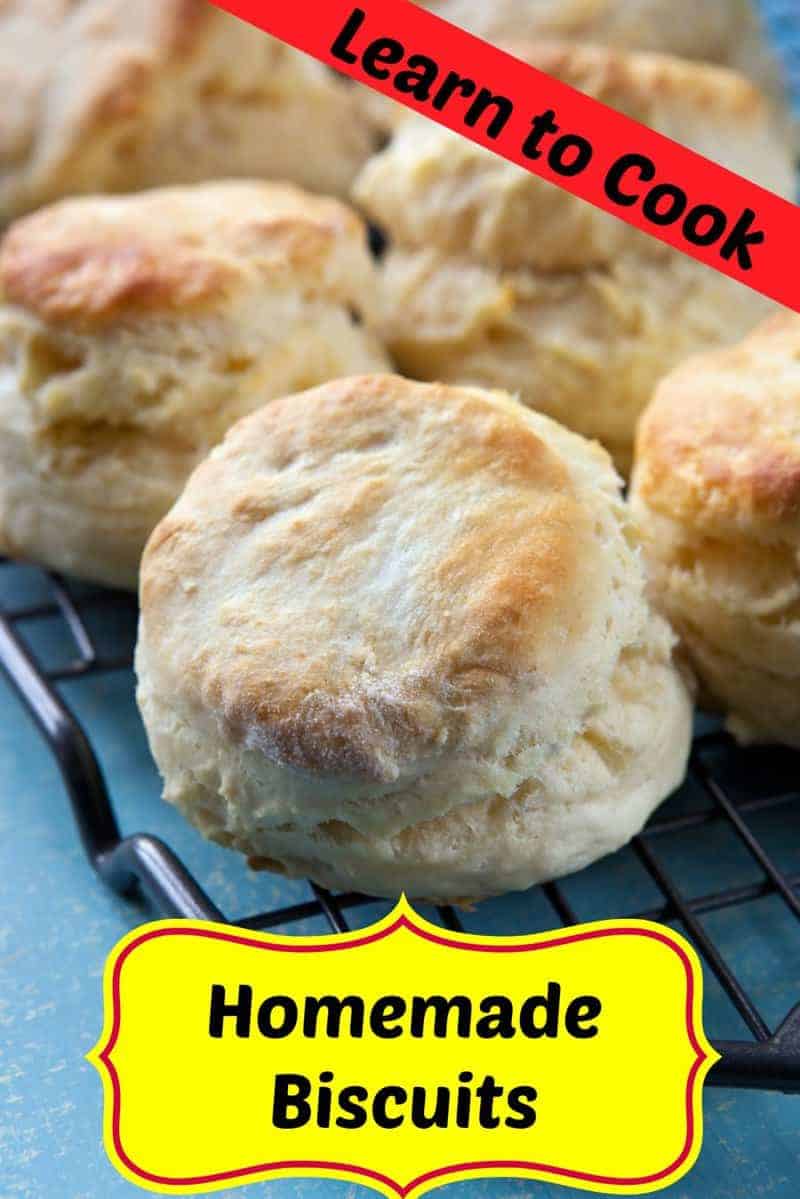 A biscuit is a type of "quick bread". Quick bread are breads that you can make without using any yeast. Other types of quick breads are muffins, banana breads, biscuits, and popovers (upcoming recipe). They are made with flour, butter (or shortening), baking powder, milk, and salt. Sometimes people add just a little bit of sugar to the biscuits as well. The perfect biscuit should have a golden brown top and bottom, and the inside should be soft and fluffy.
To make a good biscuit you need to measure your ingredients carefully, and do not overwork the dough. This is a bread that is best made without a mixer. Often when we bake we use a mixer, but not here. If you over mix the dough they will become tough and hard. The basic steps of preparing a biscuit is to measure your dry and your wet ingredients. You will sift together your dry ingredients. If you don't have a fancy sifter, don't worry, use a colander, they work very well too. By shifting together your ingredients you are mixing your dry ingredients, and giving them some air so they won't be too dense. You will then add your fat to the dough and work this in. You will want to coat the flour mixture with the fat. You can use a pastry blender or a fork. You will want to work in the fat, it will first take on the appearance of peas, and then it will look like coarse crumbs. Up until this point, you can work the dough as much as you want.
When you add the wet ingredients mix only until everything is blended. This will not be a smooth dough, it will be lumpy. Do not let this worry you. Only mix until all of the dough is wet. At this point, you can overwork the dough. If your biscuits come out hard, next time, mix them less.
Love Biscuits? Try your hand at some of these great biscuit recipes.
Make Ahead Freezer Biscuits
KFC Buttermilk Biscuits
Denver Biscuits

Homemade Biscuits

You can learn how to cook homemade biscuits that are fluffy and tender on the inside.

Ingredients

2

cups

flour

3

teaspoons

baking powder

1

teaspoon

salt

1/4

cup

shortening

3/4

cup

milk

Instructions

Preheat oven to 450 degrees.

Sift dry ingredients together into a mixing bowl. Cut the shortening in with a pastry blender or a fork until it is like coarse crumbs. Add the milk all at once. Stir just enough to make a soft dough, do not over mix the dough. Place dough on a lightly floured surface.

Either press out dough or roll out with a rolling pin until the dough is 1/2 inch thick. Cut with a floured cookie cutter, or glass. Place on an ungreased baking sheet. Bake for 10 to 12 minutes. Biscuits are done when they are golden brown slightly freckled top and bottom with white sides. They should be twice the size of unbaked biscuits and free from excess flour.

Nutrition Facts

Homemade Biscuits

Amount Per Serving

Calories 371

Calories from Fat 126

% Daily Value*

Total Fat 14g 22%

Cholesterol 4mg 1%

Sodium 605mg 25%

Potassium 430mg 12%

Total Carbohydrates 51g 17%

Protein 7g 14%

* Percent Daily Values are based on a 2000 calorie diet.