Homemade waffles are a fantastic breakfast treat to make for the family. Waffles are not difficult to make. You can quickly put together a batch of homemade waffles.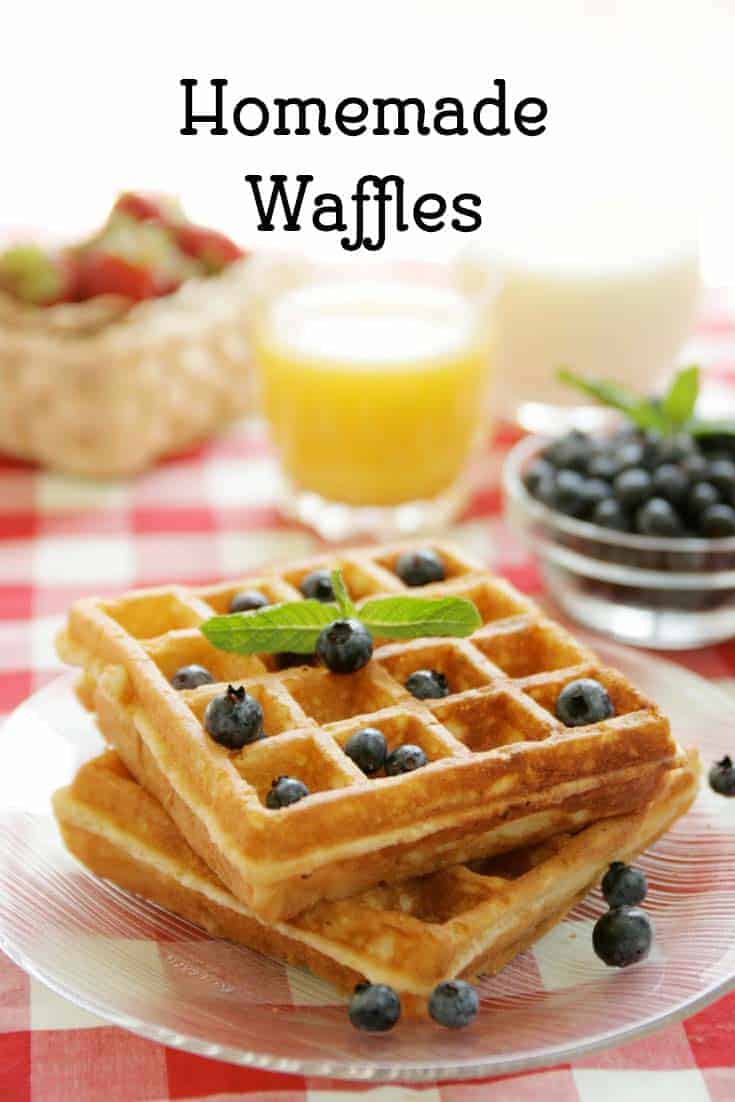 We often had pancakes when I was growing up, but it was always an extra treat to have waffles. The crispy texture on the outside and the tender fluffy on the inside makes for a wonderful breakfast. This recipe will give you a typical plain waffle, golden and crisp. You can pour melted butter on this, and you may want to top with maple syrup berries, whipped cream, or even some pie filling.
Homemade Waffles Ingredients
Waffles are made with a few basic ingredients. Flour (you can use all-purpose or pastry), eggs, milk, and either oil or butter, baking powder, sugar, salt, vanilla. If have pastry flour on hand you can use this, it will give you a crisper waffle than all-purpose flour, but the waffles made with all-purpose flour are also quite good. So if this is what you have on hand, it is ok to use. Some waffle recipes call for buttermilk, but not everyone had buttermilk on hand. When cooking with milk it is my preference to use whole milk, I think that whole milk tends to give better results than the milk that has little or no fat.
The Waffle Iron
One item you will need for this recipe is a waffle iron. You may want to use an electric waffle iron, they are simple to use and often have a ready light on them so you will know when it has heated up to the proper cooking temperature. If you want to make those big large fluffy waffles you may want to invest in a Belgium waffle iron. Otherwise a good old fashioned non-stick waffle iron will do. I have a model like Cuisinart WMR-CA Round Classic Waffle Maker
.  I like that it is small compact, and it does the job.
Waffle Making Tips
1. Read the directions of your waffle maker. Newer waffle irons typically do not require non-stick spray, older models do.
2. Use thongs or other plastic tools to remove the waffle from the iron. This will keep your non-stick coating intact for years to come.
3. Don't over-mix the batter. Stop mixing when all of the dry ingredients are wet. Stop when the waffles are still lumpy. Over mixing means, the waffles will be tough.
4. Don't constantly lift the lid while the waffle is cooking. Waffles typically take between 3 to 5 minutes. Your waffle maker may tell you when it is done. If you lift the lid continually, you will end up with a waffle with a crazy design.
5. Making waffles for the whole family? Keep them warm in a 250-degree warm oven while you finish making all of the waffles. The time spends in the oven can make them even more crispy. Ideally set them on a wire rack in a baking sheet when you place them in the oven.
6. Leftover waffles? Freeze on a flat sheet, when they are frozen store in an airtight bag or container. Reheat waffles later by placing in a 300-degree oven for approximately five minutes. If they fit in your toast, go ahead an toast them.
7. Melt butter ahead of time to drizzle over the waffles. It's very difficult to spread cold butter evenly on a waffle.
Homemade Waffle Topping Ideas
1. Pie filling, you could place some cherry pie filling on the waffle and top with whipped cream.
2. Peanut butter, marshmallow cream, and sliced bananas for a fluff 'n' nutter inspired taste.
3. Fresh strawberries and whipped cream.
4. Bananas Foster topping.
5. Cream Cheese Frosting
6. Cherry Chambord Butter
7. Jams and Jellies