The Olive Garden Spinach-Artichoke has been recently updated, and we want to share this recipe with you.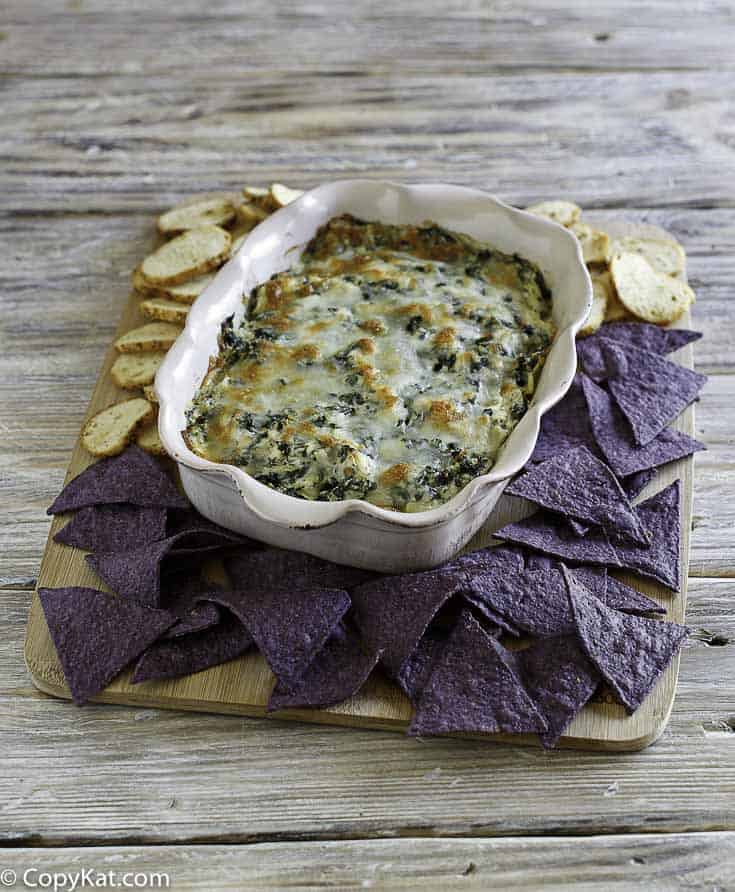 Who doesn't love going to the Olive Garden? My local Olive Garden is simply packed all of the time on the weekend. You better get there early when you go. Sometimes I have been known to enjoy a drink and an appetizer in the bar while my table gets ready.
What makes the Olive Garden Spinach-Artichoke Dip so special? It might be the five different types of cheese that are used in the sauce. Five different types of cheese: Parmesan, Romano, Asiago, Cream Cheese, and Mozzarella all combine together to make a flavorful sauce that you are going to love.
I am serving this with fresh baguettes that have been sliced thin and have been buttered and toasted in the oven. You won't want to miss out on these, I know you could enjoy this with bread sticks, but I promise the way you should enjoy these are the small pieces of toast, they are so crispy and well buttery.
For this recipe, I am using frozen spinach that is already chopped. For the artichokes, I like to use the marinated artichokes, but I believe the Olive Garden uses plain ones. I am intentionally deviating, as I think the marinated artichokes offer a little more flavor.
Copycat Olive Garden Spinach-Artichoke Dip
Author:

Stephanie Manley

Recipe Type:

Appetizer

Prep time:

15 minutes

Cook time:

10 minutes

Serves:

8
You can recreate the Olive Garden Spinach-Artichoke Dip at home with this easy Copycat recipe.
Ingredients
3 tablespoons butter

3 tablespoons flour

1 1/2 cups milk

1/2 teaspoon salt

1/4 teaspoon black pepper

5 ounces frozen chopped spinach

1/4 cup diced artichokes (I personally like to use marinated)

1/2 teaspoon chopped garlic

1/2 cup shredded Parmesan cheese

1/2 cup shredded Mozzarella cheese

1 tablespoon shredded Asiago

1 tablespoon shredded Romano cheese

2 tablespoons cream cheese

Mozzarella for top
Directions
In a medium sized saucepan over medium heat melt butter. Add flour to melted butter. Cook for 1 to 2 minutes or until the sauce becomes fragrant. Add the 1 1/2 cups cold milk, stir until the sauce becomes thick. Season with the salt and pepper.
Add spinach, diced artichokes, garlic, Parmesan cheese, Mozzarella cheese, Asiago cheese, Romano cheese, and cream cheese to the saucepan. Stir until the dip becomes warmed through.
Pour dip into an oven-proof dish. Sprinkle Mozzarella cheese on top, and place the dip into an oven under the broiler. Broil until the top of the dip begins to brown.
Print Recipe