Have you pulled your car off the road when you saw the Krispy Kreme Hot Donut sign? I have. Thanks to Jenny Field, I can share with you her recipe for copycat Krispy Kreme Glazed Donuts.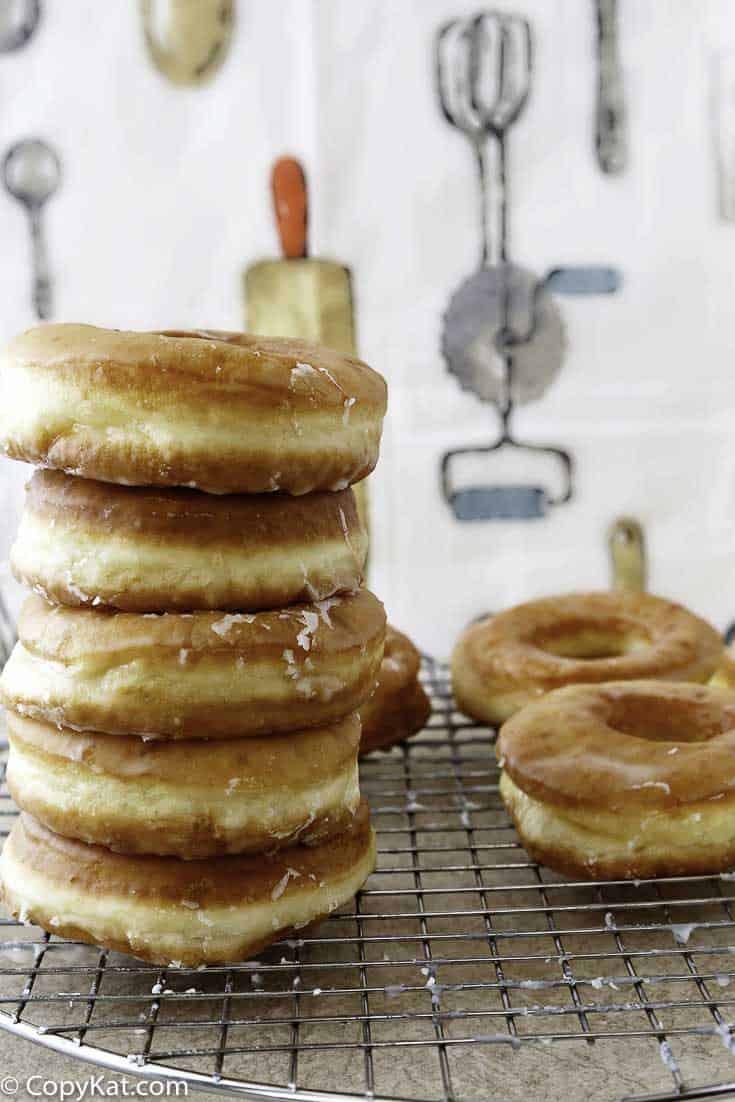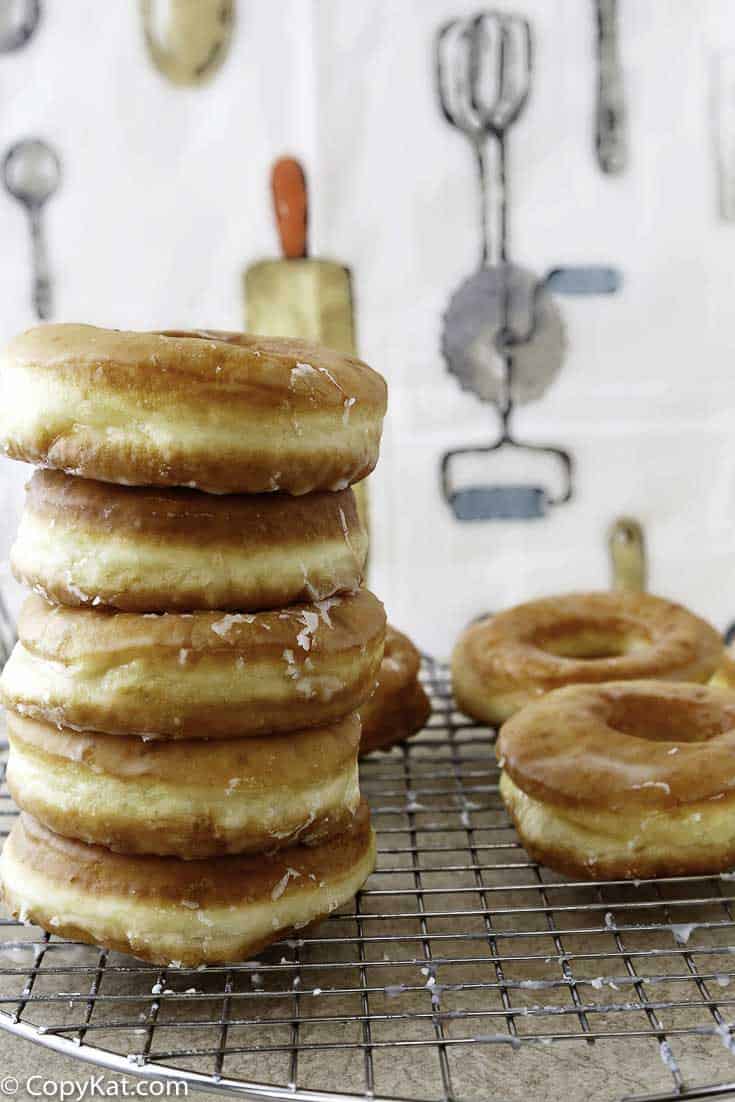 As a girl born and raised only about an hour and a half from the Krispy Kreme headquarters in Winston-Salem, North Carolina, I have been eating "Hot Doughnuts Now" since I can remember. For me, there is nothing quite like the smoosh when you bite into a fresh Krispy Kreme Glazed Doughnut. The way the glaze is almost invisible until you bite into it and it shatters into thin flakes of sweetness? Now that is the stuff of dreams.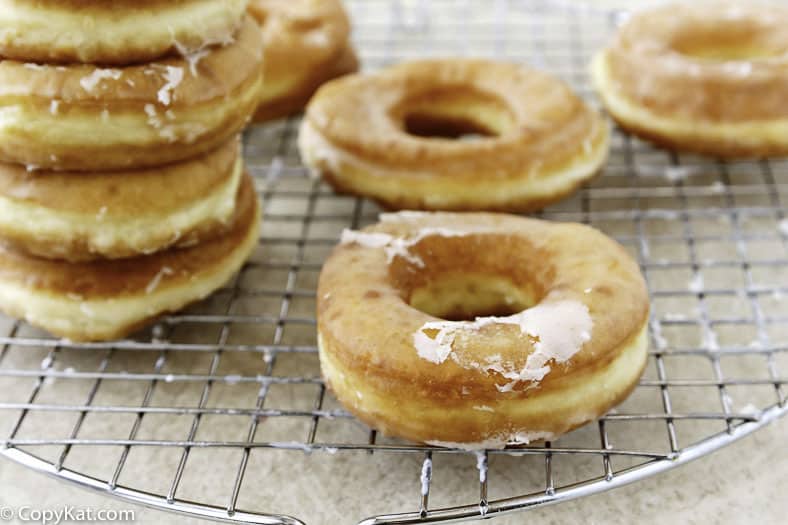 I made a couple of different versions of this recipe before settling on the following recipe. The all purpose flour gives just the right balance of tenderness and chewiness. As usual, I patterned this recipe on the ingredient list from the Krispy Kreme website. The doughnuts don't contain butter, so I used oil to stay as true to the original as possible. I won't tell, though, if you decide to use some melted butter for some or
all of the oil called for in the recipe.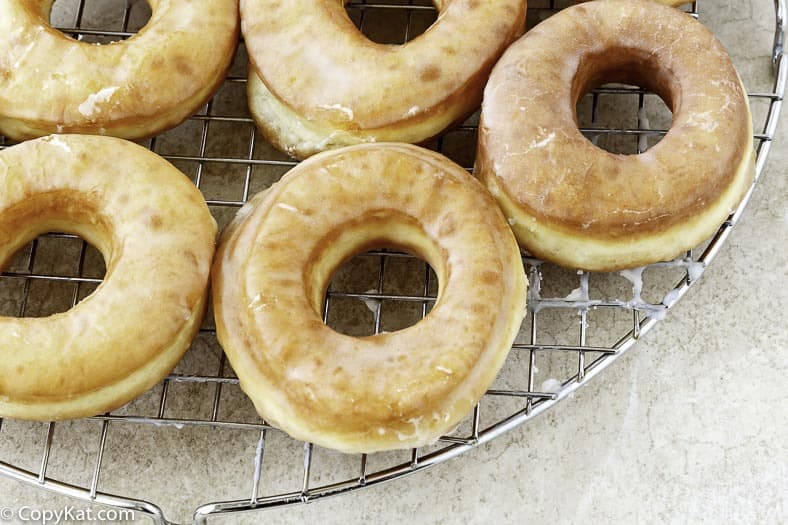 The measurements are pretty precise, so I urge you to buy and use a kitchen scale. I have also provided approximate cup measurements, although they will not yield truly consistent results. You will need a stand mixer to make this dough as it is very soft and sticky and requires a long kneading time.
Tools that will make this recipe easier for you
Kitchen Scale
Donut Cutter
Want to round your breakfast? Be sure to try ….
Krispy Kreme Glazed Raspberry Doughnuts
Starbucks Vanilla Bean Frappuccino
This blog post contains affliate links
Krispy Kreme Glazed Donuts
Author:

Jenni Field

Recipe Type:

Breakfat

Prep time:

1 hour, 30 minutes

Cook time:

15 minutes

Serves:

8
You can recreate the best Copycat Krispy Kreme Glazed Donuts with this recipe. Prepare at your own risk!
Ingredients
For the Doughnuts

11.5 ounces (about 2 3⁄4 cups) all purpose flour (I use King Arthur)

1 ounce (about 3 tablespoons) neutral vegetable oil

4 oz (1/2 cup) whole milk

4 oz (1/2 cup) filtered water

1.3 oz (about 3 tablespoons) granulated sugar

2 egg yolks

.6 oz (2 tablespoons) malted milk powder (Carnation makes one that is available at most

grocery stores) If you can't find malted milk powder, use nonfat dried powdered milk instead

2 teaspoons active dry yeast

1/2 teaspoon kosher salt (or about 3⁄4 teaspoons of table salt)

To Fry

Enough shortening or vegetable oil to fill a large pan by about 3 inches

For the Glaze

2 ounces (1⁄2 stick) unsalted butter

2 tablespoons neutral vegetable oil

12 ounces (about 3 cups) confectioners sugar

Pinch of salt

2 1/2-3 oz (about 1⁄4 cup to 1⁄3 cup) very hot filtered water
Directions
For the Dough
Combine all dough ingredients in the bowl of your stand mixer. Use the dough hook attachment and mix on low for about a minute or so until the flour is almost all incorporated. You may have to scrape down the sides of the bowl a time or two. Once the dough is more or less together, knead on medium speed until the dough clears the sides of the pan. You will think it never will, and then all of a sudden, it does. This will take between 12-15 minutes. The dough will be very soft and supple.
Scrape the dough into a ball in the bottom of the mixer bowl, spray with pan spray and cover. Let rise in a warm spot until double, about 1 hour to 1 hour and 15 minutes. (To make a warm place for my dough to rise, bring a mug of water to a boil in the microwave. Then move the mug to one side and place the covered bowl of dough in the other side. Close the door quickly to let the dough proof.)
While the dough is proofing, cut some squares of parchment about 4" x 4". You'll need 16 or so. Spray each square with a bit of pan spray. Lay them out on two cookie sheets or half sheet pans. Liberally flour a work surface with all purpose flour and, when the dough has doubled, scrape it out onto the floured surface.
Flour the top of the dough as well and knead it a few times to incorporate the flour and to press out as many of the large gas bubbles as you can. Shape the dough into a smooth ball, cover and let rest for 10 minutes.
Add a bit more flour to your work surface and the top of the dough and roll out into a rough rectangle about 1⁄2" thick. Use a 3" doughnut cutter (or a large and small round cutter) to cut approximately 12 doughnuts from the first roll. Place each doughnut on one of the squares of parchment.
Reroll the remainder of the dough, but know these second rolls won't be quite as light as the first rolls. You should be able to cut another 4 doughnuts from the re-rolled dough. Discard the rest or fry the scraps as-is.
Cover the doughnuts with plastic wrap or a couple of lint-free towels. Let them rest for 20 minutes. After 20 minutes, heat the oil to 360F. This will take about 10 minutes or so.
Once the oil is at temperature, start frying. Pick up one of the parchment squares and, holding it low over the oil, carefully tip the doughnut into the oil, letting it slide off the parchment. Be careful! Fry 2-3 doughnuts at a time, flipping them once the first side is deep golden brown and the oil is barely bubbling. Doughnuts cook fast--maybe a minute a side, so don't walk away.
Remove each fully cooked doughnut to a rack to cool. Cook all the "first rolls" first, because the second rolls will need a bit extra time to rise. Allow to cool completely. Dip each doughnut into the glaze (method follows) and then flip so the glaze completely cover the doughnut. Stick a wooden skewer or chopstick into the hole in the doughnut and hold up over the bowl of glaze to drain well. You want all but the thinnest layer of glaze to remain. Allow doughnuts to sit at room temperature until the glaze has set.
Carefully turn the doughnuts over to allow any drips on the bottoms of the doughnuts to set up as well. These are best served as soon as the glaze has set up. Serve them at room temperature or barely heat them in the microwave. Wrap any leftovers and leave at room temperature. Heat to serve the next day.
These things are seriously delicious and ridiculously addictive. I don't think you'll have any left after the first day, let alone the second!
To Make the Glaze
In a microwave safe medium bowl, heat the oil and butter on power level 2-3 until the butter has mostly melted. Add the confectioners' sugar and whisk to combine as evenly as possible. Add 2 1/2 ounces of hot water (1/4 cup plus 1 tablespoon) and whisk well. The glaze should be pretty thin but not watery. If you think it's a bit thick, add more water, a teaspoon or so at a time, until you like the texture. You will most likely have a lot of leftover glaze, but you need this much to be able to dip and flip them. After glazing all the doughnuts, you can use the leftover glaze for another purpose or just discard it.
NOTES:
If you want to fry the doughnut holes, fry them first or they will overproof since they are so small. The doughnuts should float in the oil as soon as you drop them in. If they sink or float low in the oil, remove the oil from the heat and let the doughnuts proof an additonal 10-15 minutes. A well-proofed doughnut will bob in the oil like a boat, not sink like a submarine. Your doughnuts should be deep golden brown on each side and have a pale strip around their centers. (See photos) That lets you know they are light and fluffy
Print Recipe