Charoset is a delicious fruit salad with apples, nuts, wine, and a touch of cinnamon spice. This fruity dish is perfect for Passover or to enjoy throughout the year.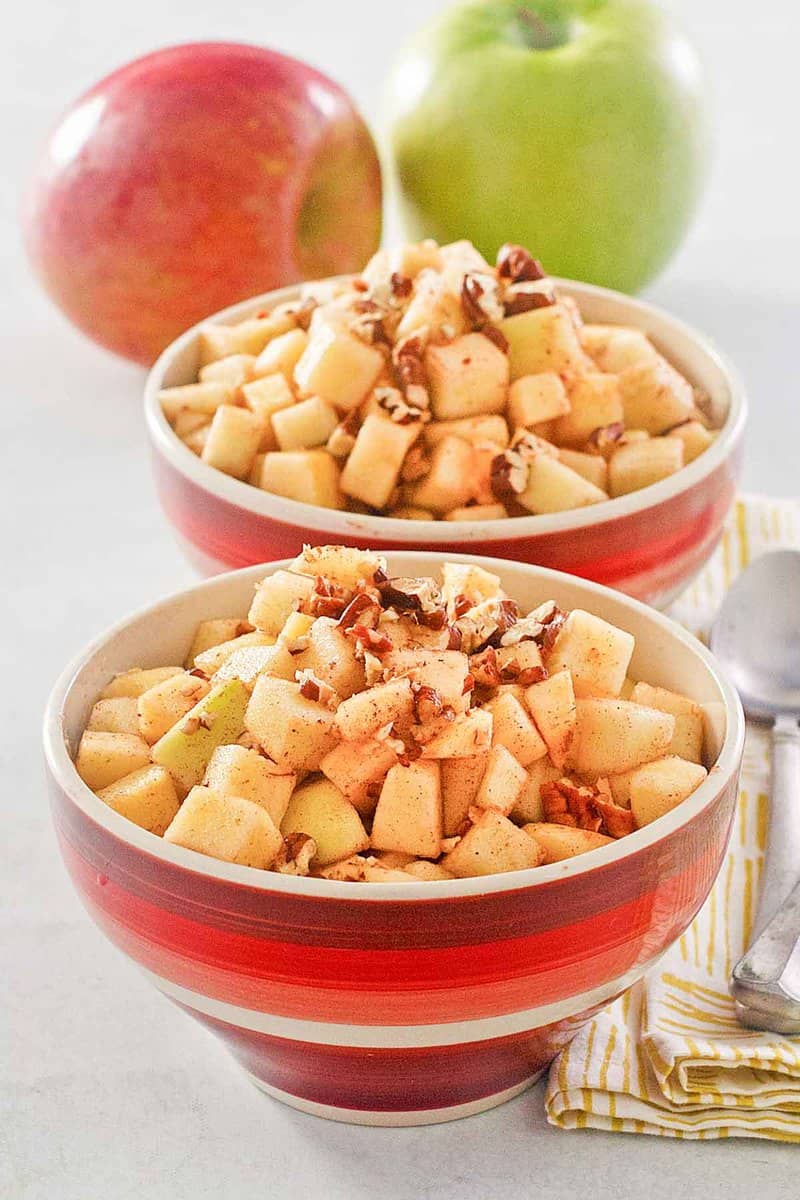 This post contains affiliate links. As an Amazon Associate, I earn from qualifying purchases.
Easy Charoset Recipe
Charoset (pronounced kha-roe-set and also known as charoses or haroset) is a fresh apple salad and a favorite dish of mine. While some people may eat this apple salad only for Passover, this is a wonderful side dish that can be eaten at any time.
For me, the fact that Passover and Easter are so closely tied means lots of good dishes can be shared together.
Traditional charoset in the form of a paste on matzo represents the mortar used between the stones of the pyramids when the Israelites were in Egypt. The sweetness represents freedom.
What is Charoset?
Charoset salad is made with apples, lemon juice, nuts, spices, wine, and whatever else you care to throw into it. This ingredient mixture is a great combination that will delight your tastebuds.
If you love all sorts of salads made with apples but have never thought about adding wine, you'll find that the wine really enhances the flavor of the apples.
Why This is the Best Charoset Recipe
This is a charoset small batch recipe that turns charoset into a salad, making it more delectable. Everyone will enjoy the sweet, nutty taste of this charoset recipe with wine.
You can make this easy charoset recipe anytime you like and serve it throughout the year. In fact, this recipe is so delicious, you may find yourself wanting to eat it every day!
It's sweet (but not too sweet), crunchy, and juicy. You just can't go wrong with this charoset salad recipe!
Recipe Ingredients
This is a simple, quick, and tasty apple salad with simple ingredients that go together very well. Here's a list of what you will need:
Apples
Lemon
Toasted Pecans
Manischewitz Concord Grape Wine – or other sweet red wine
Honey
Cinnamon
Nutmeg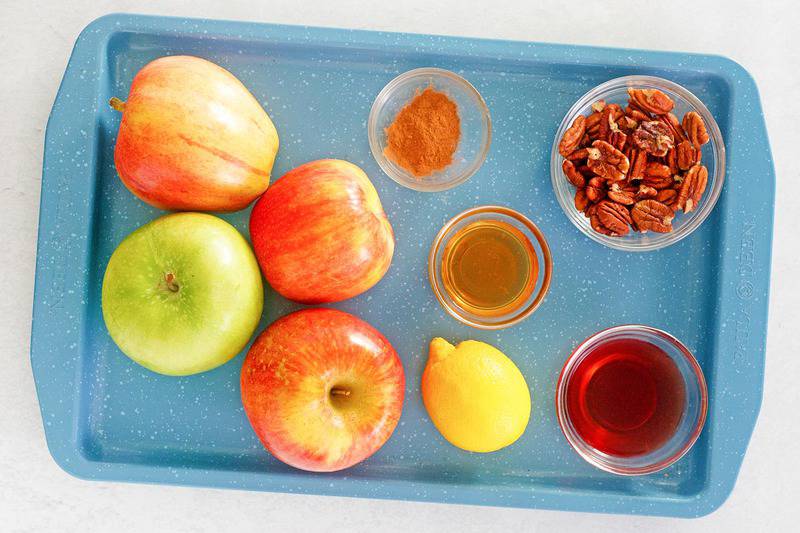 Ingredient Substitutions
Here are a few ideas for changing up this recipe for your flavor or diet preferences:
Charoset without Wine – substitute grape juice for the wine.
Nut Free Charoset – Instead of nuts, use roasted pumpkin seeds or sunflower seed kernels, coarsely chopped.
Use other Nuts – Substitute different nuts for the pecans. Walnuts or hazelnuts are great options.
Vegan Charoset – If you like sweet flavors but happen to be vegan, swap the honey for agave syrup.
Charoset Recipe With Wine – What Is the Best Wine to Use?
This recipe uses Manischewitz Concord Kosher Wine which is like mana from heaven, except with alcohol! However, you could substitute the following:
How to Make Charoset
Chop apples quickly, place into a large bowl, and squeeze lemon over the chopped apples.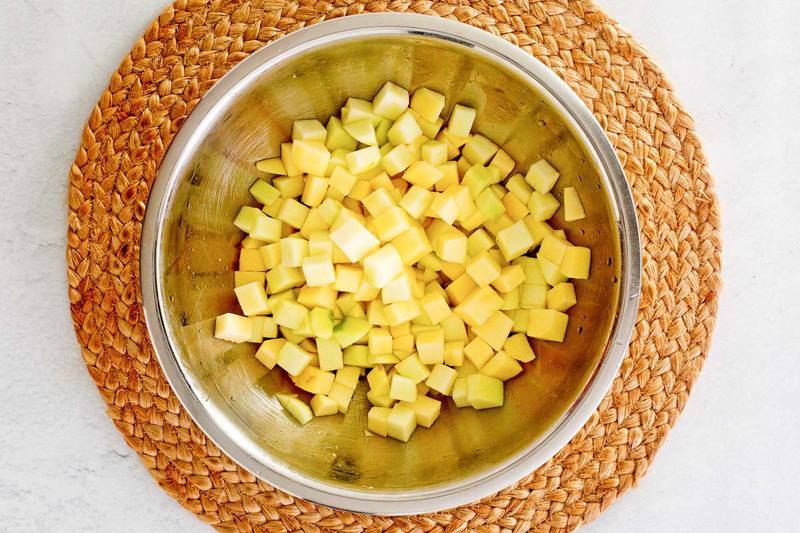 Mix wine and honey together, blend well together.
Pour wine and honey over the apples, stir in nuts, and add fresh cinnamon and nutmeg.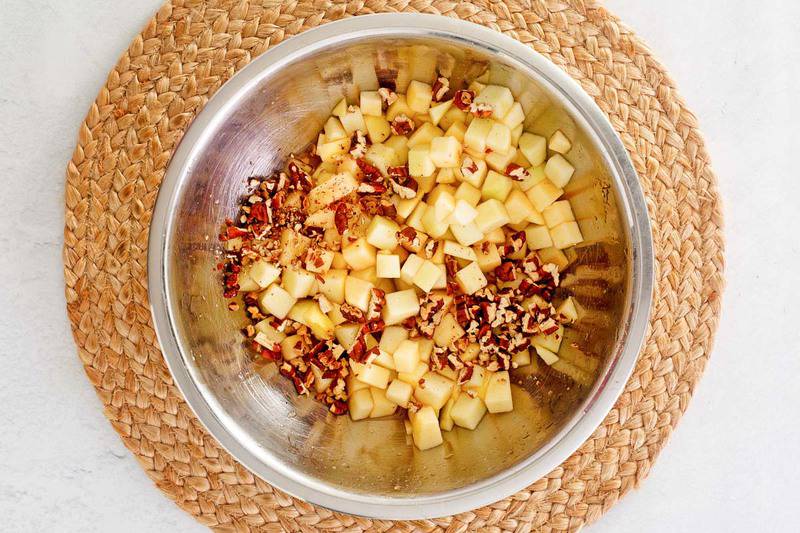 Refrigerate for about 30 minutes before serving.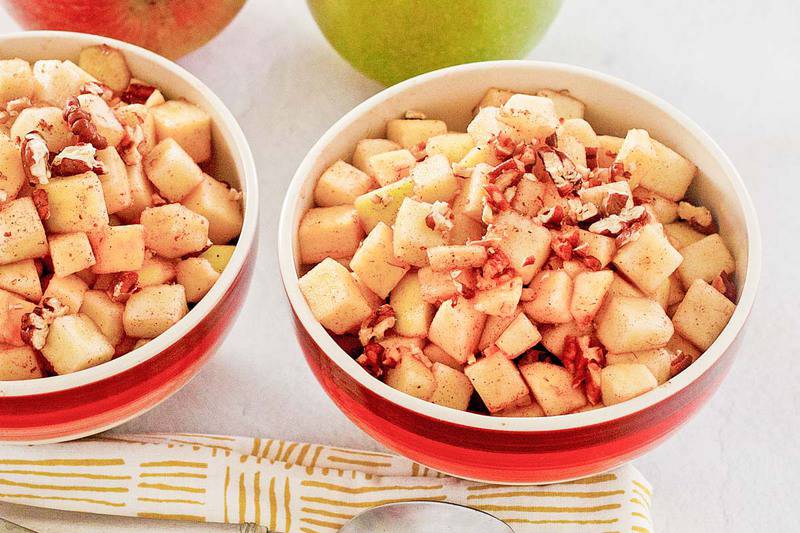 Apple Charoset Recipe Variations
You can absolutely make this recipe your own! Use this apple charoset recipe as a template and get creative. Here are some ideas:
Add some orange zest.
Add raisins.
Add dates. Charoset with dates is quite popular.
Add other fruits like sliced peaches or bananas.
Lightly salt the nuts while still warm.
Sprinkle ground pistachios over the top for a pop of color and added crunch.
Mix apples and pears to make pear charoset.
Recipe Tips
It's best to use a somewhat thick, sweet kosher wine like a concord grape wine. The apples and nuts will absorb some of the wine while refrigerated, and you'll have a thicker, less watery dish.
Hand chop the nuts for the best texture.
How to Serve Apple Charoset Salad
Substitute it for applesauce or cranberry sauce for a refreshing change.
Serve it as a dessert topped with whipped cream or ice cream.
What Goes With Charoset?
Are you wondering what do you serve with Charoset? You can pair it with potato pancakes or pierogis. Or, anything that you would typically serve with apple or cranberry sauce, such as:
Can You Make Charoset Ahead of Time?
Absolutely! Make your charoset the night before, and that's one less thing to worry about. And it tastes even better after it has sat a while!
How to Store Leftover Charoset
Leftovers can be stored in an airtight container in the refrigerator for up to 3 days. Understand that the apples may discolor as they begin to oxidize. Charoset is not suited to freezing.
Love apple salad? Try these recipes!
Favorite Apple Recipes
Check out more of my easy salad recipes and the best Passover and Easter recipes here on CopyKat!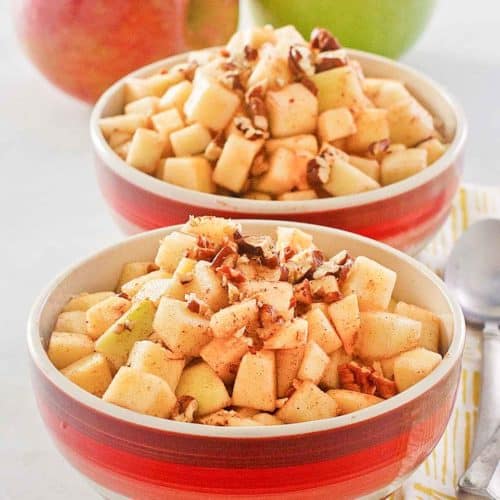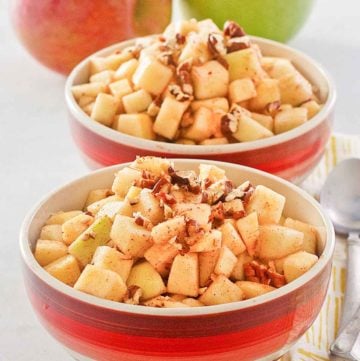 Ingredients
4

apples

peeled (I like to use 4 different varieties)

1

lemon

1/4

cup

red wine

Manischewitz Concord Grape

1/4

cup

honey

1/2

cup

toasted pecans

1/2

teaspoon

ground cinnamon

1/2

teaspoon

nutmeg

freshly grated
Instructions
Chop the apples quickly and squeeze lemon on top to prevent browning.

Mix the wine and honey together, and pour the mixture over the apples.

Stir in the pecans, cinnamon, and nutmeg.

Refrigerate for about 30 minutes before serving.
Nutrition
Calories:
259
kcal
|
Carbohydrates:
45
g
|
Protein:
1
g
|
Fat:
9
g
|
Saturated Fat:
0
g
|
Cholesterol:
0
mg
|
Sodium:
3
mg
|
Potassium:
275
mg
|
Fiber:
5
g
|
Sugar:
36
g
|
Vitamin A:
100
IU
|
Vitamin C:
8.3
mg
|
Calcium:
20
mg
|
Iron:
0.7
mg