Dunkin Donuts Omelet Bites are delicious donut-shaped baked eggs with bacon and cheddar cheese. There is no need to go to the restaurant when you can make these tasty egg bites at home with this easy copycat recipe.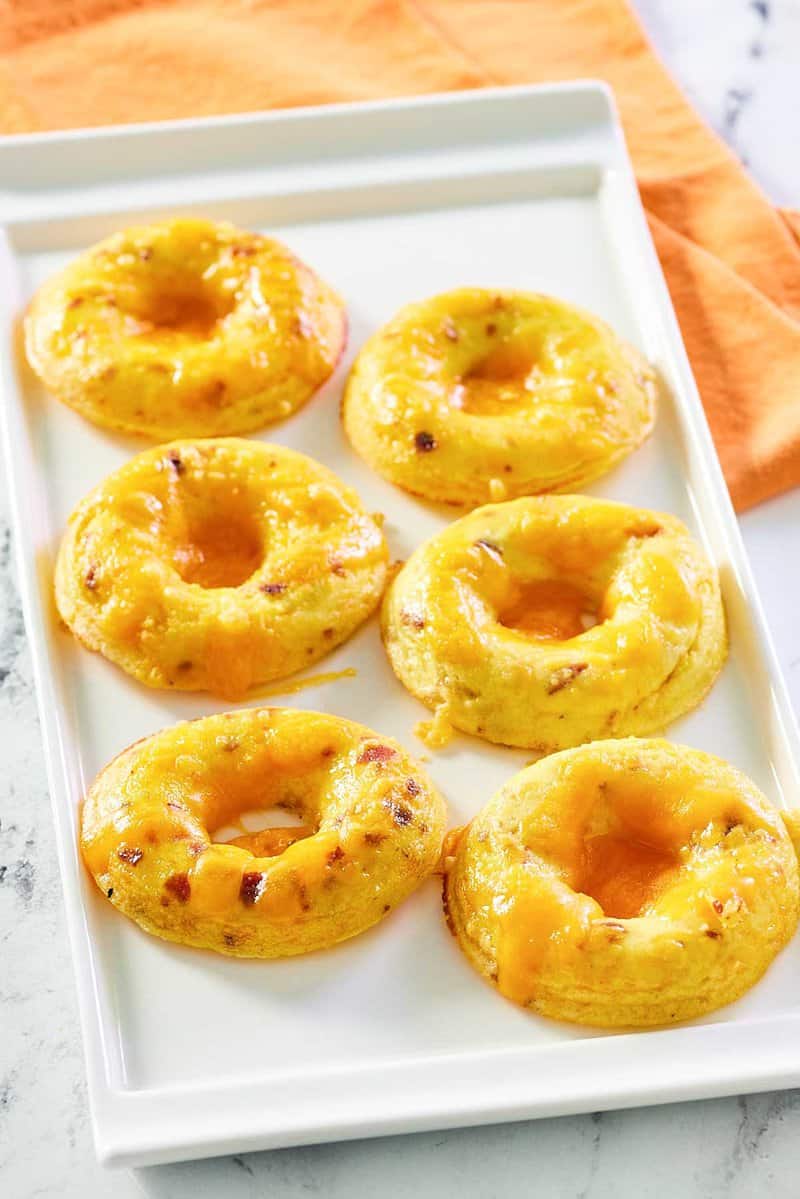 This post contains affiliate links. As an Amazon Associate, I earn from qualifying purchases.
What Makes Dunkin Omelet Bites So Good?
Nothing beats sitting down at the table to enjoy a tasty omelet, but who has the time? These mini donut-shaped Dunkin Cheddar and Bacon Omelet Bites are real cuties, and they come loaded with three kinds of cheese and smoky bacon bits to boot!
Dunkin Omelet Bites are the perfect on-the-go breakfast to help you power through your busy day.
Why You Should Try This Recipe for the Dunkin Egg Bites?
Making a lousy omelet is easy, but cooking a good one takes plenty of practice. These Omelet Bites Dunkin Donuts style deliver fluffy, perfectly cooked eggs with almost zero effort.
How? By making them in the oven! Baking the bites eliminates any guesswork and gives you time to handle those inevitable morning emergencies while still being able to serve your family a freshly cooked breakfast.
Ingredients For Dunkin Omelet Bites
To make omelet bites, you'll need:
Eggs
Cottage cheese
Monterey Jack Cheese, shredded
Cheddar cheese, shredded
Salt
Bacon bits
Prepare homemade bacon bits or buy a ready-made product containing actual bacon for the best flavor. Hormel's Real Bacon Bits is a good choice for this recipe.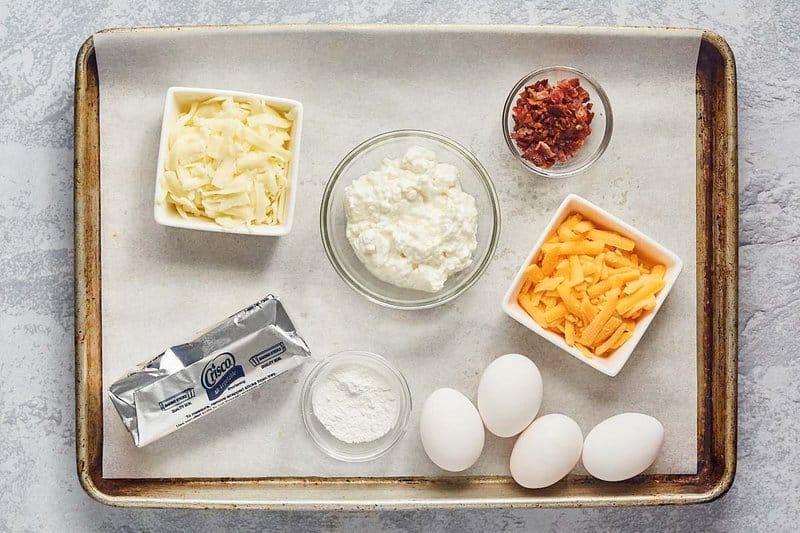 How To Bake Dunkin Omelet Bites
To make these convenient handheld omelets:
Preheat the oven to 350°F.
Blend the eggs, Monterey Jack, cottage cheese, and salt on low speed until the mixture is slightly thickened and free of lumps. If you don't have a blender, try whisking everything together in a bowl. Although the texture will not be the same, the egg bites will still be delish.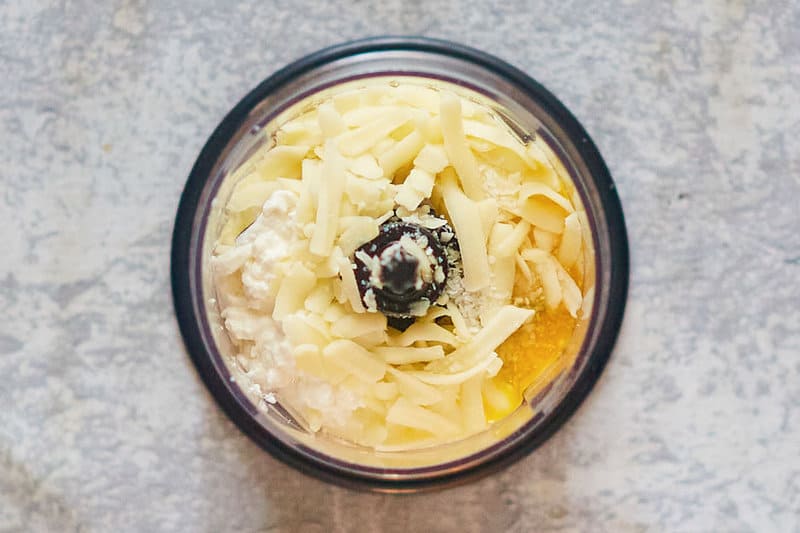 Add the cheddar cheese and bacon bits to the egg mixture. Pulse once or twice, but avoid pureeing the bacon.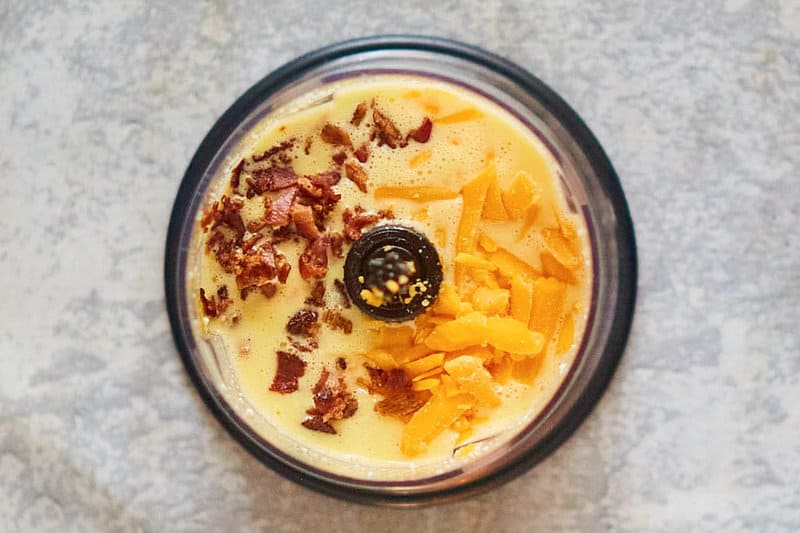 Lightly spray a mini-donut baking pan or silicone mold with oil. Even when using a non-stick pan, a light spritz of oil is necessary to prevent the eggs from sticking. A mini muffin pan is an acceptable substitute for a mini donut baking pan, but you should extend the cooking time by a minute or two to ensure the bites cook thoroughly.
Set the mini donut baking pan on top of a cookie sheet and pour the omelet mixture to the top of each bold.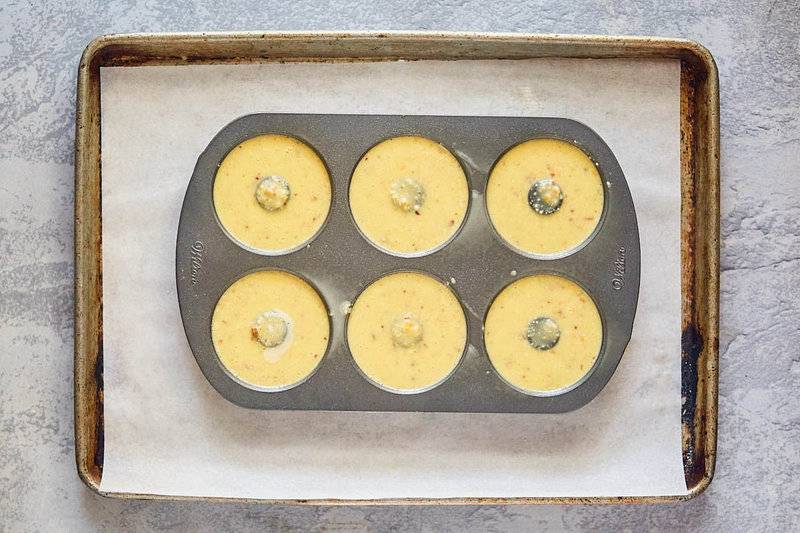 Bake in the preheated oven until the eggs are firm, about 10 to 12 minutes.
Remove the egg bites from the baking pan immediately.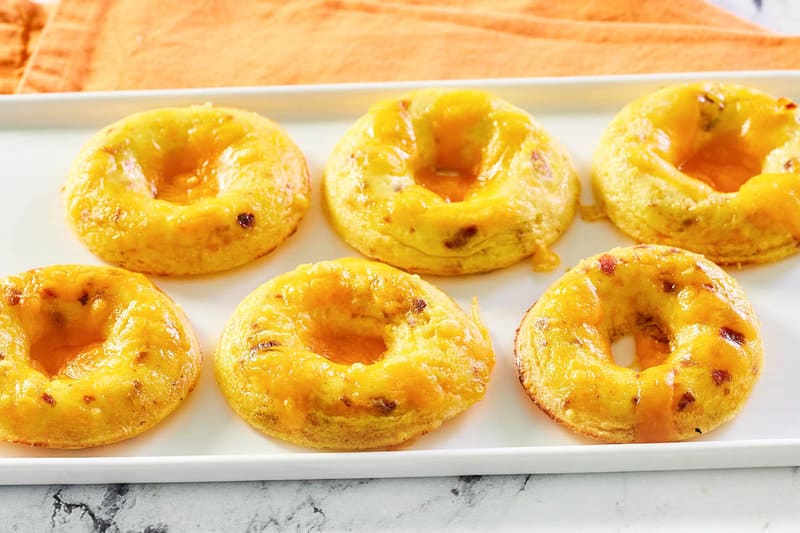 Recipe Variation
Egg White Veggie Omelet Bites – Use six egg whites instead of 4 whole eggs. Substitute the bacon with tomato and spinach. Substitute the Monterey Jack and Cheddar cheeses with a four-cheese blend.
What To Serve Dunkin Egg Bites With?
Try garnishing the egg bites with a squiggle of creamy pepper sauce or ketchup and then sprinkling on a combination of finely chopped cooked peppers, onions, and mushrooms. Home fries, fruit, and toast make these bites a complete breakfast.
Hot or iced coffee, an espresso drink, or a cold brew with brown sugar cookie flavor are all great beverage choices.
How Do You Store Egg Bites?
Let the eggs cool to room temperature before transferring them to an airtight container. Egg bites will keep in the fridge for up to three days. If you want to keep them for longer, try freezing them.
Place the cooled bites on a baking pan and freeze until frozen.
Transfer the eggs to a freezer-safe container.
Store in the freezer for up to two months.
How Do You Make Egg Bites Ahead of Time?
Save time in the morning by preparing the omelet mixture the night before and keeping it in the fridge overnight. Take the egg mixture out of the fridge 10 minutes before baking.
What's the Best Way to Reheat Dunkin Cheddar and Bacon Omelet Bites
The best reheating method to prevent the eggs from drying out is using the microwave:
Wrap a thawed egg bite in a damp paper towel.
Microwave on medium power for a minute.
Let the egg bite rest a short time before eating.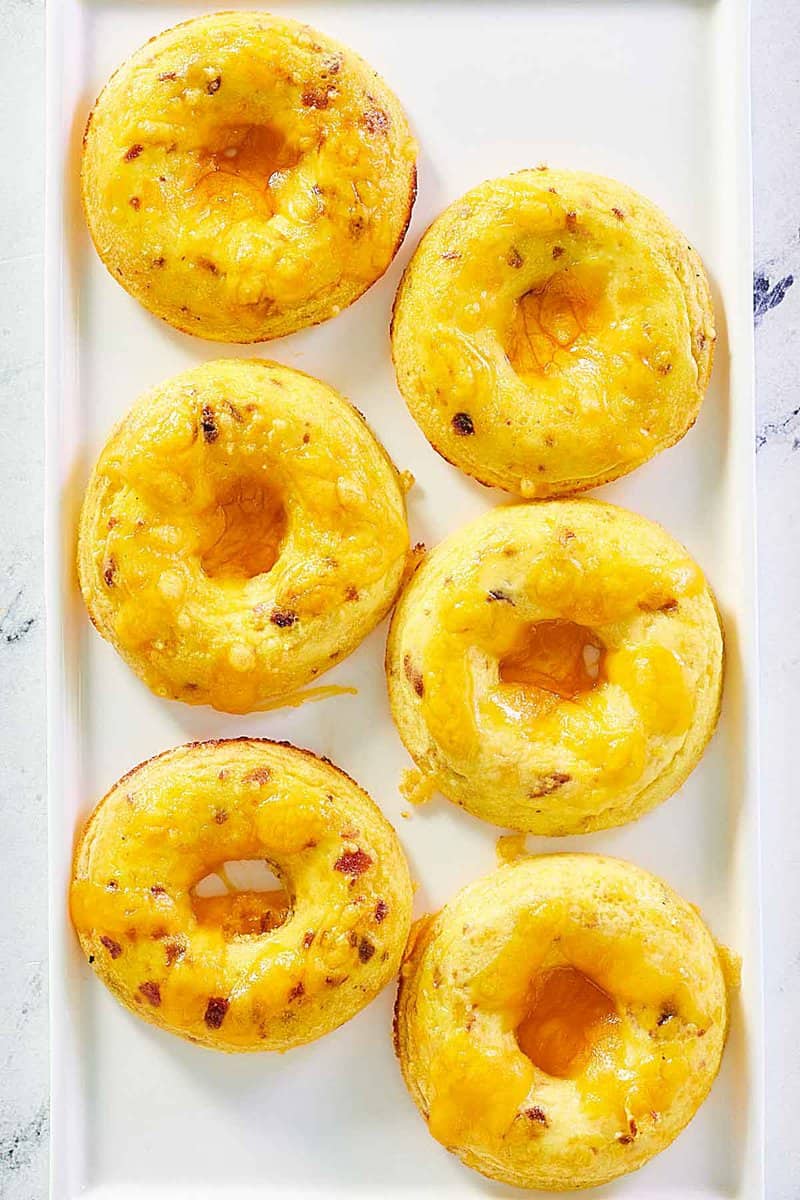 Love Dunkin Donuts? Try These Copycat Recipes!
Favorite Egg Breakfast Recipes
Check out more of my easy breakfast recipes and the best copycat fast food recipes on CopyKat!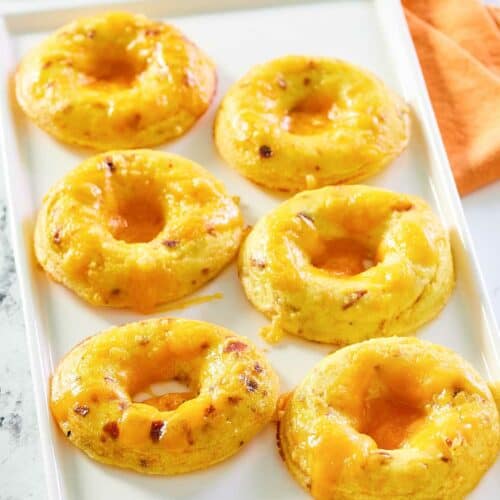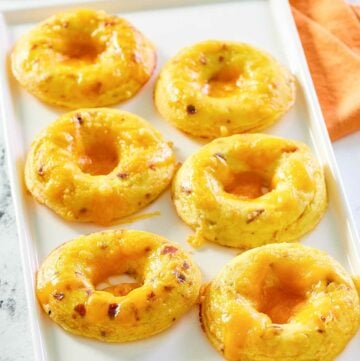 Ingredients
4

eggs

4

tablespoons

cottage cheese

1/4

cup

shredded Monterey Jack cheese

1/4

teaspoon

salt

1/4

cup

shredded cheddar cheese

plus extra, if desired

1

tablespoon

real bacon bits
Instructions
Preheat the oven to 350°F.

In a

blender

, combine the eggs, cottage cheese, Monterey Jack cheese, and salt. Puree until it is a uniform mixture. Then add the cheddar cheese and bacon bits and pulse a few times.

Spray muffin or donut pans with non-stick spray.

Pour the egg mixture into the pans. If using the donut-shaped tins, fill the rings until they are almost full; otherwise, the omelet bites will be oddly shaped. This does not matter on muffin tins.

Bake for 10 to 12 minutes or until the omelet bites spring back when touched.

Remove the pan from the oven and remove the omelet bites from the tins. Serve immediately, or, if desired, you can sprinkle some cheddar cheese on top and place the bites under the broiler until the cheddar cheese melts.
Notes
You can use a muffin pan if you do not have a donut pan.
Nutrition
Calories:
94
kcal
|
Carbohydrates:
1
g
|
Protein:
7
g
|
Fat:
7
g
|
Saturated Fat:
3
g
|
Polyunsaturated Fat:
1
g
|
Monounsaturated Fat:
2
g
|
Trans Fat:
0.01
g
|
Cholesterol:
121
mg
|
Sodium:
249
mg
|
Potassium:
64
mg
|
Sugar:
0.4
g
|
Vitamin A:
256
IU
|
Calcium:
93
mg
|
Iron:
1
mg