Classic Irish Coffee is a wonderful way to warm up on a cold evening. The combination of coffee, Irish whiskey, sugar, and cream can't be matched.
This post contains affiliate links. As an Amazon Associate, I earn from qualifying purchases.
Irish Coffee Cocktail
Classic Irish coffee is a wonderful way to warm up on a cold evening. The combination of coffee, cream, and Irish whiskey just can't be matched. It's fresh hot coffee with some added pep. It's delicious, incredibly easy to create, and makes you feel cozy all over.
This cocktail is the perfect hot toddy and will add some extra cheer to your holidays. Between the hot brewed coffee and the strong Irish whiskey, this drink is sure to pack a punch in all the best ways.
What Is Irish Coffee?
Well before espressos, lattes, cappuccinos, and frappuccinos, there was Irish coffee, which is still one of the most classic mixed drinks involving coffee and alcohol. It's the perfect combination of sweetened coffee, Irish whiskey, and whipped cream.
Traditionally an Irish coffee drink is made and served in a glass mug, so you don't miss out on how wonderful it looks as well as how great it tastes.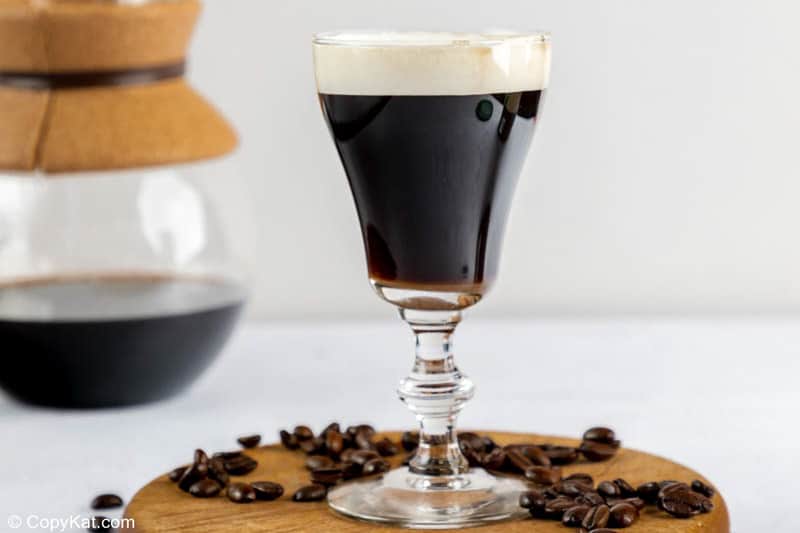 Irish Coffee History
The first Irish coffee was created in 1943 at the flying boat terminal in Foynes, Ireland, by a bartender named Joe Sheridan.
A flying boat had to turn back because of bad weather, and Joe was asked to prepare hot food and drinks for the freezing passengers. To warm them up, he put a good dose of Irish whiskey into their coffees and topped it off with cream.
One passenger ventured to ask, Is this Brazilian coffee? No, Joe said, it's Irish coffee. The name stuck and the story doesn't end there!
The Buena Vista Café
In 1951, Stanton Delaplane, a reporter for The San Francisco Chronicle, sampled Joe's Irish coffee at the Foynes terminal. Once back in San Francisco, he spent a long evening at The Buena Vista Cafe working out the best balance of ingredients.
Practically overnight, The Buena Vista became the most prosperous saloon in the city, all thanks to Irish coffee. A year later, Joe Sheridan went to work at The Buena Vista.
Today the Buena Vista serves up to 2,000 Irish coffees a day. You can read more about the history of Irish coffee.
Why This is the best Irish coffee recipe
This classic combination of bitter coffee, buttery whisky, and frothy whipped cream will warm your soul as well as your tastebuds.
In restaurants, Irish coffee cocktails can be overwhelmingly rich and sweet. However, if you make them from this coffee recipe at home, you can control the sweetness.
Another plus is this recipe is so simple to make. You don't need to have gone to bartending school or require any special equipment to whip up an Irish coffee.
This Irish coffee recipe as written makes one cocktail, but they're easy to make in multiples! Serve this drink and your guests will think you are a legend.
Irish Coffee Ingredients
Wondering what's in Irish coffee? The ingredients for this delicious hot coffee drink couldn't be simpler. Here are the key components of a real Irish coffee.
Brewed coffee
Irish whiskey
Dark brown sugar
Heavy cream
What Is Irish Whiskey?
If you want your Irish coffee to be truly authentic, keep to this rule: use an Irish whiskey such as Jameson. Jameson Irish whiskey has a unique flavor.
It's light and fruity, with a delicate floral scent and hints of nutty and vanilla tones. Compared to the spicier finish of bourbon or rye whisky, Jameson is smooth and mellow. A less expensive alternative is Bushmills. It is important to use the right type of whiskey, this drink was designed for an Irish whiskey.
Coffee Notes
To experience true Irish coffee cocktail, use a rich, strong coffee.
Use high-end medium to dark-roast freshly ground beans. A French press, Aeropress, or pour-over brewer all work well.
Popular Variations
Here are a few ways to make an Irish coffee to your taste or diet preference:
Choose decaf coffee if you are avoiding caffeine or for an after-dinner drink. There's no shame in using decaf if you don't want to be up all night!
Some bartenders use white sugar, not brown. However, the caramel molasses notes in brown sugar add something to the final flavor.
You could choose to substitute maple syrup for the sugar. The flavors of maple syrup play beautifully with whiskey and coffee.
Add a teaspoon of sugar and real vanilla extract to your whipping cream for extra sweetness and flavor.
Make it dairy-free and vegan by using coconut whipped cream instead of regular whipped cream (it will impart a light coconut flavor). Cool Whip could be used, but for the best flavor, heavy cream is the most traditional.
How to Make Irish Coffee
Ready to get buzzed? This Irish Coffee recipe is very easy to make. There are just a few simple steps to making the perfect cup of Irish coffee.
Pour hot brewed coffee into a pre-warmed mug. A warmed glass helps keep the coffee warm.
Add Irish whiskey and brown sugar and stir to dissolve the sugar.
Slightly whip the heavy cream until it is bubbly and still pourable.
Gently float (pour) the cream over the back of the spoon to layer it on top of the coffee.
Alternatively, you can whip heavy cream with a mixer until it is firm and then dollop it onto the coffee.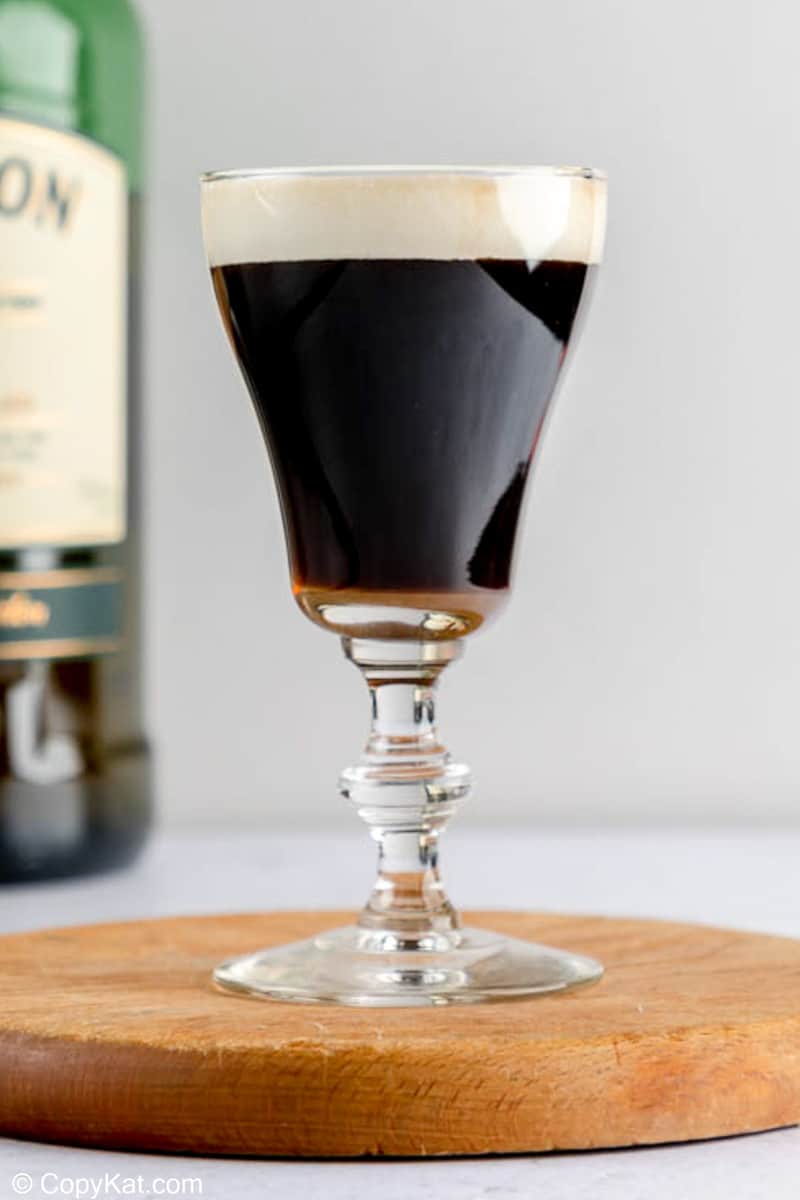 Recipe Note
It is important to keep the layers separated in the coffee. This way the person will get the experience of tasting the hot coffee through the cool layer of cream.
How to Whip the Cream
The cream needs to hold soft peaks while still being pourable. To tell if your cream is ready, flip over your whisk.
If you have a little peak at the end of the whisk that flops and curls over on itself, your cream is ready.
If the cream hasn't formed a peak, it's not ready. If you have a peak that doesn't flop but remains pointing straight up, you've gone too far.
Irish Coffee Recipe Variations
This recipe gives you a classic Irish coffee drink, but there are a few ways to change it up if you want:
Add a garnish. Sprinkle the top with a pinch of ground nutmeg or cinnamon. If you want to be really fancy, you can try finely grated fresh nutmeg or chocolate shavings. (The best tool to accomplish this is a microplane.)
Make it extra rich and creamy. Substitute Irish cream (like Bailey's) for some or all of the whiskey.
Make it alcohol-free. Skip the whiskey, and you have a delicious homemade hot coffee drink (nothing Irish about it, but hey, it's tasty!).
How to Serve an Irish Coffee Cocktail
An Irish coffee is traditionally served in an Irish coffee clear glass mug. It has a squat stem and base to raise the drink up off the bar counter or table.
Some versions come with a handle, while others (like those found at the Buena Vista) look more like stoutish wine glasses. The clearness of the glass shows off the beautiful layering of coffee and cream.
If you want to brew up an authentic Irish coffee, you're going to need a proper Irish coffee mug.
This coffee drink works for brunch, after dinner, or anytime in between. It's obviously a warm, delicious way to celebrate St. Patrick's Day, begorra! Sweet, creamy, boozy, and divine.
What Goes With Irish Coffee
If you want to serve something with your Irish coffee drink, try some Irish soda bread, Guinness cake, or bread and butter pudding.
Iced Irish Coffee
Want Irish coffee in the summer? Or prefer iced cocktails? It's easy to do!
How to Make Iced Irish Coffee
Brew coffee and stir 2 teaspoons of brown sugar into 4 ounces of the hot coffee. Stir until the sugar dissolves.
Allow the sweetened coffee to cool to room temperature or refrigerate until cold.
Fill a glass with ice.
Pour the sweetened coffee into the glass.
Add Irish whiskey and stir to combine.
Top with whipped cream.
Want Irish coffee in the summer? Learn how to make Irish coffee ice pops. These are strictly for adults so don't let your kids get their hands on them!
Favorite Cocktail Recipes
More Coffee Recipes (Non-Alcoholic)
Check out more of my easy cocktail recipes and the best Starbucks coffee recipes on CopyKat!
Ingredients
4

ounces

hot brewed coffee

1

ounce

Irish whiskey

2

teaspoons

dark brown sugar

3

tablespoons

heavy cream
Instructions
Fill an Irish coffee mug with warm water and allow the water to warm up the glass.

Discard the water and pour the brewed coffee into the warmed mug. Add the Irish whiskey and brown sugar. Stir until the sugar is dissolved.

Use a whisk to slightly whip the heavy cream until it is bubbly but still pourable. Gently pour the cream over the back of a spoon on top of the coffee. If desired, you can whip the heavy cream until it is firm and dollop it onto the coffee.
Notes
It is important to keep the layers separated in the coffee. This way the person will get the experience of tasting the hot coffee through the cool layer of cream.
Nutrition
Calories:
257
kcal
|
Carbohydrates:
9
g
|
Protein:
1
g
|
Fat:
16
g
|
Saturated Fat:
10
g
|
Cholesterol:
61
mg
|
Sodium:
21
mg
|
Potassium:
55
mg
|
Sugar:
7
g
|
Vitamin A:
660
IU
|
Calcium:
29
mg