Luby's makes some of the best cabbage, their skillet cabbage is good and easy to make. Why is this cabbage so good? It is perfectly cooked with bacon and just the right amount of seasonings.


So often I think cabbage is the forgotten vegetable. It is inexpensive and can be bitter if not cooked right. It isn't hard to cook cabbage. I want you to show you how you can prepare cooked cabbage that people will ask you for the recipe. Luby's is known for its great-tasting side dishes, and this skillet cabbage is no exception. So the next time there is a big sale on cabbage be sure to pick up a few extra heads of cabbage and enjoy this dish.
Why is this dish called skillet cabbage?
I don't know. This isn't fried cabbage, this is cabbage as Luby's the restaurant makes. Maybe at one time they put this in a skillet, maybe their marketing department thought it was a fantastic idea to call the dish Skillet Cabbage. When I recreate a CopyKat Recipe I use the name that was given in the restaurant, so you can find it better. If we used the names I personally use, it would be holy grail Alfredo sauce, that sauce I don't like, and so forth. It's for you I use the naming convention the restaurant uses.
But please, be sure to tell me this isn't how you make fried cabbage, and continue to ask why is this called Skillet Cabbage. My answer is, yes, this isn't fried cabbage and beats me why they call it skillet cabbage.
Pin this to save and share with your friends:
Love Luby's? Check out these copycat Luby's Recipes
Luby's Cafeteria Baked White Fish
Luby's Grits
Luby's Sausage Steak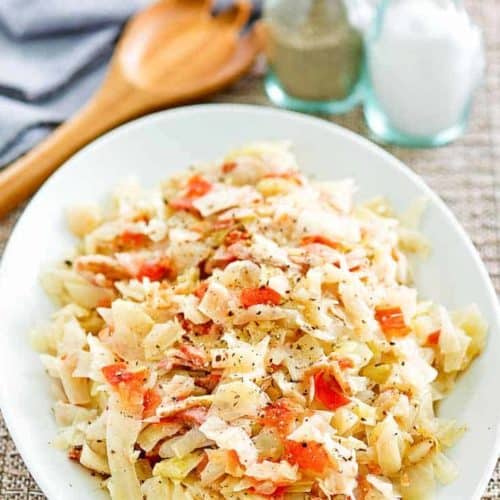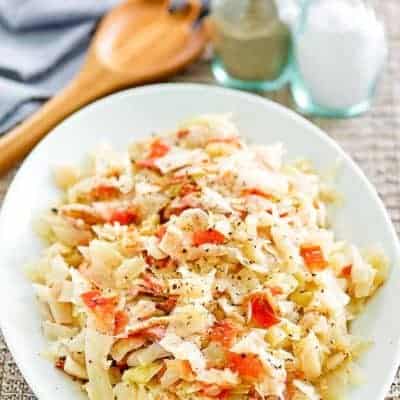 Ingredients
1

large

green cabbage

6

ounces

bacon

cut into 1 inch pieces

3

cups

water

1

teaspoon

ground black pepper

1

teaspoon

salt

3

tablespoons

butter
Instructions
Remove the cabbage core and discard. Slice the cabbage into 1 to 2-inch pieces; you should have approximately 12 cups. Place in a large pot along with the bacon and water. Bring the water to a boil over medium-low heat and then reduce the heat to a medium-low. Add the pepper and salt to the pot, cover with a lid, and simmer for about 30 minutes, stirring occasionally. Before serving, stir in the butter.
Nutrition
Calories:
165
kcal
|
Carbohydrates:
9
g
|
Protein:
4
g
|
Fat:
12
g
|
Saturated Fat:
5
g
|
Cholesterol:
25
mg
|
Sodium:
501
mg
|
Potassium:
307
mg
|
Fiber:
3
g
|
Sugar:
4
g
|
Vitamin A:
290
IU
|
Vitamin C:
57.1
mg
|
Calcium:
66
mg
|
Iron:
0.8
mg