Olive Garden shrimp caprese is a light dinner that you are going to love. Pasta, tomatoes, shrimp, basil, and mozzarella make for one amazing light shrimp pasta recipe.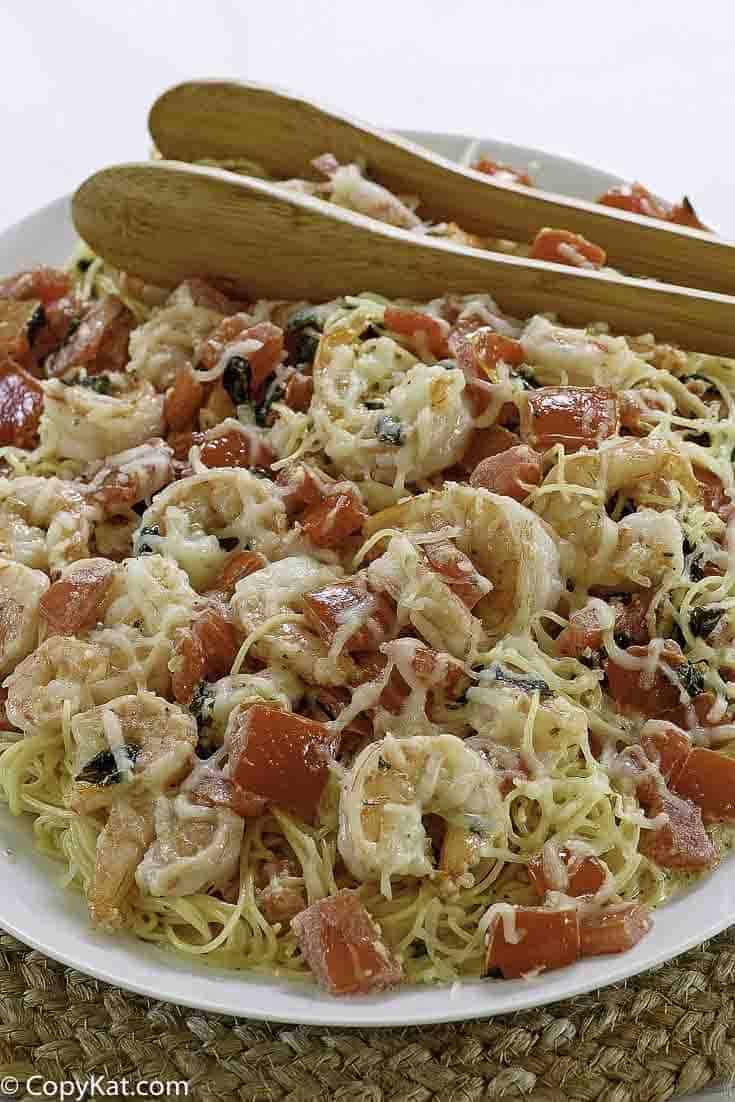 Do you love Alfredo sauce? Seafood? Cheese? This recipe is for you. A light creamy sauce is made with wine, cream, garlic, and cheese is paired with pasta. It's hard to think of a better way to enjoy shrimp.
Olive Garden Shrimp Caprese – perfect for the shrimp lover
While no longer on the Olive Garden menu, this is a delicious shrimp dinner, everyone in your whole family will love. If you love a salad Caprese, you are going to love this pasta version.
Shrimp Caprese – is easy to make
Creamy shrimp pasta is so easy to prepare. The first step in making this recipe is chopping the tomatoes, allowing them to marinate. So if you have a few extra fresh tomatoes lying around, you should definitely prepare this recipe. Ideally, the tomatoes should marinate for about an hour, if you don't have an hour, you can go ahead and prepare the sauce.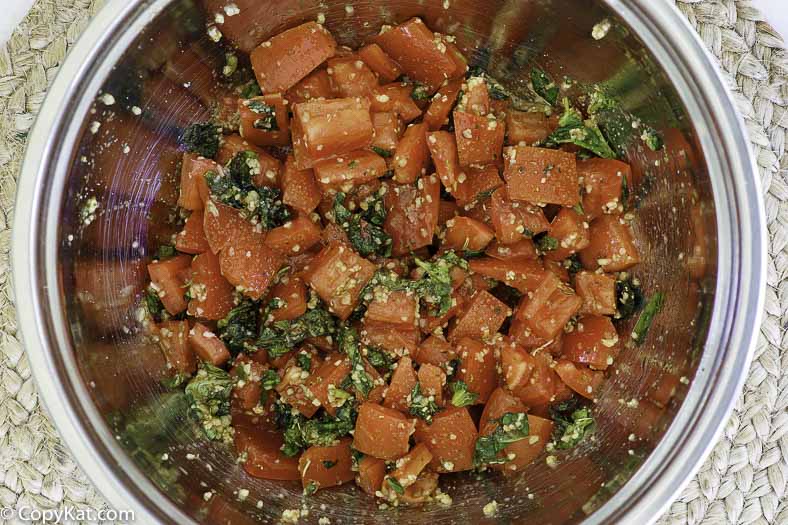 The Sauce
This sauce is close to an Alfredo sauce, but there is white wine in this recipe. You will begin preparing the sauce by melting the butter in a large pan, add the wine, and bring to a boil. You want some of the alcohol to cook off, then you will add the cream and the cheese. After the cheese melts, turn down the heat on the sauce, it will reduce in volume. When you turn down the heat, start cooking your pasta. When the pasta is almost done, it's time to start the shrimp.
Cooking the shrimp
Saute the shrimp in a pan, with a pat or two of butter. Cook the shrimp until it's pink, and cooked through.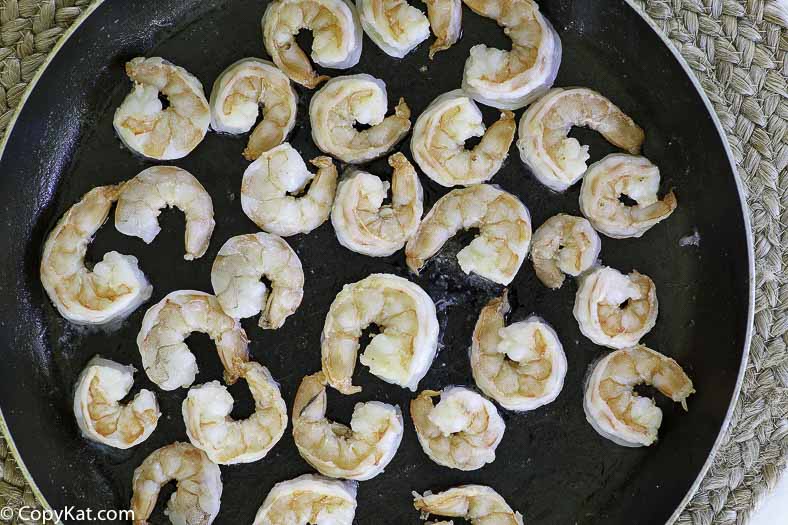 Finishing the Olive Garden Shrimp Caprese
After the pasta is finished cooking, drain it, and add it to the reduced sauce. Add the tomatoes to the pasta and stir well. Then you will transfer the pasta mixture to a platter, and top with the mozzarella cheese. You will want to place the platter of pasta under your boiler, just until the cheese melts. When you remove the platter from the oven, top with the shrimp and serve.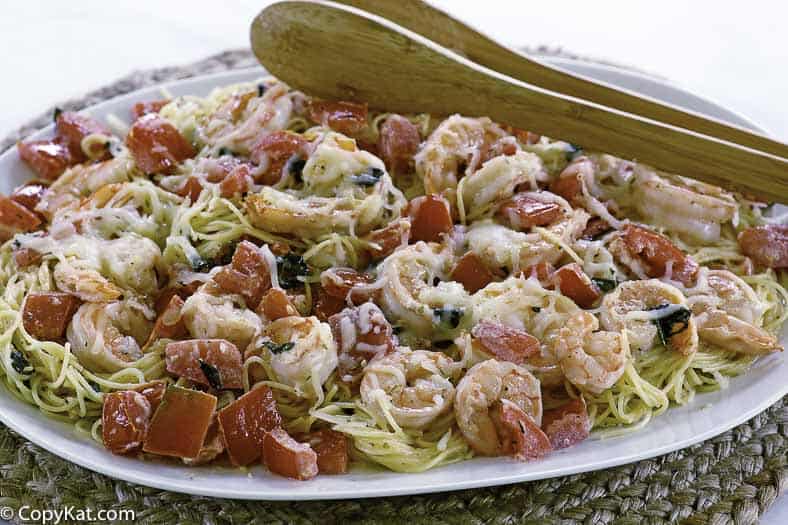 I hope you enjoy this delightful shrimp pasta! I can't think of a better summertime shrimp recipe!
Love the Olive Garden? Try these copycat Olive Garden recipes.
Olive Garden Apple Praline Cheesecake
Olive Garden Minestrone Soup
Olive Garden Green Apple Moscato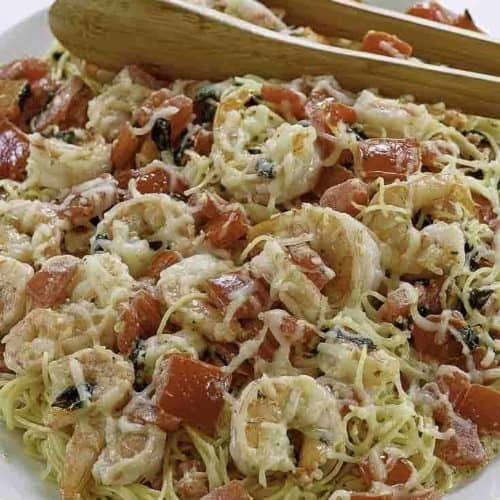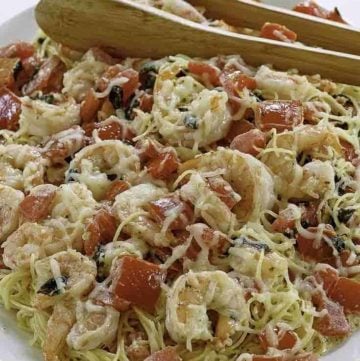 Ingredients
3

pounds

roma tomatoes, cored and cut into 1 inch pieces

30

medium

fresh basil leaves, stems removed, and cut into 1 inch pieces

1/4

cup

extra-virgin olive oil

3

tablespoons

minced garlic

2

teaspoons

Italian seasoning

1/2

teaspoon

salt

4

tablespoons

butter

1

cup

white wine

3

cups

heavy cream

2

cups

Parmesan cheese, grated

2

pounds

capellini (angel-hair) pasta, cooked according to package directions

3

cups

shredded mozzarella cheese

3

pounds

(25-30) shrimp, peeled and de-veined
Instructions
Combine tomatoes, basil, olive oil, garlic, Italian seasoning and salt in a large bowl and blend thoroughly. Cover set aside and marinate for at least 1 hour.

Heat a large, nonstick skillet over medium heat. Add butter and let melt. Stir in white wine and bring to a boil. Add heavy cream and Parmesan cheese and bring to a simmer. Reduce sauce by 1/3, it will thicken as it reduces.

Add cooked, drained pasta and marinated tomatoes to skillet. Stir to thoroughly coat pasta with sauce. Transfer pasta and sauce to serving platter and top with mozzarella cheese.

Grill or saute shrimp until internal temperature reaches 150 degrees F and set aside. Place a serving platter in the broiler for 2-3 minutes, or until cheese has melted. Top pasta with cooked shrimp and serve.
Nutrition
Calories:
1294
kcal
|
Carbohydrates:
97
g
|
Protein:
71
g
|
Fat:
65
g
|
Saturated Fat:
35
g
|
Cholesterol:
616
mg
|
Sodium:
2232
mg
|
Potassium:
964
mg
|
Fiber:
6
g
|
Sugar:
8
g
|
Vitamin A:
3590
IU
|
Vitamin C:
32.4
mg
|
Calcium:
878
mg
|
Iron:
6.4
mg