Chicken recipes can get a little boring, but not with this crispy Ritz Cracker Chicken! It has the best crispy breading on the outside and a wonderfully tender and flavorful chicken breast on the inside. What's not to love?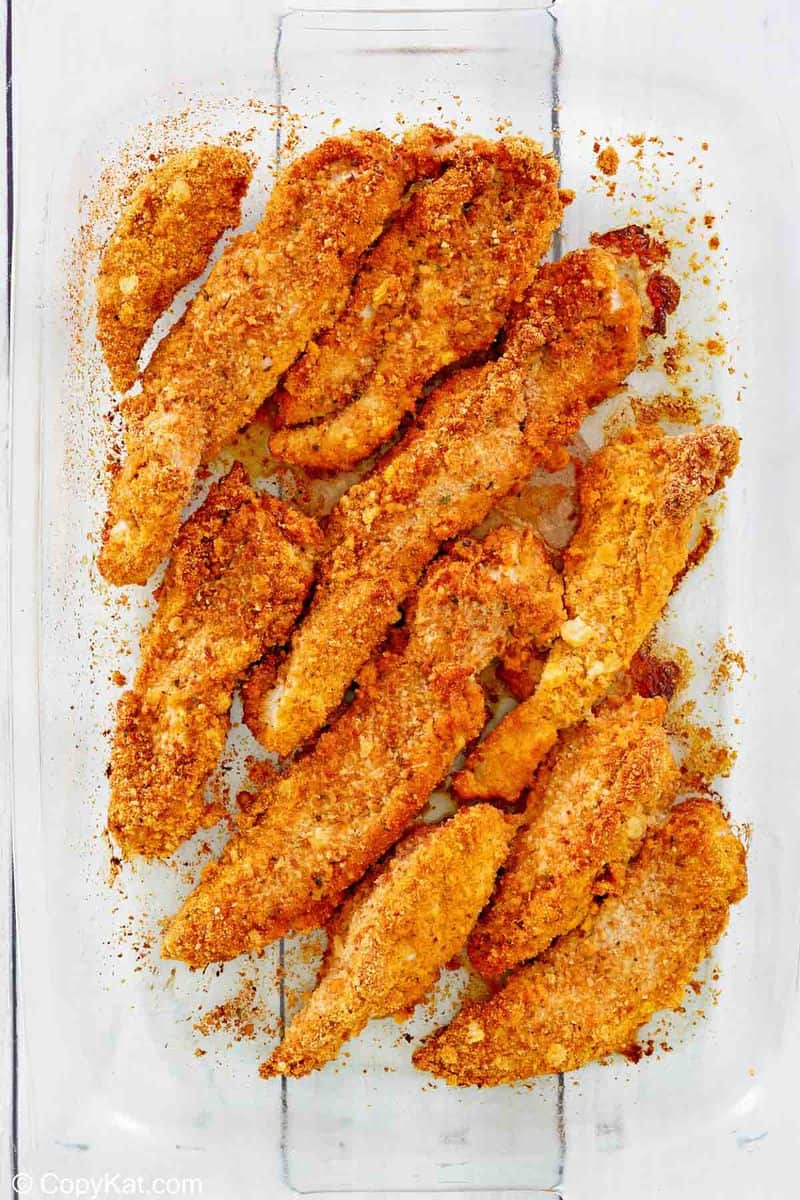 What is Ritz Cracker Chicken?
Essentially, this Ritz cracker chicken is a breaded piece of chicken breast that is baked in the oven until it is wonderfully crisp and tender.
The kicker is that this recipe uses Ritz crackers for the breading rather than just plain bread crumbs. Try it out! Even my pickiest eater will devour this recipe!
Ritz Cracker Baked Chicken Ingredients
You will likely find most of the ingredients for this recipe in your kitchen already. You don't need anything too crazy, or anything that's hard to find in the grocery store, to make this tender chicken breast recipe.
Here's a list of what you need:
Boneless skinless chicken breast
Ritz crackers
Salt
Paprika
Ground black pepper
Egg
Milk
Butter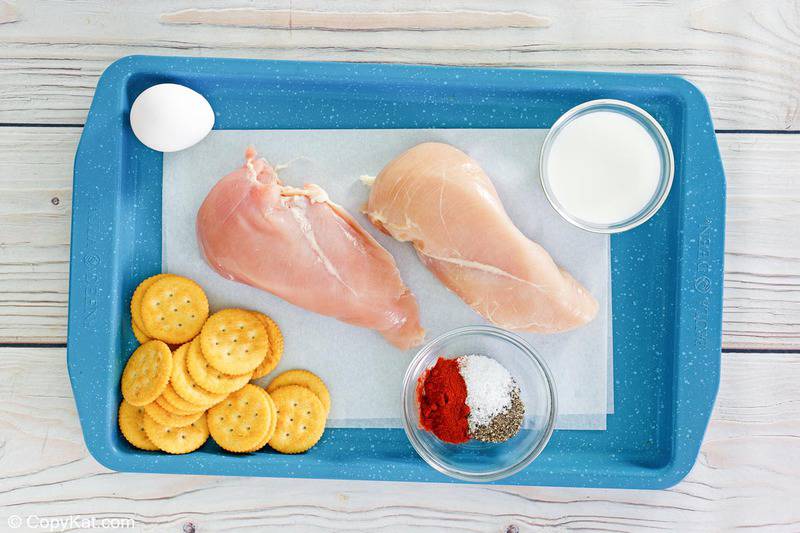 Can I Only Use Ritz Crackers?
Nope! While the name of this recipe is Ritz Cracker chicken, you can use a different type of cracker. If you are gluten free, you might try one of your favorite gluten-free crackers instead.
Or if you simply do not have any Ritz Crackers on hand, you can use Cheez-Its or something of a similar texture.
Ritz Crackers are ideal because, while they are a cracker, they are a softer version of a cracker. The softness of the Ritz is what makes it so wonderful as a breading for the chicken strips because it will absorb some of the beaten egg and milk mixture, which is what gives you that glorious crispy breading once baked.
Plus, they have a wonderful buttery taste, which adds more depth of flavor as well.
Other Variations of Ritz Cracker Chicken
If you really want to get fancy with it, you can use buttermilk instead of plain whole milk. If you don't have buttermilk in your fridge, it is actually super simple to make.
It only takes about 5 minutes to make, and as long as you have milk and lemon juice you are good to go. Learn how to make buttermilk.
How to Make Ritz Cracker Chicken
Place the Ritz cracker crumbs, salt, paprika, and black pepper in a shallow bowl. Whisk or stir to combine.
Place the egg and the milk in a separate bowl and whisk to combine.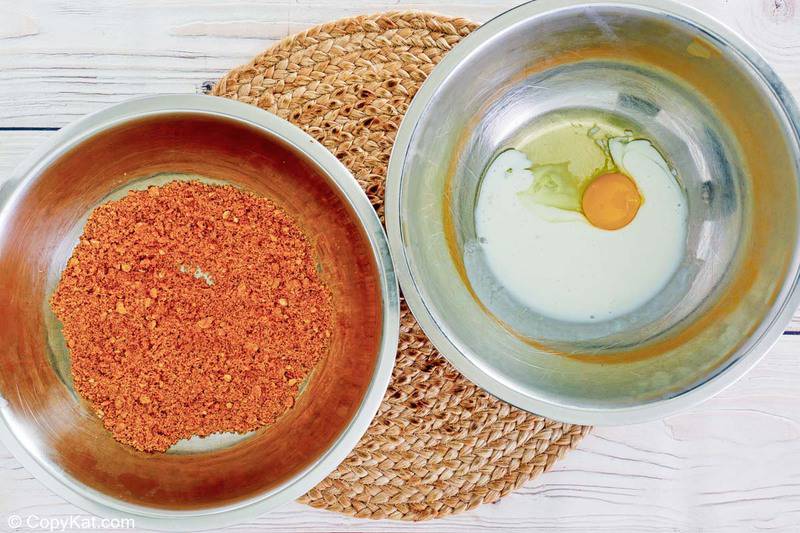 Dip the chicken strips in the milk/egg mixture, and then coat them in the cracker mixture.
Place the coated chicken in a lightly greased baking dish. Drizzle melted butter on top.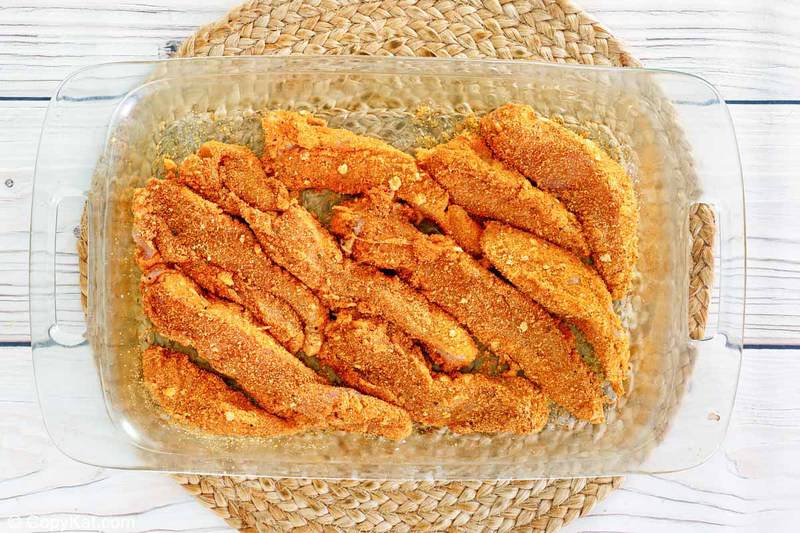 Bake at 375 degrees for 30 minutes.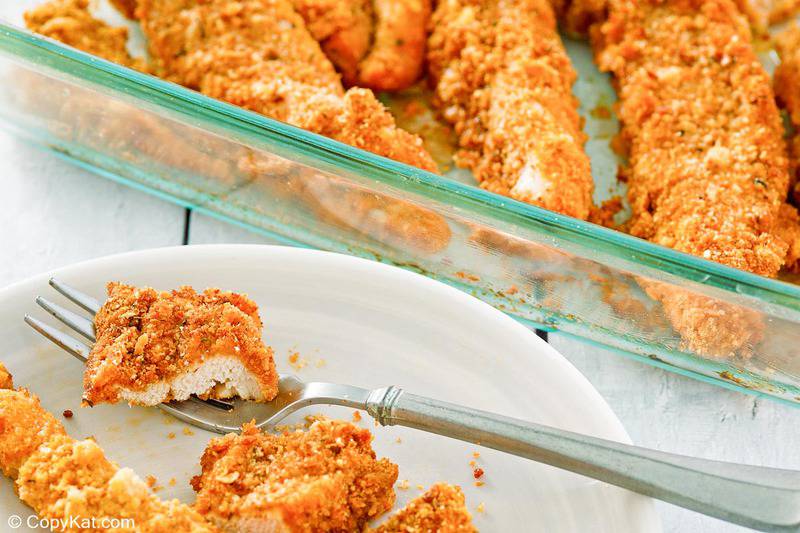 Ways to Use Leftover Ritz Cracker Chicken
There are many ways to make the best of your leftovers. Here are a few suggestions:
Cut the chicken into bite-sized pieces and put them on a mixed green salad with more of your favorite toppings.
Make a wrap using burrito shells filled with a couple of chicken strips, lettuce, tomato, and mayonnaise.
Make a sandwich with Texas Toast. Add cheese and a tasty spread like barbecue sauce, buffalo sauce, or ranch dressing.
Use it in Chicken Spaghetti Bake to transform it into a unique Ritz cracker chicken casserole.
How to Store Leftover Ritz Cracker Chicken Strips
Make sure to store the Ritz Cracker chicken in a well-sealed airtight container in the fridge. Otherwise, it will absorb the moisture from the fridge and become soggy. As long as it is stored properly, it will stay fresh in the fridge for 4 to 5 days.
You can also place the chicken in a freezer-safe bag or container and store it in the freezer for up to 3 months.
How Long Can I Store Chicken with Ritz Crackers?
As long as they are stored properly, they will keep refrigerated for up to 5 days. You can store them frozen for up to 3 months.
How to Reheat Ritz Crackers Baked Chicken
There are 3 ways to reheat this crispy baked chicken.
In the oven at 350 degrees until the chicken is heated all the way through. This method might make the chicken a little drier.
In an air fryer at 400 degrees for 5 to 7 minutes or until they are fully reheated. This is my favorite way to reheat them.
In the microwave for 45 seconds to a minute. However, the microwave will make them a bit soggier.
What to Serve with Ritz Cracker Chicken
Popular Chicken Recipes
Check out more of my easy chicken recipes and the best budget-friendly recipes here on CopyKat!
Thanks to chrissiemc for sharing this recipe.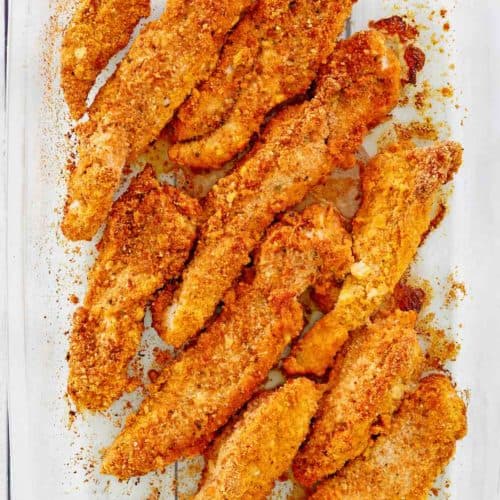 Ingredients
1

pound

boneless skinless chicken breast strips

35

Ritz crackers

crushed into fine crumbs

1/2

teaspoon

salt

1/2

teaspoon

paprika

1/8

teaspoon

ground black pepper

1

egg

beaten

3

tablespoons

milk

2

tablespoons

butter

melted
Instructions
Preheat the oven to 375°F, and lightly grease a baking dish.

In a bowl, combine the Ritz cracker crumbs, salt, paprika, and black pepper. Stir.

In a separate bowl, combine the egg and the milk. Stir.

Dip the chicken strips in the milk/egg mixture, and then coat in the cracker mixture.

Put the chicken in the baking dish, drizzle the melted butter on top.

Bake for 30 minutes.
Nutrition
Calories:
332
kcal
|
Carbohydrates:
17
g
|
Protein:
27
g
|
Fat:
16
g
|
Saturated Fat:
6
g
|
Cholesterol:
129
mg
|
Sodium:
724
mg
|
Potassium:
480
mg
|
Fiber:
0
g
|
Sugar:
2
g
|
Vitamin A:
410
IU
|
Vitamin C:
1.3
mg
|
Calcium:
65
mg
|
Iron:
1.8
mg