Starbucks Eggnog Latte is one of the ways I mark the start of the holiday season. This creamy and sweet coffee concoction is a holiday classic, the eggnog gives this latte a nostalgic holiday flavor, and you get to make this at home.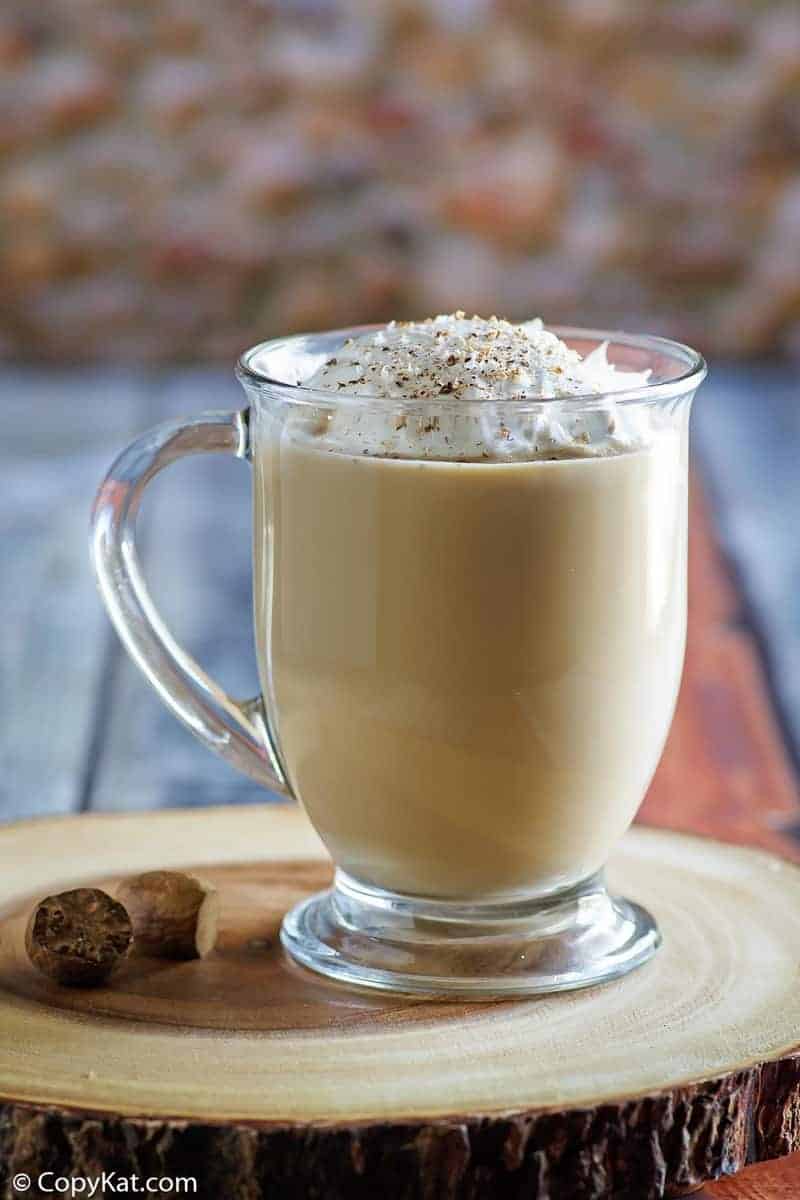 This post contains affiliate links. As an Amazon Associate, I earn from qualifying purchases.
What makes the Starbucks Eggnog Latte so good?
The Starbucks Eggnog Latte is popular due to its rich, creamy, and sweet flavor. It's made by combining steamed milk, espresso, and eggnog. Combining the smooth and creamy eggnog with the bold and robust espresso creates a well-balanced and satisfying flavor. Finally, the topping of nutmeg adds a touch of warmth and an extra burst of flavor to the latte, making it a favorite among customers during the holiday season.
How do you make an Eggnog latte when you can't find any eggnog in the store?
Eggnog is sold in the store during the winter holiday season. If you want one of these drinks for the rest of the year, you must make homemade eggnog.
What does a Starbucks Eggnog Latte have in it?
Here's a list of what you need:
Espresso
Milk
Eggnog
Nutmeg, freshly grated, recommended
Whipped cream
If you want a sugar-free version, you can use sugar-free eggnog to make this drink.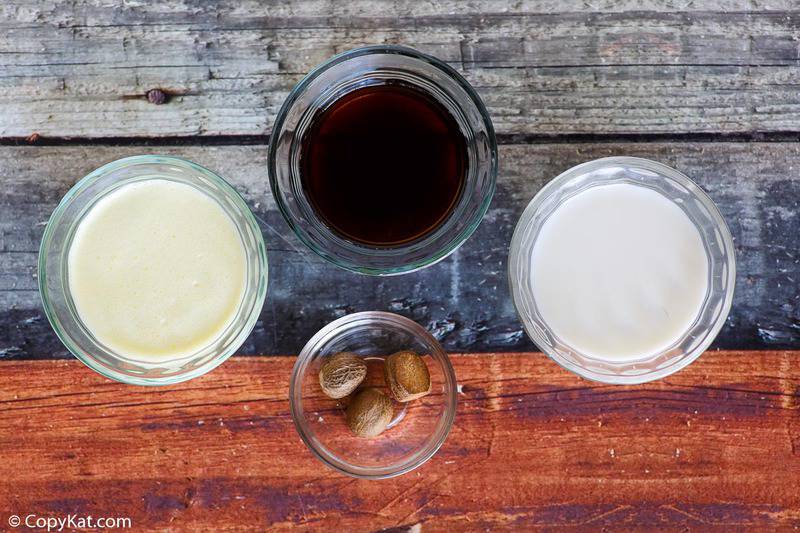 How to Make a Starbucks Eggnog Latte
Prepare espresso or make robust coffee.
Heat together milk and eggnog for about a minute in the microwave.
Froth heated milk mixture with a milk frother.
Pour espresso into a coffee cup and top with milk and eggnog mixture.
Top with whipped cream and nutmeg if desired.
How to Make Espresso Without an Espresso Maker
You may not have an expensive espresso maker when making coffee drinks at home, such as this eggnog latte. There are a couple of ways you can make robust coffee at home.
You can simply use 1 1/2 to 2 times the coffee you would normally use when making coffee.
If your coffee pot has the feature to allow it to steep for longer, steep your coffee for about 90 seconds if you are using a drip maker.
If you have a home grinder, grind the coffee very fine. Espresso is typically ground very fine to let the coffee flavor come through.
Use instant espresso. Espresso is slightly different from coffee as the water is steamed through it, so it is a little stronger than traditional drip coffee. I recommend Medaglia D'Oro Instant Espresso Coffee, 2 Oz.
You may also want to consider using a Moka pot, a tool Italians use to make espresso on the stovetop. These coffee pots are less than 30 dollars and make real Italian espresso. Bialetti Moka Express 3 Cup Espresso Maker 06799 is a great way to make espresso at home.
How to froth milk without a milk frother
Blend warm milk in a blender until it doubles in volume.
Place warm milk into a glass jar, place the lid on it, and then shake until it increases in volume. This should take about a minute.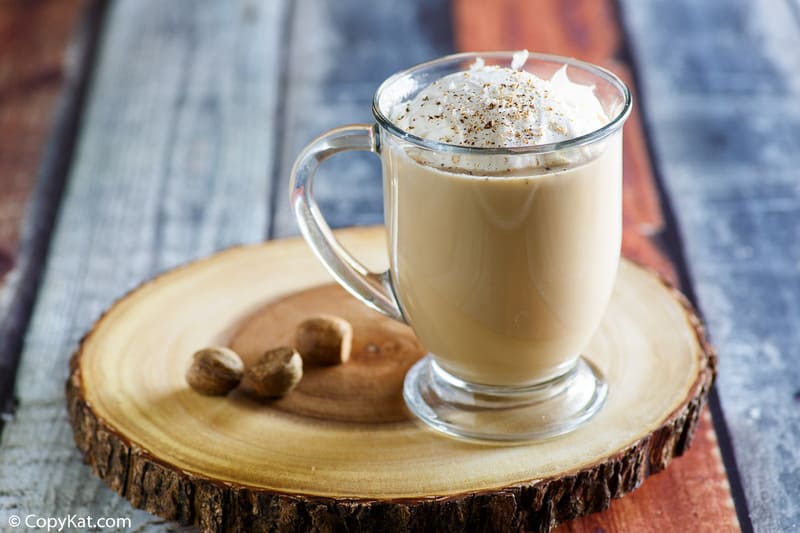 Frequently asked questions
Did Starbucks discontinue the Eggnog Latte?
The famous eggnog latte was not returned as part of their 2022 holiday menu. You can make this latte at home!
How can I order an Eggnog Latte at Starbucks?
You can't order one; they are not stocking eggnog. This drink isn't on their secret menu because they aren't carrying eggnog.
What is the eggnog drink at Starbucks?
The eggnog drink is an eggnog latte, so instead of using 2% milk to make their everyday lattes, they substituted eggnog.
Can I put eggnog in my coffee?
Yes, you can. It is a great alternative to milk. You may want to try my spiked eggnog recipe.
Does eggnog have alcohol in it?
Most eggnog does not contain any alcohol. Spiked eggnog may contain brandy, rum, or whiskey.
What happened to the Starbucks Eggnog Latte at Starbucks?
This popular coffee beverage was dropped from the menu in 2021 and 2022. They do have many other new seasonal coffees, like their iced sugar cookie latte.
I hope you give this recipe a try! You and your friends can turn into baristas with this easy recipe. You can make an eggnog latte at home, and it will taste just like it does at the coffee house.
See our recommended coffee products to make coffee-house quality drinks at home.
Love Starbucks? Try these coffee beverages!
Favorite Eggnog Recipes
Check out my coffeehouse drink recipes and the best Starbucks copycat recipes.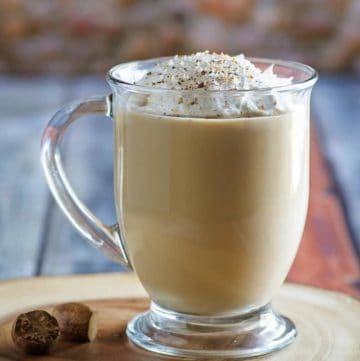 Ingredients
3

ounces

espresso

or very strong coffee

1/2

cup

milk

1/2

cup

eggnog

freshly ground nutmeg

if desired

2

tablespoons

whipped cream
Instructions
Prepare espresso or make one very strong coffee.

Heat together 1/2 cup of milk and 1/2 cup of eggnog for about 1 minute in the microwave. Froth mixture using a milk frother. The milk will froth up and almost double in size.

If you don't have a frother, you can pour the heated milk and eggnog mixture into a blender for about 30 seconds.

If you don't have a blender, you can put the heated milk and eggnog mixture in a jar or cocktail shaker and shake for about 1 minute.

Pour espresso or coffee into a coffee cup, and top with 1/2 of the milk and eggnog.

Top with whipped cream and grated nutmeg if desired.
Nutrition
Calories:
108
kcal
|
Carbohydrates:
9
g
|
Protein:
5
g
|
Fat:
5
g
|
Saturated Fat:
3
g
|
Cholesterol:
46
mg
|
Sodium:
66
mg
|
Potassium:
234
mg
|
Sugar:
8
g
|
Vitamin A:
260
IU
|
Vitamin C:
1
mg
|
Calcium:
152
mg
|
Iron:
0.1
mg