Sweetened Condensed milk is easy to make at home. I find this recipe to work well when you bake with sweetened condensed milk.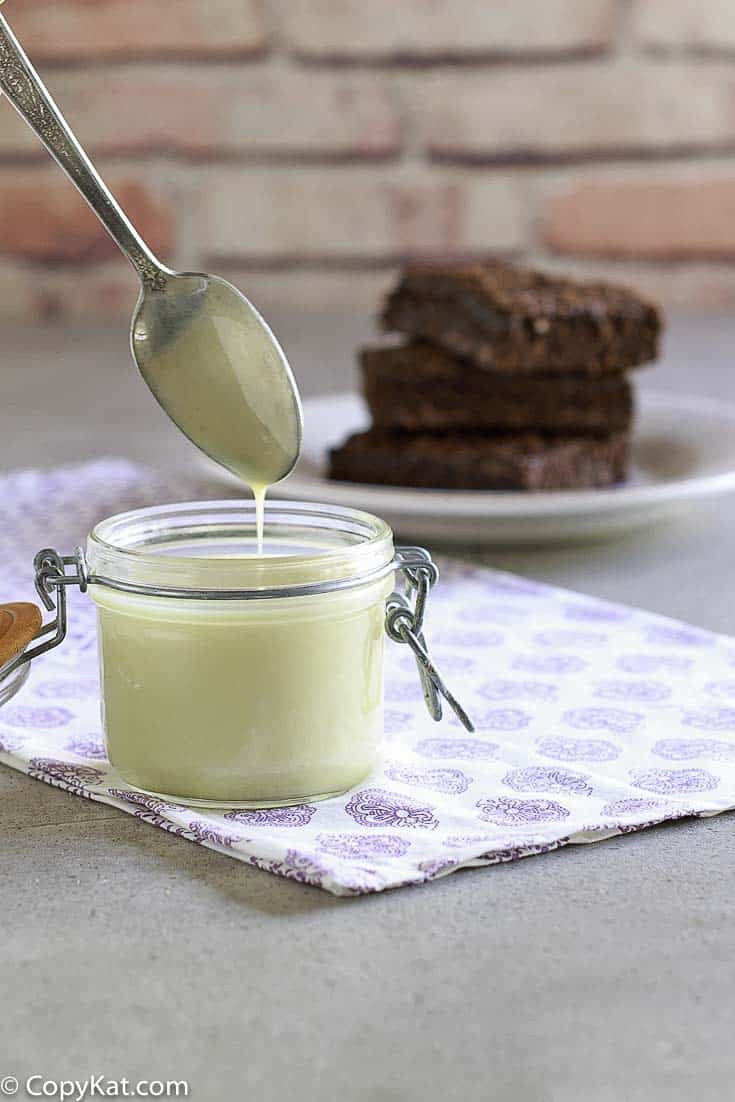 Sweetened Condensed Milk
Many recipes include Sweetened Condensed milk, one reason I don't always like to buy this is that it is expensive. Sure, you can find it on sale during the holidays, everything is on sale during the holidays. Last time I picked some up, I was in Whole Foods, and it cost nearly 4 dollars a can. So I find it slightly prohibitive to buy. Guess what, you can make it from scratch.
What makes this such a special ingredient to use in recipes? Sweetened Condensed Milk is milk that has some of the liquid removed through evaporation, but unlike plain evaporated milk, a sweetener is added to this ingredient. Why would you want to make this at home? If you like going organic, you can use organic sugar and organic powdered milk. Some people just love knowing what is in their food.
This recipe has three basic ingredients, powdered milk, sugar, water, and butter. The butter helps to give this milk a rich thickness and adds back some fat to the milk. I think you will really be happy with the flavor of this.
I like using this homemade substitution for baking. So any recipe that you use the sweetened condensed milk I like to use this homemade version. For recipes such as no-bake desserts, I like to use the canned variety. Here I feel that the canned version works a little better, the taste is also slightly different. It seems to hold up a bit better than recipes where the milk is baked, during baking protein structures is changed, so I feel the end product is the same.
I hope you give this recipe a try in your next baking adventures, here are a few recipes you might like to try.
Hello Dolly or Seven Layer Bar Cookies
Brownie Gooey Bars
Almond Joy Cookies
Peanut Butter Balls
Yield: 1 can of sweetened condensed milk.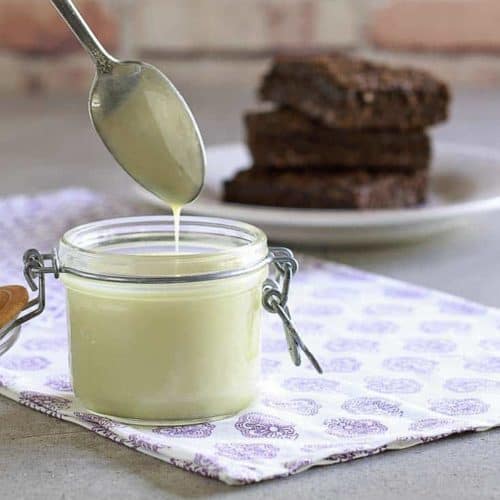 Ingredients
3/4

cup

sugar

1/2

cup

water

1

cup

powdered milk

plus 2 tablespoons
Instructions
Combine all ingredients. Heat to boiling. Cook until thick, this will take 15 to 20 minutes. This equals one can.
Nutrition
Calories:
1215
kcal
|
Carbohydrates:
199
g
|
Protein:
33
g
|
Fat:
34
g
|
Saturated Fat:
21
g
|
Cholesterol:
124
mg
|
Sodium:
482
mg
|
Potassium:
1702
mg
|
Sugar:
198
g
|
Vitamin A:
1195
IU
|
Vitamin C:
11
mg
|
Calcium:
1167
mg
|
Iron:
0.6
mg