Do you love copycat recipes? Do you want to get a couple of recipes from each of the most popular restaurants? Look no further, I have you covered.
This collection is written in order of restaurant. Most of these recipes are available on CopyKat.com, but I have added a few from other bloggers, I hope you enjoy this collection!
Which one is my all-time favorite recipe? I have to say hands down it is the Olive Garden Alfredo Sauce. For me, this was the recipe that got it all started.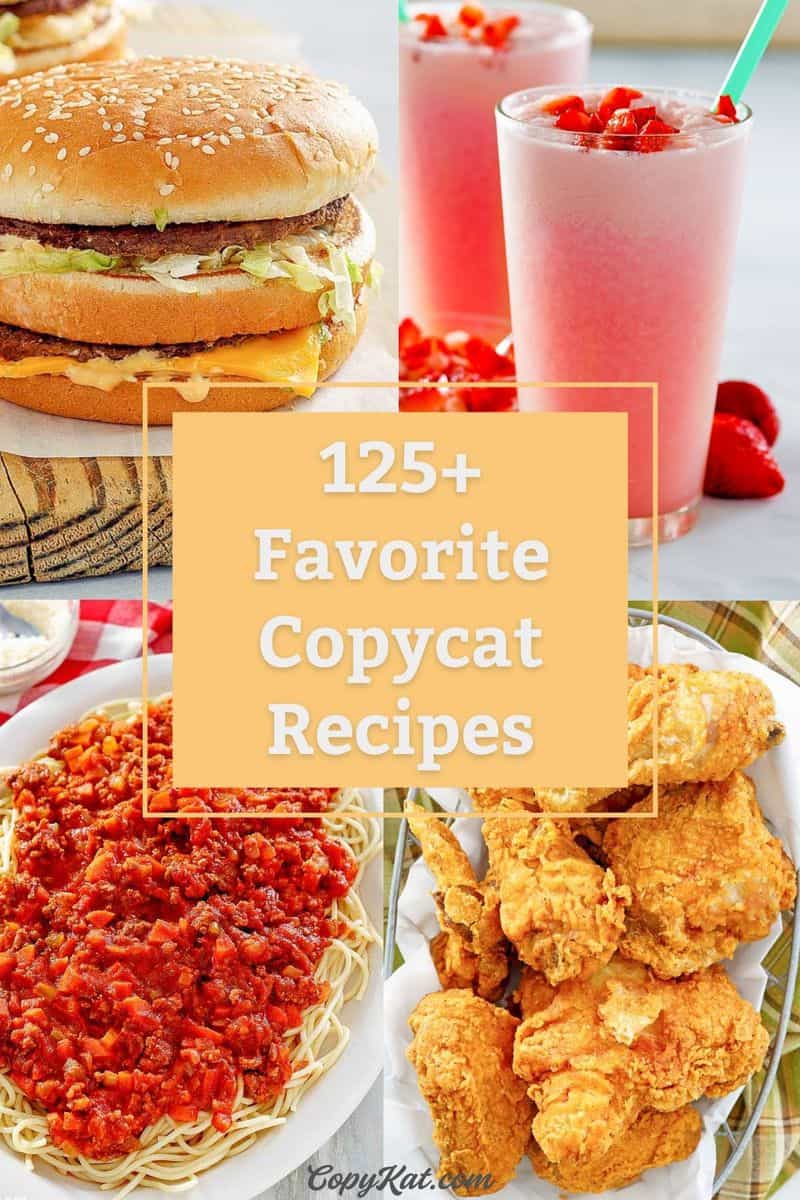 Do copycat recipes really taste like restaurant recipes?
Copycat recipes can taste very similar to restaurant recipes.
Often restaurant recipes are made with common ingredients everyone can find in their kitchen.
You can duplicate many of your favorite restaurant meals by recreating the recipe at home.
Some restaurant recipes really aren't special or made with secret ingredients.
Many of the most popular restaurant dishes are really classic dishes that we already know and love.
Now let's get started with the recipes.
Applebee's
Applebees Oriental Chicken Salad
Applebees Quesadilla Burger
Applebees Queso Blanco
Arbys
Arby's Chicken Salad
Arby's Sauce
Horsey Sauce
Big Boy's Restaurant
BJ's Restaurant and Brewhouse
BJ's Restaurant and Brewhouse Pizzookie
Bonefish Grill
Pan Fried Tilapia with Chimichurri Sauce
Bonefish Grill Bang Bang Shrimp
Boston Market
Boston Market Creamed Spinach
Boston Market Sweet Potato Casserole
Buffalo Wild Wings
Buffalo Wild Wings
Buffalo Wild Wings Spicy Garlic Wings
Burger King
California Pizza Kitchen
California Pizza Kitchen BBQ Chicken Pizza
California Pizza Kitchen Chicken Tequila Fettuccine
Captain D's
Captian D's Cole Slaw
Captain D's Fish
Carrabbas
Chicken Bryan
Sausage Lentil Soup
Cheddar's
Cheesecake Factory
Cheesecake Factory Chicken Piccata
Cheesecake Factory Oreo Cheesecake
Cheesecake Factory Red Velvet Cheesecake
Chipotle Mexican Grill
Chipotle Barbacoa
Chipotle Guacamole
Chipotle Cilantro Lime Rice
Chick Fil A
Chick Fil A Chicken Nuggets
Chick Fil A Frosted Coffee
Chick fil A Mac and Cheese
Chick Fil A Sauce
Chili's
Chuy's Tex Mex
Cold Stone Creamery
Cracker Barrel
Cracker Barrel Carrots
Cracker Barrel Coca Cola Cake
Cracker Barrel Fried Apples
Cracker Barrel Grilled Chicken Tenders
Cracker Barrel Hashbrown Casserole
Culver's
Culver's Butter Burger
Culver's Cheese Curds
Dairy Queen
Dunkin Donuts
Dunkin Donuts Hot Chocolate
Vanilla Bean Coolatta
Friendly's
IHOP
IHOP Buttermilk Pancakes
IHOP Cinnastack
In-N-Out
Houstons
Jason's Deli
Kentucky Fried Chicken
Little Caesars Pizza
Logan's Roadhouse
Long John Silvers
Long John Silvers Batter-Dipped Fish
Longhorn Steakhouse
Maggiano's Little Italy
Maggianos's Chopped Salad
Maggaiano's Meatballs
McAlister's Sweet Tea
McDonald's
Big Mac
Egg McMuffin
McDonald's Hot Mustard
McDonalds Tartar Sauce
McDonald's Sweet Tea
Melting Pot
Olive Garden
Olive Garden Chicken Alfredo
Olive Garden Chicken And Shrimp Carbonara
Olive Garden Chicken Gnocchi Soup
Olive Garden Chicken Marsala
Olive Garden Lemon Creme Cake
Olive Garden Salad Dressing
Olive Garden Steak Alfredo
Olive Garden Zuppa Toscana
Outback Steakhouse
Outback Steakhouse Baked Potato
Outback Steakhouse Bloomin Onion
Outback Steakhouse Walkabout Soup
Orange Julius
Orange Julius
Strawberry Julius
P.F. Changs
PF Chang's Chicken Lettuce Wraps
Panda Express
Panda Express Broccoli Beef
Panda Express Chow Mein
Panda Express Cream Cheese Rangoon
Panera Bread
Panera Broccoli Cheddar Soup
Panera French Onion Soup
Papa Johns
Pizza Hut
Publix
Raising Canes
Red Lobster
Red Lobster Cheddar Bay Biscuits
Red Lobster Coconut Shrimp
Red Lobster Crispy Brussel Sprouts
Red Lobster Tartar Sauce
Red Robin
Red Robin Campfire Sauce
Red Robin Freckled Lemonade
Ruth's Chris Steakhouse
Shake Shack
Shake Shack Toasted Marshmallow Milkshake
Shoney's
Smashburger
Sonic Drive Inn
Sonic Coconut Cream Pie Shake
Sonic Ocean Water
Sonic Strawberry Lemonade
Starbucks
Starbucks Caramel Frappuccino
Starbucks Egg White Bites
Starbucks Pink Drink
Starbucks Sous Vide Egg Bites
Starbucks White Chocolate Mocha
Steak and Shake
Subway
Subway Bread Recipe
Subway Orchard Chicken Salad
Taco Bell
Taco Bell Cinnamon Twists
Taco Bell Enchirito
Taco Bell Mexican Pizza
Taco Bell Nacho Fries
Taco Bell Tacos
Texas Roadhouse
TGI Fridays
Jack Daniels Sauce
Mozzarella Cheese Sticks
The Old Spaghetti Factory
Browned Butter and Mizithra Cheese Spaghetti
Waffle House
Wendy's Chili
Whataburger
Whataburger Chicken Strips
Whataburger Patty Melt
White Castle
Wingstop
Garlic Parmesan Wings
Lemon Pepper Wings
Yardhouse
Yardhouse Macaroni and Cheese
Yardhouse Spinach Cheese Dip
You made it this far, why not receive emails about the latest CopyKat Recipes for free?