Carrabba's Sausage Lentil Soup is a delicious, hearty soup perfect for a cold day. One bite, and you will fall in love with this simple soup. This soup has a great flavor and makes for the perfect dinner with a side salad.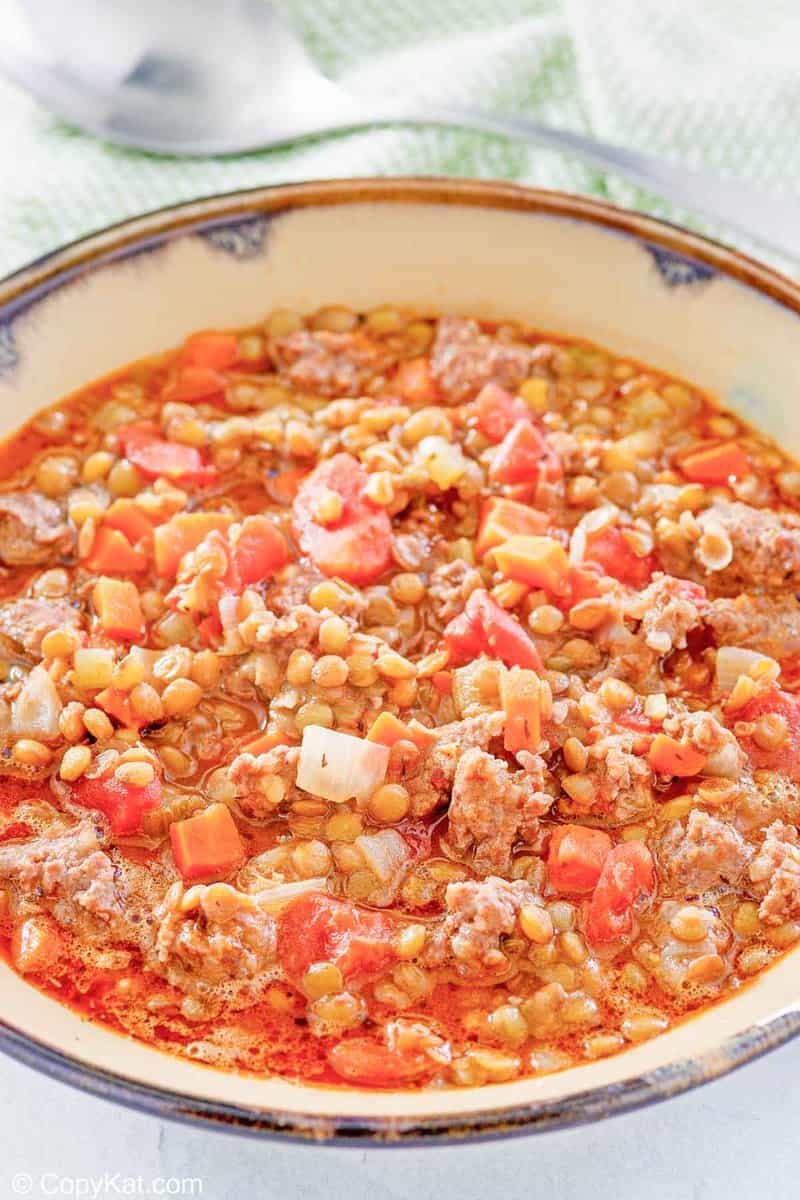 This post contains affiliate links. As an Amazon Associate, I earn from qualifying purchases.
Why Carrabbas Lentil Soup with Sausage is so good!
Sometimes, all you need for an incredible meal is hot soup and a hunk of crusty bread. Carrabba's Sausage Lentil Soup is simple to make, easy to store, inexpensive, and delicious.
It's the perfect lunch to take to work or enjoy as a light supper at home during those colder months.
Why This is the Best Recipe For Sausage Lentil Soup
This dish proves you don't need a pantry full of exotic spices, spend a lot of money, or be a great cook to make soul-satisfying food. It's also an ideal recipe for anyone who wants to save time by prepping meals in advance.
Not only does lentil sausage soup get better over time in the fridge, but it freezes amazingly well. So, make a double or even triple batch, and you can eat well all winter.
Recipe Ingredients
The ingredients for this sausage and lentil soup are:
White onion
Carrot
Celery
Garlic
Salt
Butter or olive oil
Italian sausage
Chicken broth
Italian seasoning
Canned diced tomatoes
Brown lentils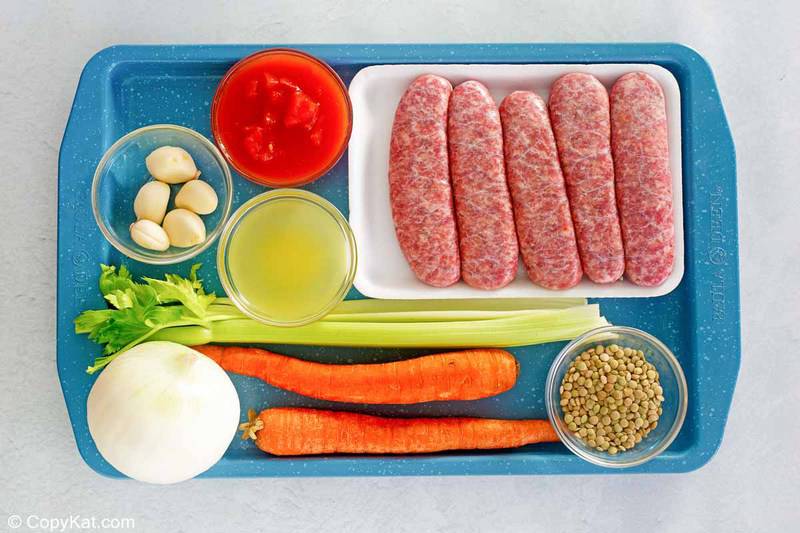 Ingredient Notes and Substitutions
If you prefer, you can use bouillon cubes or Better Than Bouillon instead of chicken broth.
You can use bulk or sausage in the casing. If you go with sausage in the casing, cut into quarter-inch cubes before cooking. The type with a thick fennel flavor is the best one to get. Or you can make your own Italian sausage.
For a lighter version, try using Italian-style turkey sausage instead.
Spicy sausage lentil soup – you can use hot Italian sausage
Vegetarians can substitute a vegetable broth and swap out the pork sausage for a plant-based alternative, like, Vejje's Meat-Free Italian Sausage or Field Roast's Vegetarian Grain Meat Sausages.
How to Make Lentil Soup With Sausage
Here are the steps for making this copycat Carrabba's sausage lentil soup recipe:
Heat a heavy-bottom soup pot, Dutch oven, or large saucepan on the stove over medium heat.
While the pot warms up, cut the onions, carrots, and celery into small dice.
Put the butter or vegetable oil into the pot and add the diced vegetables.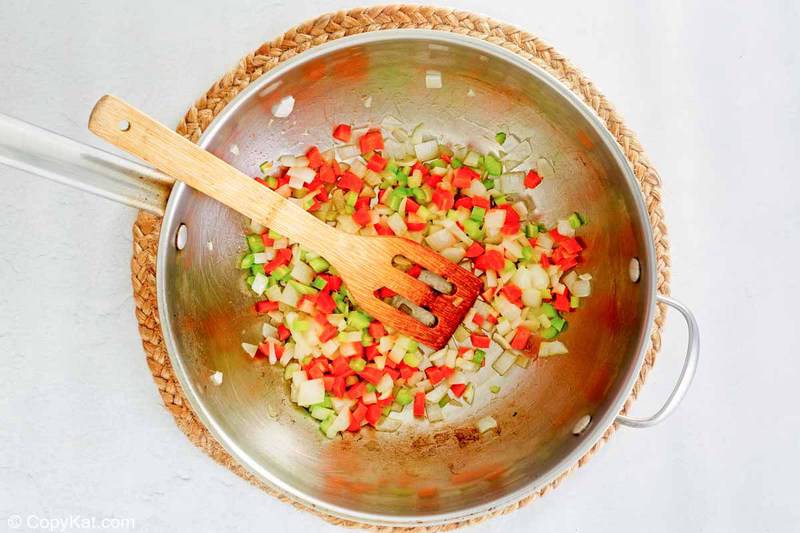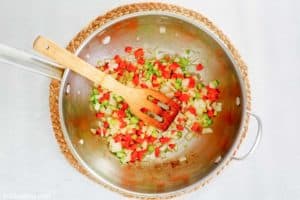 Cook the vegetables, occasionally stirring until the onions turn transparent.
Dice the sausage into small pieces and add it to the pot.
Saute the sausage until browned.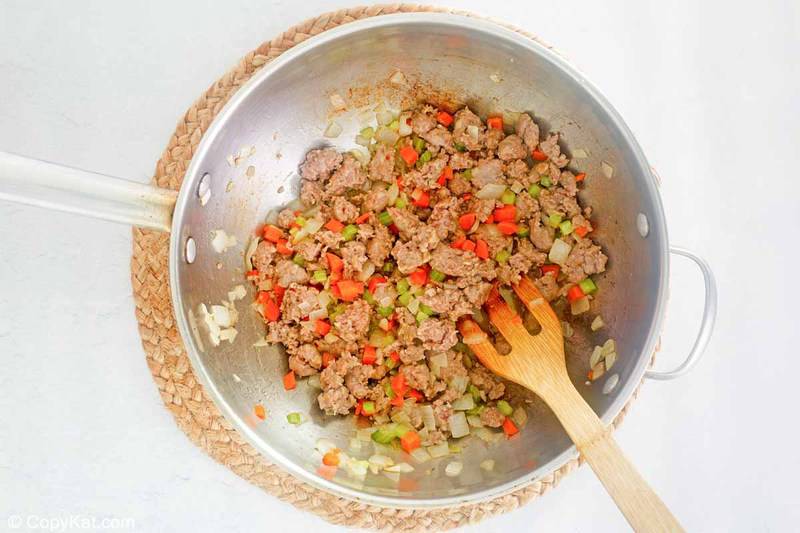 Dump out any grease before stirring in the diced tomatoes and Italian seasoning. Let the tomatoes caramelize slightly.
While the tomatoes are cooking, rinse off the dry lentils and let them drain in a colander in the sink.
Pour in the chicken stock and allow the soup to boil.
Stir in the brown lentils and reduce the heat. Cover the pot with a tight-fitting lid and simmer for about an hour. Stir the soup from time to time and add water as needed.
Turn off the heat and let the soup sit for about 10 minutes before serving.
You can garnish the soup with chopped fresh herbs such as basil, oregano, parsley, or thyme.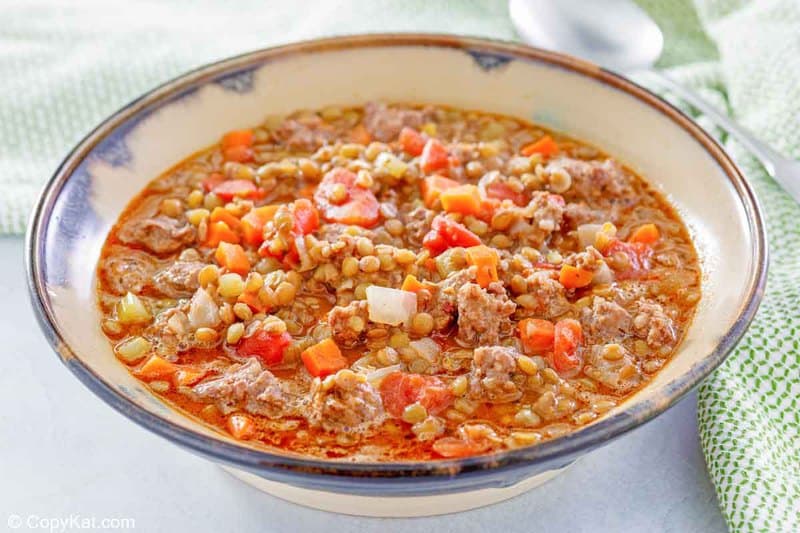 Carrabba's Lentil Soup Recipe Variations
Who doesn't like to come home to a nice bowl of warm soup? With a few changes, you can easily convert this lentil sausage soup recipe from the stovetop to a slow cooker.
Sauté the sausage in a pan on the stove in oil.
Transfer the cooked sausage to the slow cooker.
Add all of the remaining ingredients.
Cook on the low setting for 6 to 8 hours or until the lentils are tender.
Want to have a creamy, thick soup? Here's what you can do:
Try pureeing some or all of the soup for a thicker consistency. Use an immersion blender if you have one. Remember, never fill the top of a blender more than a third when blending hot ingredients, and be careful of splattering.
How to Serve Sausage and Lentil Soup
Serve the soup in a small cup for the starter or a big bowl for the main course.
What Goes Well With This Dish?
This soup goes perfectly with a slice of good bread or breadsticks, a little grated parmesan cheese, and some lightly sauteed spinach or Swiss chard as a garnish.
How to Store Carrabba's Sausage Lentil Soup
Cool the soup thoroughly before storing it in the refrigerator or freezer. Cool the soup as quickly as possible by removing it from the pot and putting it in a metal mixing bowl. Float the mixing bowl in a larger bowl half full of ice water. Stir constantly.
Once cool, transfer the soup to an airtight container and store it in the fridge for up to 3 days.
Can I Freeze Lentil Soup With Sausage?
Yes. You can freeze in a freezer-safe container or bag for 3 to 4 months.
How Can I Reheat Lentil Soup?
It is best to reheat the soup on the stovetop, but you can also reheat it in the microwave.
To reheat on the stove:
Thaw the soup overnight in the fridge or use the quick defrost option in the microwave.
Pour the thawed soup into a pan and stir in some water or chicken stock if the soup is thick.
Slowly warm the soup on medium-low heat.
To reheat in the microwave:
Thaw the soup overnight in the fridge or use the quick defrost option in the microwave.
Pour the thawed soup into a microwave-safe bowl and stir in water or chicken stock if necessary.
Cover and microwave for a minute. Give the soup a stir and heat for another 30 seconds. Check the temperature of the soup and continue heating in 30-second increments until hot.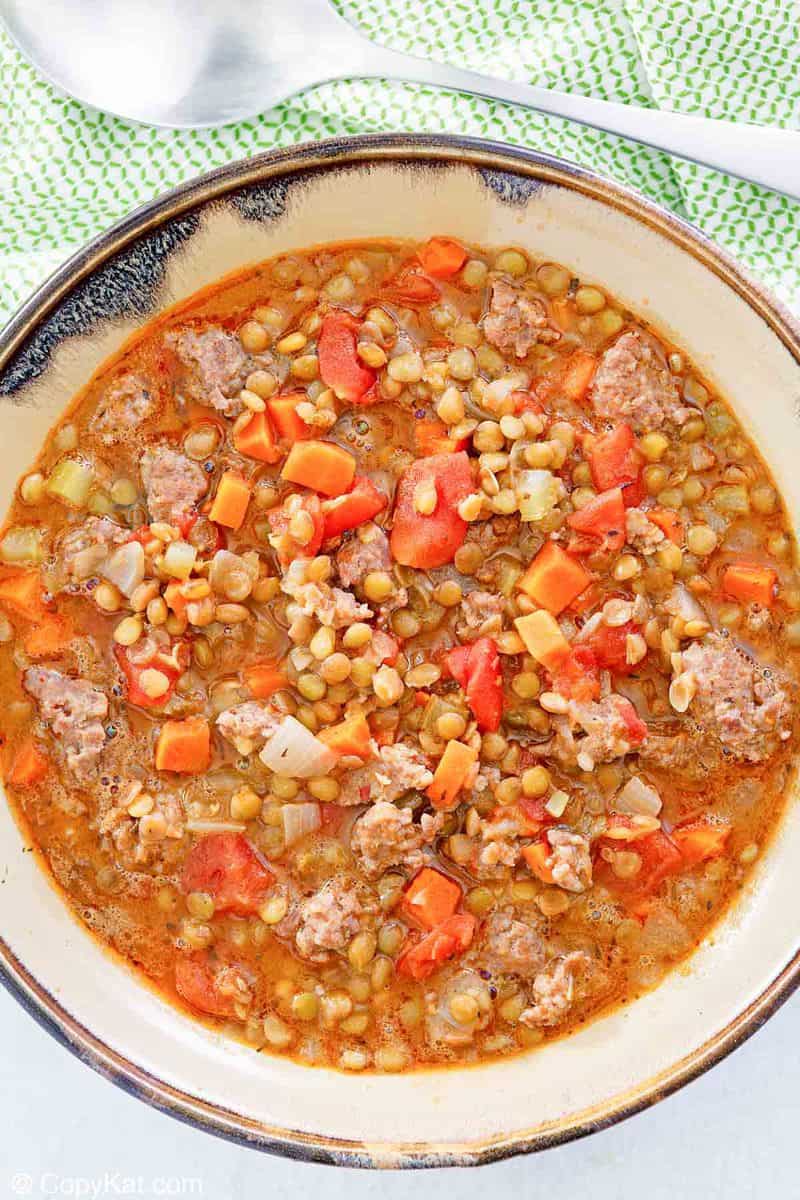 Love restaurant-style soups? Try these recipes!
More Italian Restaurant Copycat Recipes
And there's more! Look at my easy soup recipes and the best homemade Italian food.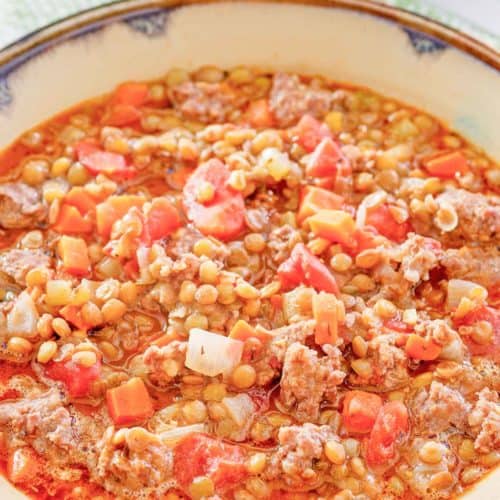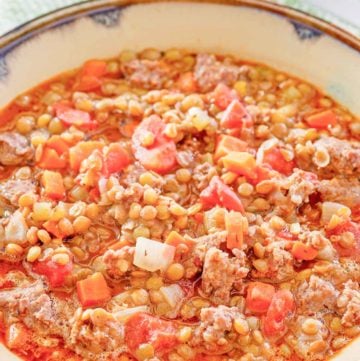 Ingredients
1

cup

diced white onion

1/2

cup

diced carrot

3

cloves

garlic, minced

1/2

cup

diced celery

1/2

teaspoon

salt

2

tablespoons

butter or olive oil

1

pound

Italian sausage

48

ounces

low-sodium chicken broth

1 1/2

teaspoons

Italian seasoning

14.5

ounces

canned diced tomatoes

1

cup

brown lentils
Instructions
In a large pot, sauté the onions, carrots, garlic, and celery with the salt in either butter or olive oil until the onions are translucent.

Add the sausage and cook until browned, breaking it apart as it cooks. Drain any excess oil from the pot.

Add the chicken broth, Italian seasoning, diced tomatoes, and brown lentils.

Cover with a lid and simmer for about 1 hour. You may want to add some additional water if too much evaporates during the cooking process.
Nutrition
Calories:
353
kcal
|
Carbohydrates:
20
g
|
Protein:
18
g
|
Fat:
22
g
|
Saturated Fat:
7
g
|
Cholesterol:
43
mg
|
Sodium:
624
mg
|
Potassium:
594
mg
|
Fiber:
7
g
|
Sugar:
2
g
|
Vitamin A:
1375
IU
|
Vitamin C:
4.7
mg
|
Calcium:
42
mg
|
Iron:
2.9
mg