4B's Tomato Soup is rich and creamy with diced tomatoes. This is the best tomato soup you can try. This recipe is from one of the original owners, Mr. Hainline. My family knew him well. Enjoy! The beauty of this soup is that this is an easy recipe that the whole family will love.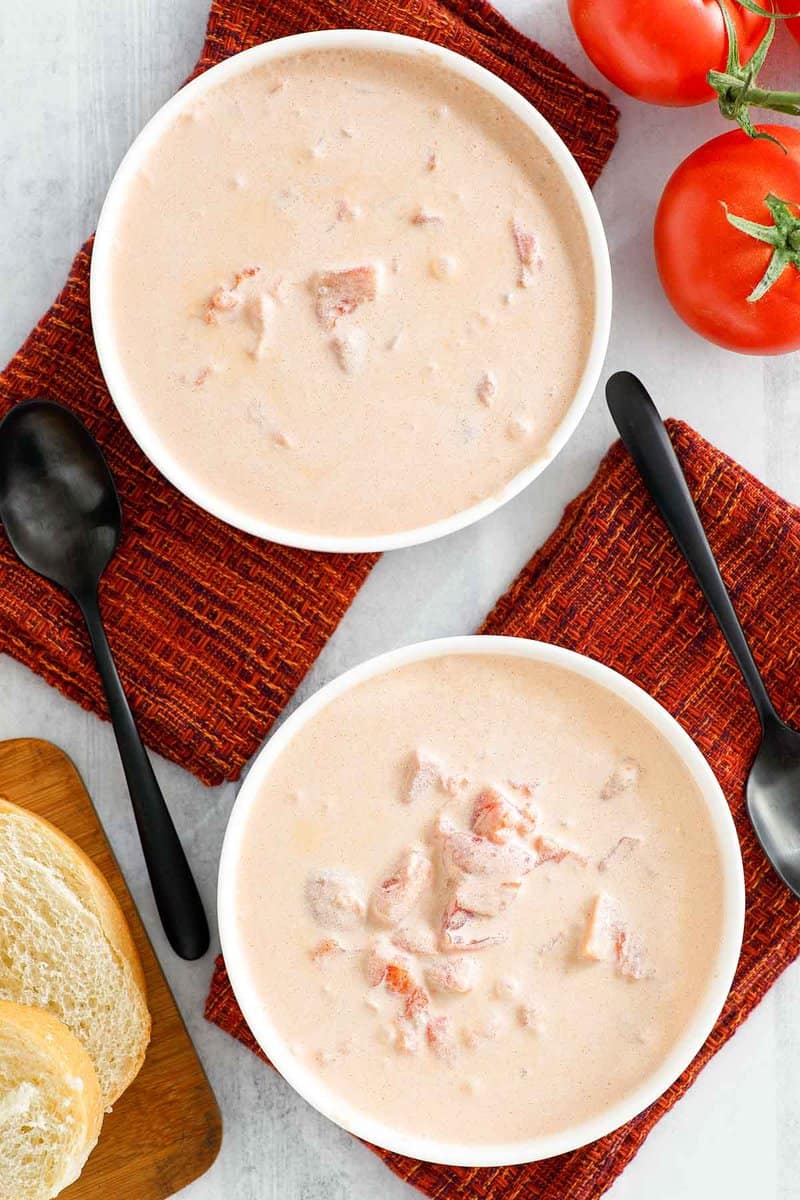 This post contains affiliate links. As an Amazon Associate, I earn from qualifying purchases.
4B's Creamy Tomato Soup
After making Original 4-B's Homemade Tomato Soup just once, you will never want to make soup from a can again. If you talk about tomato soup in Montana, many people will start reminiscing about 4-B's legendary tomato soup.
This tomato soup is rich and creamy because it's made with real butter, heavy cream, chicken broth, and canned tomatoes. Bs tomato soup recipe, is much loved, and it tastes even better the following day, so you might want to double the recipe and make a big batch.
What makes 4B's tomato soup special?
This homemade cream of tomato soup has pieces of tomatoes instead of being smooth. It also has a lighter color than most creamy tomato soups. Butter and heavy cream give it a silky texture. All in all, it's a luscious, soul-warming soup.
So if you are looking for the best old-fashioned cream of tomato soup recipe, you've found it!
About 4-B's Restaurant
The 4-B diners were established in 1947 in Montana by Bill Hainline. He named the restaurants after his family members whose names all began with "B" – himself, his wife Buddy, his son Bill Jr., and his daughter Barbara.
The Hainline family created many memories for many generations of Montanans. The handful of 4-Bs closed in 2007, but they have since reopened under new ownership. The famous tomato soup is still on the menu.
Ingredients
Here's a list of what you need to make old-fashioned cream of tomato soup:
Canned diced tomatoes
Chicken broth
Butter
Sugar
Chopped onion
Baking soda
Heavy cream
Serving size and nutritional facts are in the printable recipe card below.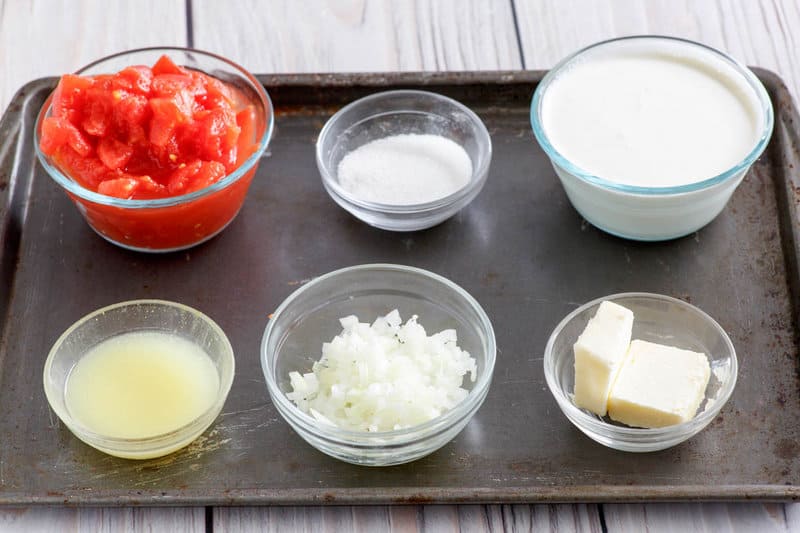 How to Make 4B's Tomato Soup
Here are the simple steps for making this tomato soup recipe:
In a large stockpot, mix tomatoes and juices, chicken broth, margarine, onion, and baking soda.
Bring to a boil then reduce heat to low. Simmer for 1 hour.
In a separate pot, heat cream over low heat until hot but not boiling.
Add heated cream to the hot tomato mixture. Stir to combine.
Serve and enjoy!
If you prefer a smooth soup, you can blend it in a blender before serving. Remember to only fill your blender about halfway because hot soup expands when it is blending.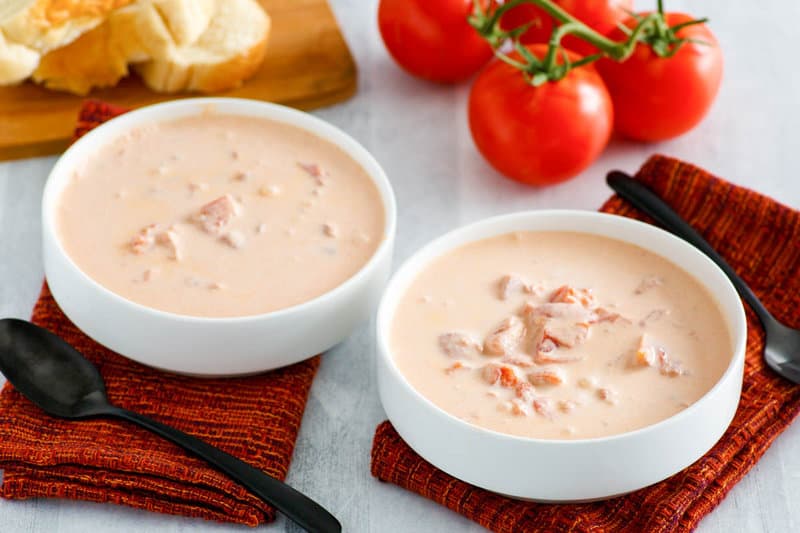 The History of Tomatoes
Today, we eat tomatoes all the time. So, it's surprising to learn that during early colonial times, people wouldn't put a tomato anywhere near their mouths. It was believed that tomatoes were poisonous and would turn your blood into acid. The colonists did grow tomatoes but purely for decoration.
However, you really can't keep a good plant down, and over time the taste of the tomato won over the American public. The tomato also received a big boost from Thomas Jefferson who grew tomatoes in his garden at Monticello. Read more about the origin and history of tomatoes.
How to Serve Creamy Tomato Soup
Opt for wide, shallow bowls that beautifully display the soup's creamy texture and color.
Garnish with fresh basil or parsley, croutons, a drizzle of olive oil, or red pepper flakes for a kick of heat.
Fresh bread or grilled cheese sandwich are classic combos for tomato soup.
A light green salad with Italian vinaigrette dressing.
How to Store, Freeze, and Reheat Homemade Creamy Tomato Soup
Cool the soup to room temperature before storing the soup in either the refrigerator or freezer.
Storing: Pour the cooled soup into an airtight container, or portion it in separate containers or resealable plastic bags. Store it in the refrigerator for up to 4 days.
Freezing: Pour the cooled soup into a freezer-safe container or individual portions into plastic freezer bags. Leave about an inch of space at the top of the containers to allow for expansion. Label the container with the date and contents. If using freezer bags, lay them flat in your freezer until solid. This will make them easier to stack and store. Your creamy tomato soup can be stored in the freezer for up to 3 months.
Thawing: Ideally, for the best texture and flavor, thaw your soup in the refrigerator overnight before reheating. If you're in a rush, you can use the defrost setting on your microwave, or immerse the sealed container in cold water to speed up the thawing process.
Stovetop Reheating: Pour the thawed soup into a pot. Warm over medium heat, stirring occasionally to ensure even heating. If the soup is too thick after thawing, you can add a bit of water, broth, or cream to adjust the consistency.
Microwave Reheating: Pour the soup into a microwave-safe bowl. Cover parchment paper to help prevent splatters. Heat on high in 1-minute intervals, stirring in between each interval, until the soup is hot and steaming.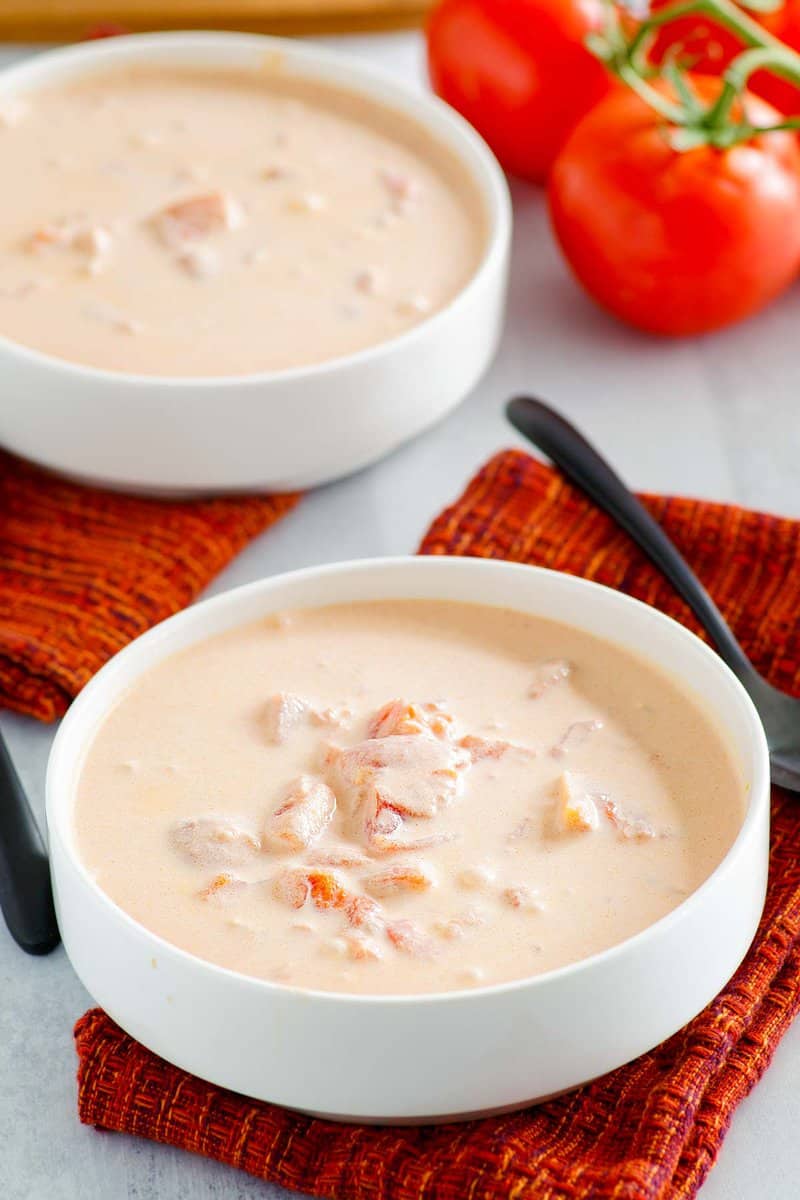 More Tomato Soup Recipes
Popular Soup Recipes
Check out more of my easy soup recipes and the best copycat restaurant recipes here on CopyCat!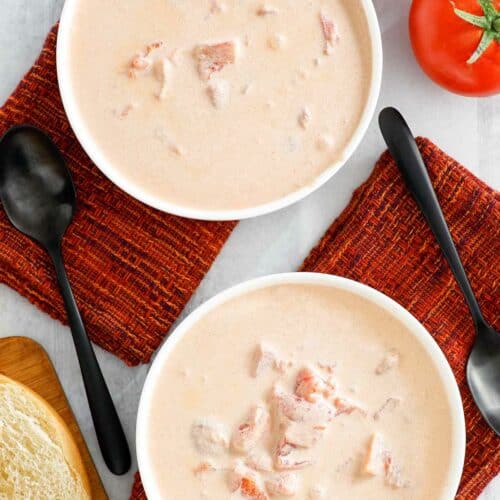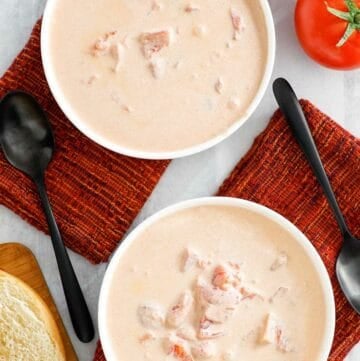 Ingredients
29

ounces

diced tomatoes

canned

10.5

ounces

chicken broth

2

tablespoons

butter

2

tablespoons

sugar

1

tablespoon

chopped onion

1/4

teaspoon

baking soda

2

cups

heavy cream
Instructions
In a large stockpot mix tomatoes, chicken broth, margarine, onion, and baking soda. Simmer for 1 hour. In a separate pot, heat cream over low heat until hot, watching carefully so that the cream does not scorch. Once heated through add to tomato soup and serve.
Nutrition
Calories:
586
kcal
|
Carbohydrates:
23
g
|
Protein:
5
g
|
Fat:
54
g
|
Saturated Fat:
32
g
|
Cholesterol:
184
mg
|
Sodium:
706
mg
|
Potassium:
512
mg
|
Fiber:
2
g
|
Sugar:
11
g
|
Vitamin A:
2300
IU
|
Vitamin C:
19.8
mg
|
Calcium:
151
mg
|
Iron:
2.8
mg