Burger King French Toast Sticks are a fun way to enjoy a classic breakfast. No need for a knife and fork, just dip these tasty French toast sticks in syrup and enjoy!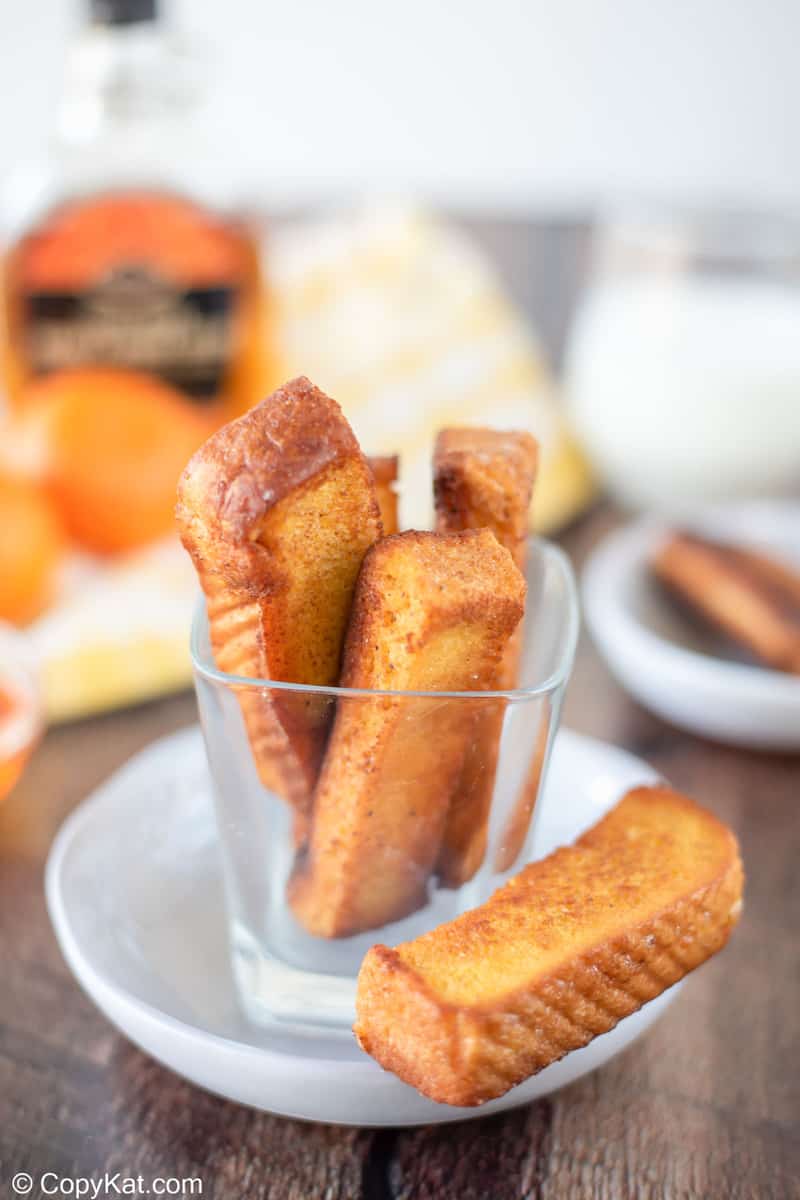 This post contains affiliate links. As an Amazon Associate, I earn from qualifying purchases.
Breakfast Finger Food
Okay, so French toast may not be making many appearances on America's breakfast tables these days, but that doesn't mean it isn't delicious. Reintroduce this classic breakfast to your busy family with these french toast sticks that have been a popular side dish on the Burger King breakfast menu for decades.
Whether you serve them as a sit-down meal or toss them in a bag for finger food on the go, it is hard to beat the taste and convenience of this breakfast classic.
Better Bread Equals Better French Toast Sticks
In a pinch, almost any bread will do in this Burger King French Toast Sticks recipe, but try sticking to a few guidelines for the best result. The three bread qualities you need to consider for great French toast. These characteristics are the thickness of the bread, its texture, and the way it tastes.
Unsliced bread is perfect, but unless you are buying a loaf of artisan bread (which is not such a bad idea for this recipe), it's often a challenge to find in the local supermarket. If your only options are pre-sliced, look for a brand with extra-thick slices. Sometimes bakeries label these loaves as "Texas toast" or simply as "thick sliced."
Soft bread is no good when it comes to making French toast. Traditionally, used stale bread to make French toast, but today's commercial bread contains tons of preservatives and will usually go moldy before getting too hard to eat. But there are a couple of ways around this.
The first way is to pop a few slices of fresh bread directly onto the rack of a preheated oven at 300°F for 8 minutes. Alternatively, and a perhaps better solution, is to purchase day-old bread that bakeries usually sell for a huge discount. This way, you get high-quality bread for cheap and avoid extra work for yourself!
Taste is subjective, but lots of people prefer sweeter bread for their French toast. If this is you, go for bread containing eggs and sugar like brioche, challah, or Hawaiian-style sweet bread. You may even want to go a bit overboard and make your Burger King french toast sticks from panettone, chocolate chip bread, or even pound cake!
Ingredients:
Here's a list of what you need to make copycat Burger King French toast sticks:
Whole milk
Egg yolks
All-purpose flour
Salt
Cinnamon sugar
Ground nutmeg
Sliced bread
Vegetable oil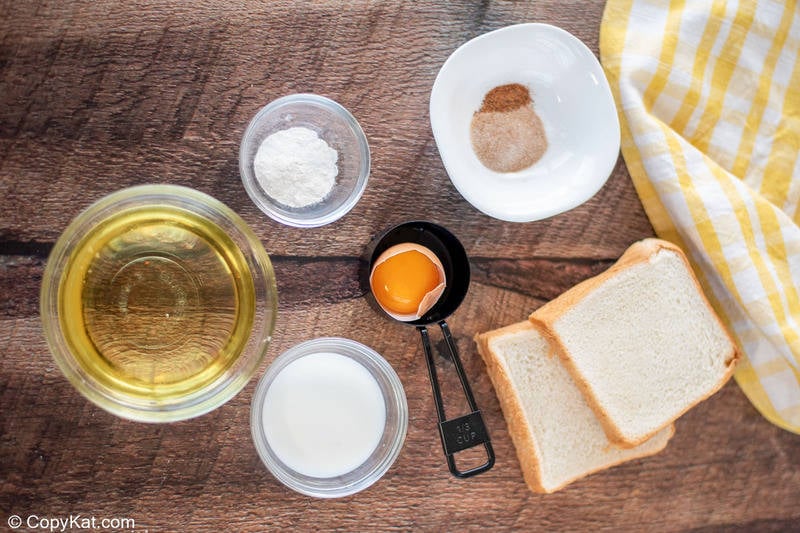 How to Make Burger King French Toast Sticks
Place milk, egg yolks, flour, salt, cinnamon sugar, and nutmeg in a small mixing bowl.
Whisk until the mixture is combined and smooth.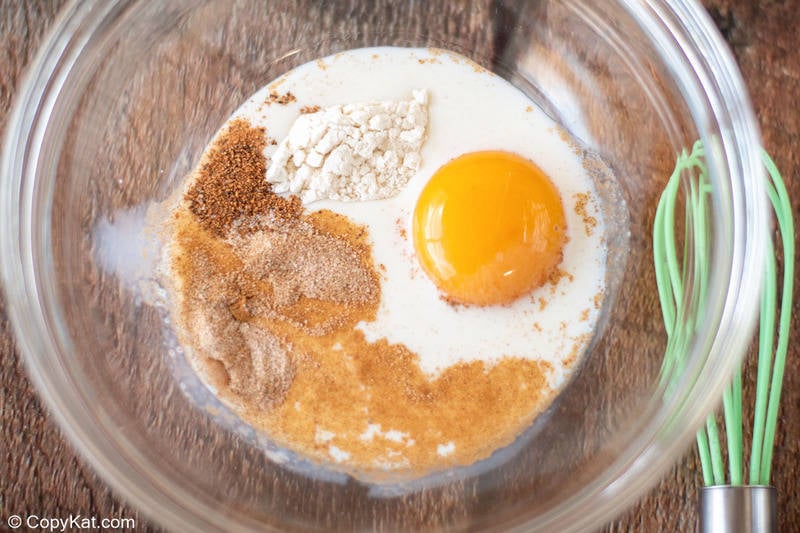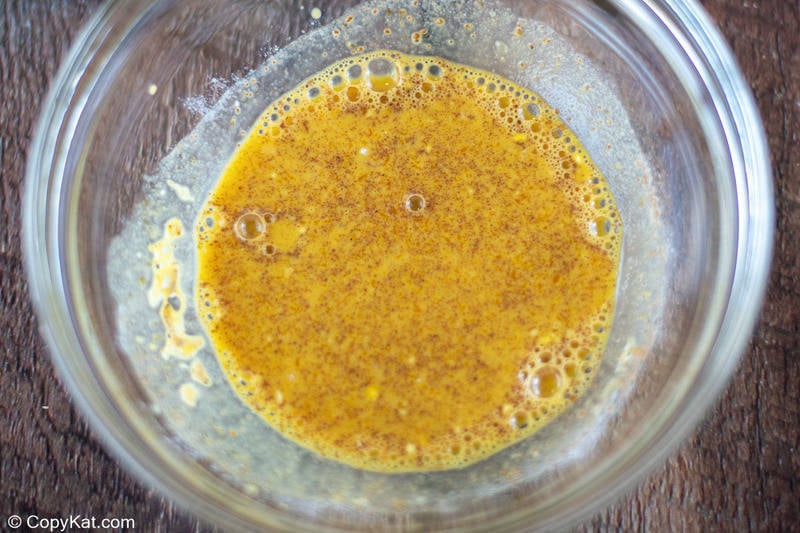 Cut bread slices into thirds.
Add enough vegetable oil in a small skillet or frying pan to cover the bottom of the pan in oil.
Heat oil on medium to medium-high.
When the oil is hot, quickly dunk the bread slices into the batter.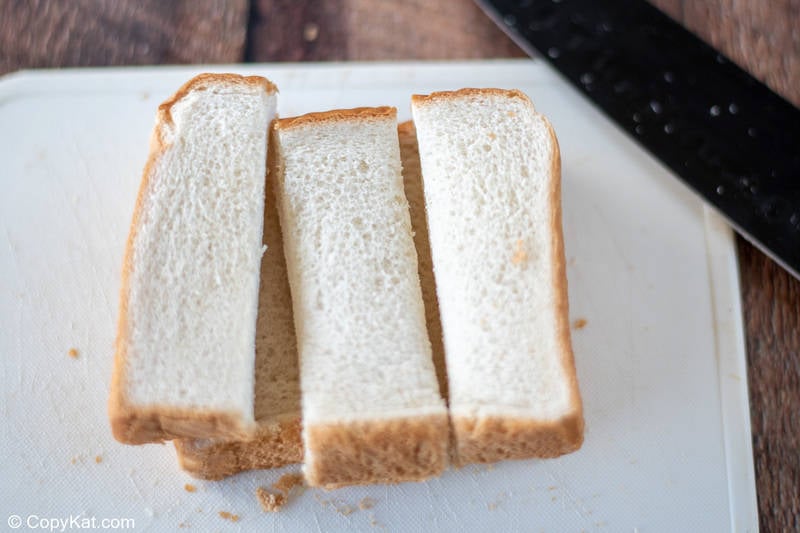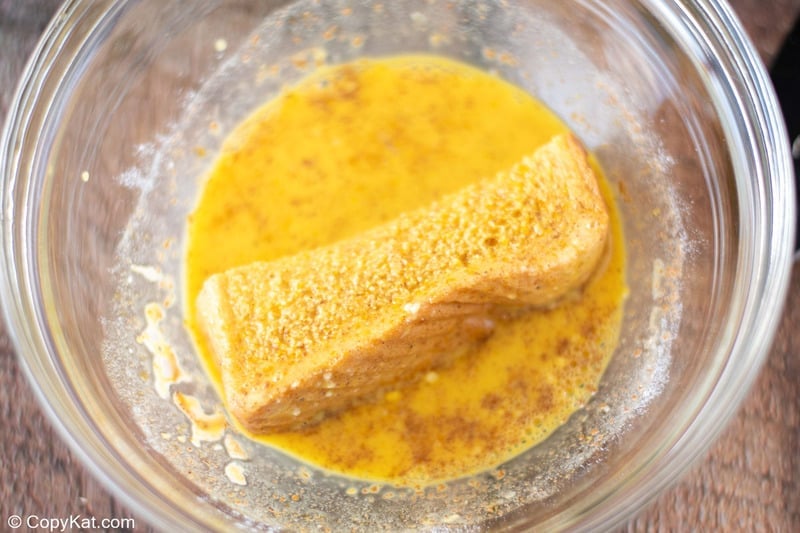 Place the battered sticks into the hot oil and cook until the bottom of the sticks is lightly browned.
Flip sticks over and cook on the other side until golden brown.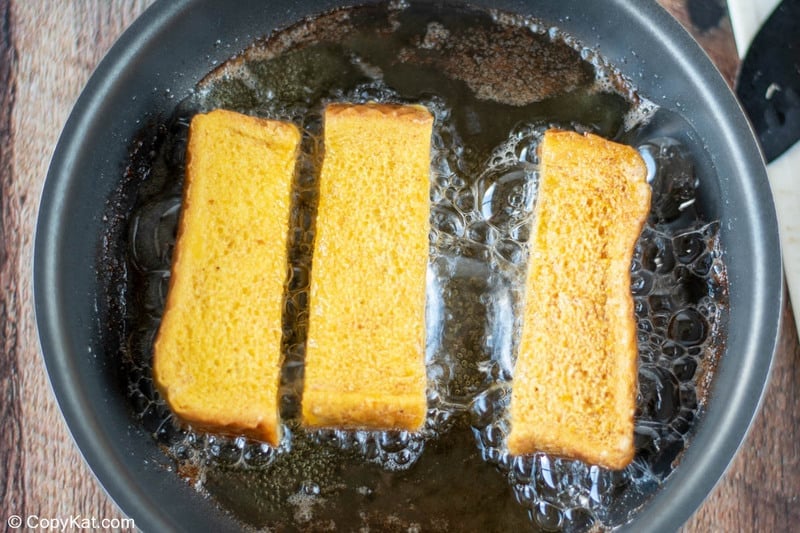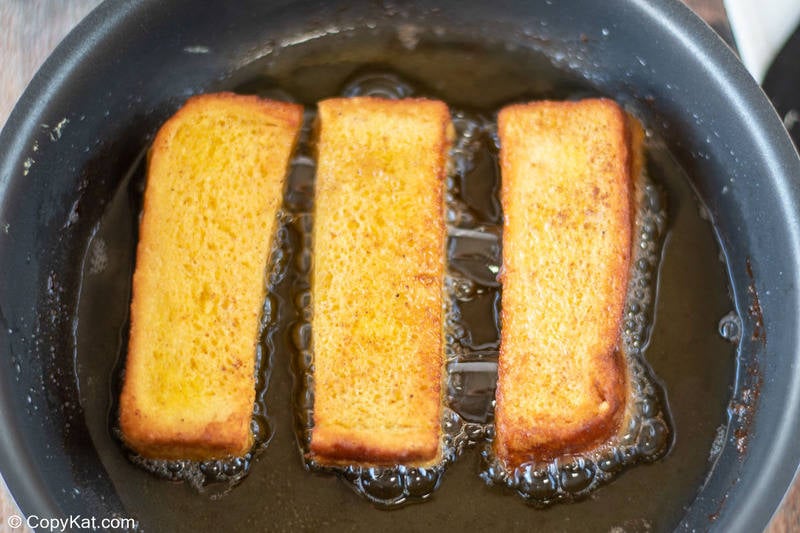 Remove sticks from the skillet.
Serve with maple syrup.
CopyKat Tip: Let your bread dry out a bit so it isn't super soft.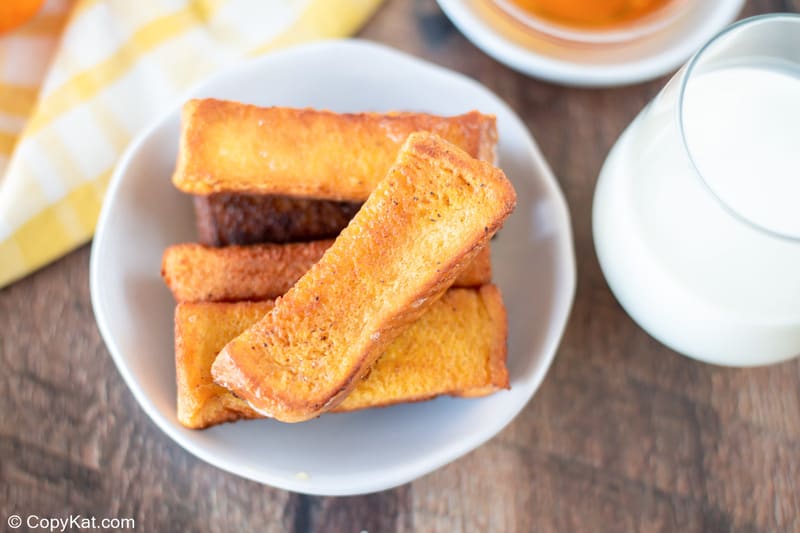 Going Beyond Maple Syrup
Real maple syrup is fantastic if you can get past the high price, but why stop there? You can dip your French toast sticks in just about anything! Here are a few suggestions, but feel free to experiment on your own!
Any jam or jelly you happen to have on hand. Try thinning jellies and thick jams by mixing in a little boiling water.
Whipped cream! You can make it make even more decadent by double-dipping into a pile of mini-chocolate chips.
Whipped Honey Bacon Butter. In the bowl of a stand mixer, combine 1/2 cup of room-temperature butter, 1/4 cup of honey, and two tablespoons of bacon bits. Mix at high speed until fluffy!
What to serve with French Toast Sticks
You may want to add another dish or two to make a full breakfast. Here are some of our recommendations for you.
Tips for Making and Storing Burger King French Toast Sticks
Freeze for a quick breakfast. Let the french toast sticks cool entirely. Then, you can freeze them in a single layer for two hours before transferring them to a bag to store for up to a month.
Reheat in the oven or microwave. Heat in a preheated 350°F oven for 10 to 15 minutes or in the microwave for 45 seconds.
See what we are up to by friending us on Facebook!
Love Burger King? Try these copycat recipes!
Favorite Breakfast Recipes
Check out more of my easy breakfast recipes and the best fast food recipes here on CopyKat!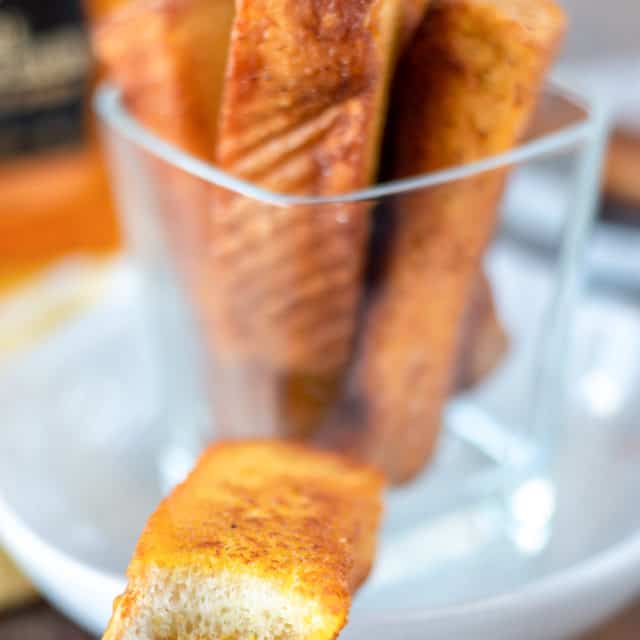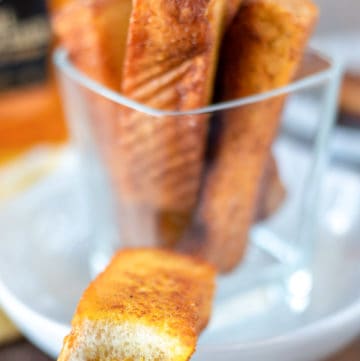 Ingredients
3 1/2

tablespoons

whole milk

2

egg yolks

1

teaspoon

all-purpose flour

1/16

teaspoon

salt

1/4

teaspoon

ground nutmeg

1

teaspoon

cinnamon sugar

2

slices

bread

Texas toast or crustless bread recommended

vegetable oil for frying
Instructions
In a small bowl mix together milk, 2 egg yolks, flour, salt, cinnamon sugar, and nutmeg. Whisk together until the mixture is smooth.

Cut each slice of bread into thirds.

In a small skillet add enough vegetable oil to cover the bottom ¼ inch of the pan in oil. Heat on medium to medium high. When the oil is hot, quickly dunk the bread sticks into the batter. Do not saturate the bread, just lightly coat it.

Place the battered sticks into the hot oil, cook for 1 to 2 minutes or until the sticks begin to turn brown, flip, and cook on the other side for about 30 seconds to 1 minute.  Remove sticks from the skillet.  Serve with maple syrup.
Notes
I recommend that you let your bread dry out a bit, so it isn't super soft. The crustless bread seems to be a bit drier and it is easier to cut.
Nutrition
Calories:
408
kcal
|
Carbohydrates:
19
g
|
Protein:
7
g
|
Fat:
35
g
|
Saturated Fat:
4
g
|
Trans Fat:
1
g
|
Cholesterol:
198
mg
|
Sodium:
238
mg
|
Potassium:
106
mg
|
Fiber:
1
g
|
Sugar:
5
g
|
Vitamin A:
303
IU
|
Vitamin C:
1
mg
|
Calcium:
92
mg
|
Iron:
2
mg