If you have never had a cheese blintz before you are missing out on a wonderful sweet treat. These are crispy on the outside and so sweet and creamy on the inside. Try this cheese blintz recipe and you will be making them again and again.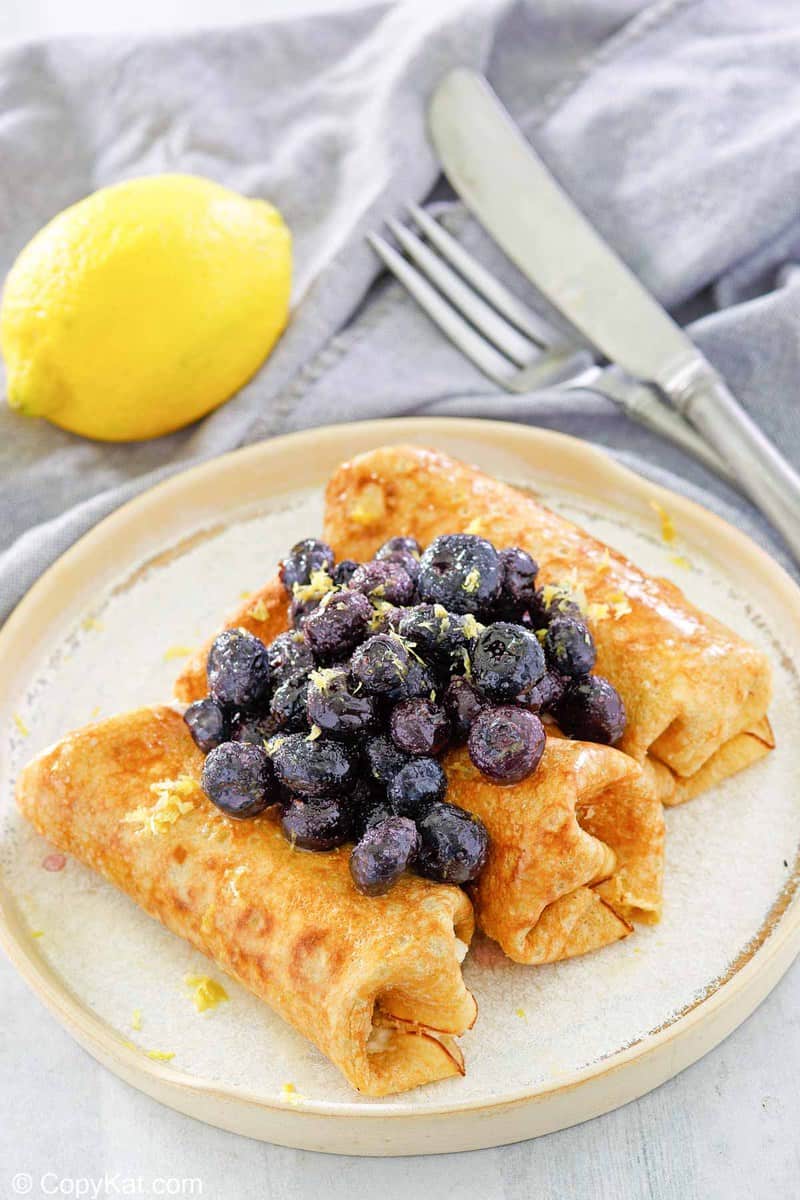 This post contains affiliate links. As an Amazon Associate, I earn from qualifying purchases.
Homemade Cheese Blintz
These cheese blintzes are similar to what is served at the IHOP. They are also served on many Jewish holidays.
The wonderfully thin pancakes are a lot like Norwegian pancakes so you don't even really need to fill them, but this creamy sweet filling is something you don't want to miss.
Easy Cheese Blintzes
This recipe will help you create some of the best cheese blintzes you've ever had. One of the keys to getting the right texture for the blintz pancakes is allowing the batter to rest in the fridge.
This allows the flour to expand, and it produces a batter that can make the perfect blintz pancake that will hold up and crisp up wonderfully.
What is a Cheese Blintz?
If you have ever had a crepe, then you are on the right track. Cheese blintzes are little thin pancakes that are filled with a creamy sweet filling, folded, and fried to perfection.
Cheese Blintz is a Jewish recipe that can be served for breakfast or as a dessert.
Are crepes and blintzes the same thing?
While they might look kind of similar they are not exactly the same thing. They originate from different places. The crepe has a French origin, and Blitzes have a Jewish origin.
Crepes can be served in different ways. Sometimes they are filled. Other times they are served with the fillings on the side for you to build with what you like.
However, cheese blintzes are always filled with a creamy filling, folded, and fried. They are like little crunchy pillows of sweet creamy heaven.
Cheese Blintz Ingredients
Most of what you will need for this recipe you will already most likely have at home. Take a look and make sure you are ready to start. Here's a list of what you need:
Eggs
Milk
All-purpose flour
Sugar
Vanilla extract
Salt
Ricotta cheese
Cream cheese
Lemon juice
Butter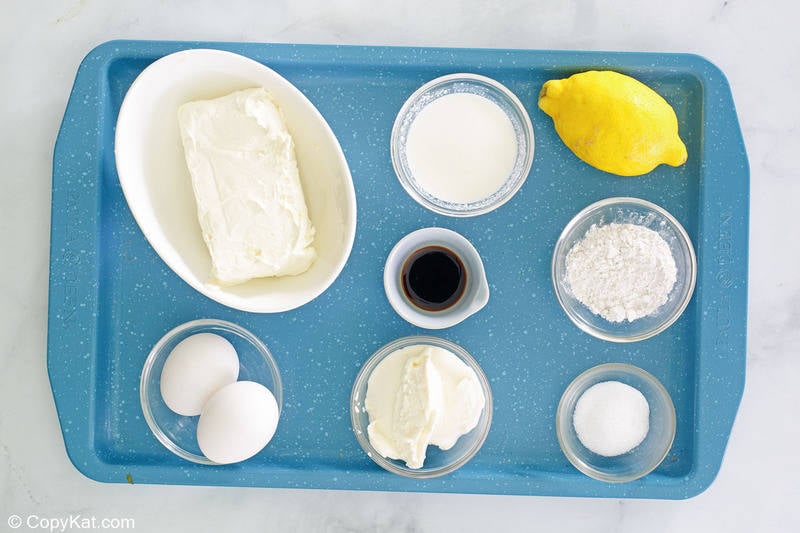 Ingredient Notes and Substitutions
If you do not like ricotta cheese, you can try and substitute it for cottage cheese.
Also if you'd like to make these gluten-free, substitute the all-purpose flour for King Arthur gluten-free measure for measure flour.
How to Make Cheese Blintz
Begin by making up the pancake batter in a medium bowl. Add in the eggs and milk and beat them together well.
Add in the flour, sugar, vanilla extract, and the salt.
Stir everything together and then place a piece of plastic over the bowl and let it chill in the refrigerator for an hour before making the pancakes.
While the batter is chilling, prepare the cheese filling by combining the ricotta cheese, cream cheese, egg, lemon juice, and vanilla in a small mixing bowl.
Mix everything together until it is well combined. However, there might still be some lumps left and that is okay, they will go away when they are cooked.

After the hour is up, heat up a small nonstick skillet over medium heat. Then spray the skillet with nonstick cooking spray.
Using a ladle pour about 3 ounces of batter into the greased skillet and swirl it around so the batter spreads out and becomes thin. It should cover the bottom of the skillet.
Let the pancake cook for about 60 seconds allowing it to become bubbly and dry.
Then flip the pancake over and let it cook for another 15 seconds on the other side. The blintz should become golden brown.
Transfer the pancake to a wire rack to cool when it is done cooking.

Repeat these steps with each pancake until the batter is gone. Do not forget to respray the pan with nonstick cooking spray.
After the pancakes have cooled you will begin to assemble the cheese blintzes.
Place a small amount of cheese filling in the lower third of a pancake.
Then flip up the bottom with the cheese filling to the middle of the pancake. Then fold in the two sides of the pancake going towards the middle.
Next, fold the top portion down to finish. They will look like little cheese filled burritos.
Repeat these steps until the pancakes are all filled.
Finish the blintzes off by browning them in the small skillet with some butter and brown on both sides of the blintz starting with the fold side down. This should take about 60 seconds.
Serve with your favorite toppings.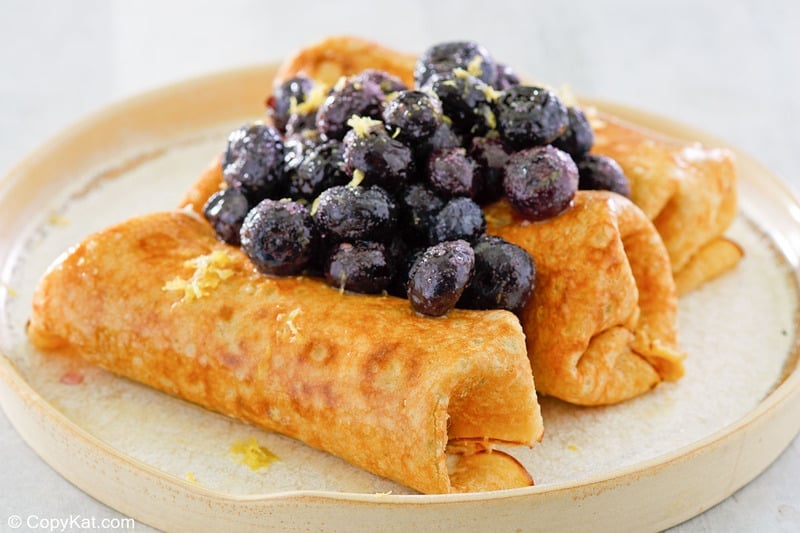 Recipe Notes and Tips
The batter requires a step that you normally don't do. You mix together the batter ingredients and let it rest in the bowl for about an hour in the refrigerator. The flour expands and the batter texture improves. So be patient during that hour.
To make up for this you can prepare the blintz pancakes ahead of time. Then all you have to do is fill and brown them just before serving.
I find that if you use a ladle you will get a uniform size. This makes rolling blintzes up very helpful. I like to prepare mine either in a small skillet or on a large griddle if I need to make a few batches at once.
You can top cheese blintzes with powdered sugar, fruit, preserves, a small dollop of sour cream, or you can even eat them plain. It doesn't matter.
How do you fold a blintz?
Essentially you are going to be making little tiny burritos out of the small pancakes. It just takes 3 easy steps.
Place a small amount of the cheese filling on the lower third of the pancake.
Flip up the bottom with the cheese filling to the middle of the pancake.
Fold in the two sides of the pancake going towards the middle.
Are blintzes a dessert?
They can be! They are not strictly a dessert, but can be served as one! But they also work great as a breakfast dish too!
What do you serve with cheese blintz?
You can serve cheese blintzes with a variety of toppings. Here are a few suggestions:
Applesauce
Fresh fruit
Fruit pie filling or topping
Fruit preserves
Maple syrup
Sour cream
Whipped cream
How to Store and Reheat Cheese Blintzes
Once the blintzes have been made, allow them to cool down before storing them. Then put them in an airtight container (preferably not a bag to prevent them from breaking) and store them in the fridge for about 5 days.
Then to reheat them, put them on a cookie sheet and bake them at 350 for about 5-10 minutes or until they are heated through. However, I think they are even delicious cold too!
Can you freeze cheese blintzes?
These do well frozen! Place them in a freezer-safe container and store them for up to 3 months. Just make sure to take them out and let them thaw before you are ready to bake them.
Favorite Breakfast and Brunch Recipes
Popular Fast Food Breakfast Recipes
Check out more of my easy breakfast recipes and the best copycat restaurant recipes here on CopyKat!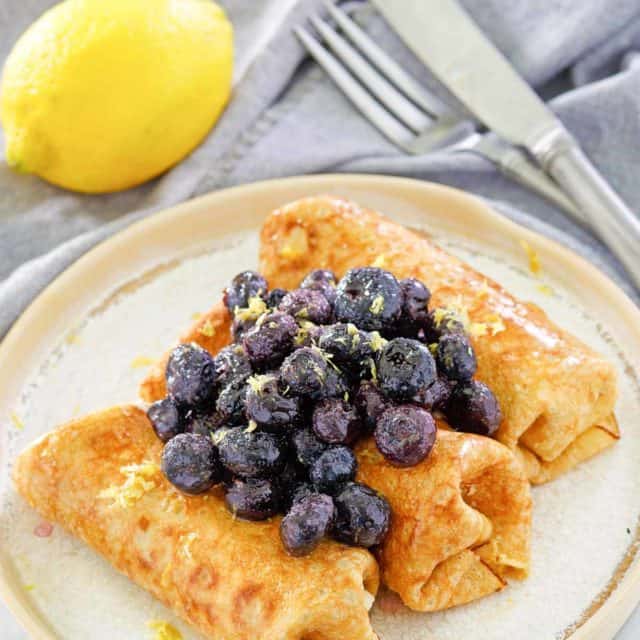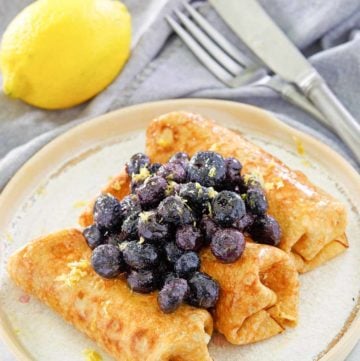 Ingredients
Blintz Pancakes
4

eggs

1

cup

milk

1

cup

all-purpose flour

1/4

cup

sugar

1

teaspoon

vanilla extract

1/2

teaspoon

salt
Cheese Filling
1

cup

ricotta cheese

8

ounces

cream cheese

1/4

cup

sugar

1

egg

2

teaspoons

lemon juice

1

teaspoon

vanilla extract
Instructions
Blintz Pancakes
In a medium-sized bowl, add 4 eggs and milk. Beat them together well.

Add flour, 1/4 cup sugar, 1 teaspoon vanilla, and salt. Stir to combine.

Cover the bowl with plastic wrap and refrigerate for 1 hour before using.

You can prepare the filling while the batter is chilling.

Heat a small nonstick skillet (about 6 or 7 inches in diameter) over medium heat.

Spray the skillet with non-stick spray or spread a thin layer melted butter in it.

Ladle about 3 ounces of batter into the skillet. Swirl it around so that it is a thin, round layer covering the bottom of the skillet.

The pancake will cook for about 60 seconds before it begins to bubble and dry

Flip over the pancake and cook it for another 15 seconds or so. The blintz should be golden brown.

Repeat making pancakes with the remaining batter.
Cheese Filling
Combine ricotta cheese, cream cheese, 1 egg, 2 teaspoons lemon juice, and 1 teaspoon vanilla in a small bowl.

Stir until well blended, the mixture may remain a little lumpy. The lumps will go away when you cook the blintz.
Assemble the Cheese Blintzes
Place a small amount, about 2 or 3 tablespoons, of cheese filling in the lower third of a pancake.

Flip the bottom third up to the middle of the pancake. Then flip the two sides to the middle. Then flip the top portion down. These will look like mini burritos.

Repeat with the remaining pancakes and filling.

To brown the blintzes, add a small pat of butter to the skillet and brown on both sides, this will take about 60 seconds
Nutrition
Calories:
422
kcal
|
Carbohydrates:
37
g
|
Protein:
14
g
|
Fat:
23
g
|
Saturated Fat:
12
g
|
Cholesterol:
202
mg
|
Sodium:
419
mg
|
Potassium:
221
mg
|
Fiber:
0
g
|
Sugar:
20
g
|
Vitamin A:
955
IU
|
Vitamin C:
0.7
mg
|
Calcium:
192
mg
|
Iron:
1.9
mg