Sadly, many of the Bennigan's have went out of business. I loved their food for their creativity and the fact that they cooked so much of their food fresh every day from scratch. Bennigan's ultimate baked potato soup is a delicious creamy soup packed full of potatoes, cheese, and topped with all of the goodies that are served with baked potatoes.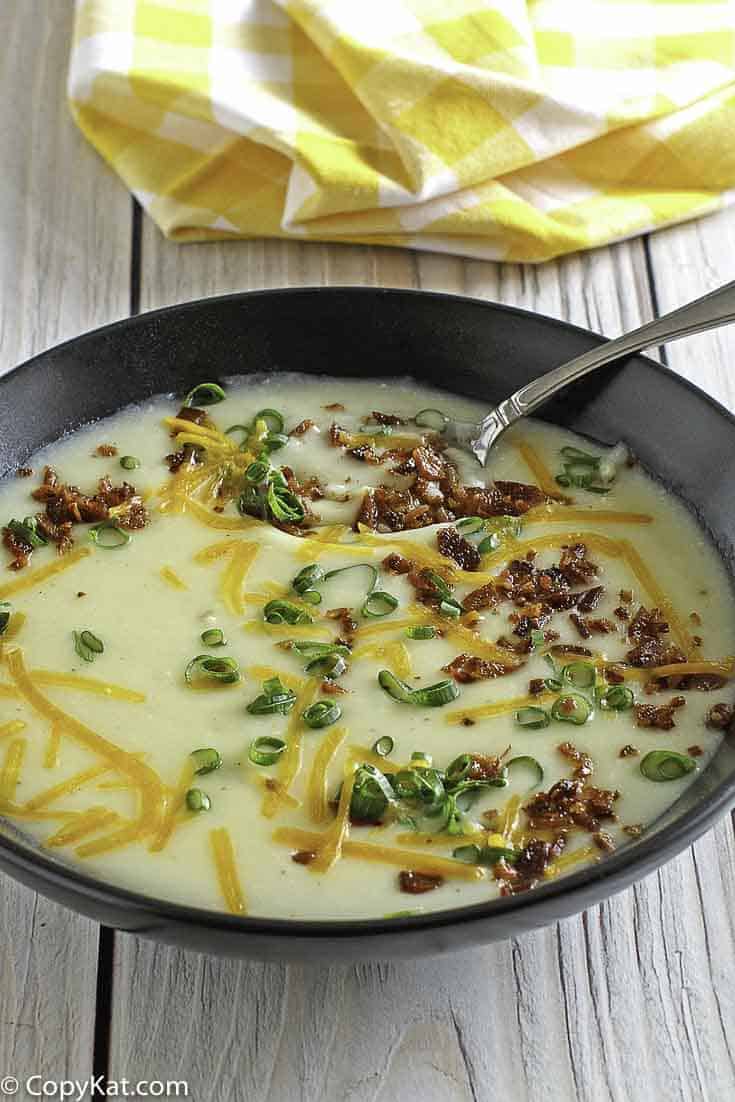 Bennigan's Ultimate Baked Potato Soup
Bennigan's really knows how to put together a recipe for baked potato soup, this soup is creamy, rich, and hearty.  You really can make an entire meal out of this soup. I personally like to serve this soup with either a sandwich or even a nice crusty piece of bread with lots of butter.
This soup is very easy to make you will need potatoes, butter, milk, onions, and more. You can prepare this recipe in no time flat.
Potatoes are the world's 4th most important food crop, behind corn, wheat, and rice. It may come to no surprise to you that in Ireland, potatoes are ranked as number 1. The Irish eat about 250 pounds of potatoes per person, per year, compared to Americans, who eat "only" about 140 pounds! The naturally low-fat potato is actually healthy food. It contains enough fiber, nutrients, and carbohydrates to consider it a complete meal all by itself.
Bennigan's, headquartered in Dallas, Texas, is an Irish-pup themed chain of restaurants, once owned by the Pilsbury Corporation. Although the chain is much smaller than it once was, there are still about 15 restaurants operating in the US today and about 18 international locations. Its unique aim is to "provide guests with the kind of genuine, warm and high-spirited services you'd experience in a neighborhood Emerald Isle pub." So naturally, they have a potato soup on their menu.
If you've ever been to Ireland, then you know that soup is a staple food, as are potatoes. Bennigan's Ultimate Baked Potato Soup is a hearty bowl of goodness that can warm your bones on a cold or a rainy night.
This soup is creamy and rich even though it is made with milk and not cream. If you are crunched for time, try "baking" your potatoes in the microwave by following the manufacturer's instructions. Many new microwave ovens now feature a "baked potato" button. My version of Bennigan's Ultimate Baked Potato Soup can be served as an appetizer to a steak dinner, or as a lunch with a side sandwich or a crusty, buttered piece of baguette.
This recipe was adapted from a Woman's Day Magazine recipe spotted by fellow viewer Christina.
More Potato Soup Recipes
Panera Bread Baked Potato Soup
La Madeleines Country Potato Soup
Houston's Baked Potato Soup
O'Charley's Baked Potato Soup
Ingredients
3

pounds

potatoes

scrubbed and pierced in several places

3

tablespoons

butter

3

tablespoons

all purpose flour

3/4

cup

finely chopped onions

1

tablespoons

minced garlic

14.5

ounces

chicken broth

3

cups

milk

1

teaspoons

salt

1/4

teaspoons

pepper
Garnish
1/2

cup

shredded Cheddar cheese

1/2

cup

crumbled bacon

1/2

cup

chopped scallions
Instructions
Heat oven to 400 degrees. Bake potatoes 1 hour or until tender when pierced. Peel when cool enough to handle.

Melt butter in a 4 to 6-quart pot over medium-low heat. Stir in onions and garlic, cover and cook 10 minutes until soft, but not brown. Add flour to the melted butter and allow to cook for 1 minute.

Add 2/3 of the potatoes and mash with a potato masher. Add broth, milk, salt, and pepper. Bring to a simmer, stirring occasionally. Season to taste before serving.

Cut remaining potatoes in small cubes. Add to soup and stir gently to reheat. Sprinkle each serving with toppings.
Recipe Tips for the Cook
This recipe was adapted from a Woman's Day Magazine recipe spotted by fellow viewer Christina.
Nutrition
Calories:
250
kcal
|
Carbohydrates:
30
g
|
Protein:
10
g
|
Fat:
10
g
|
Saturated Fat:
6
g
|
Cholesterol:
29
mg
|
Sodium:
629
mg
|
Potassium:
910
mg
|
Fiber:
4
g
|
Sugar:
5
g
|
Vitamin A:
415
IU
|
Vitamin C:
25.6
mg
|
Calcium:
219
mg
|
Iron:
5.9
mg