La Madeleine Country Potato Soup is wonderfully rich and creamy. This old-fashioned soup is comforting and full of flavor. Serve this wonderful soup topped with crumbled bacon and cheese for a tasty lunch or dinner.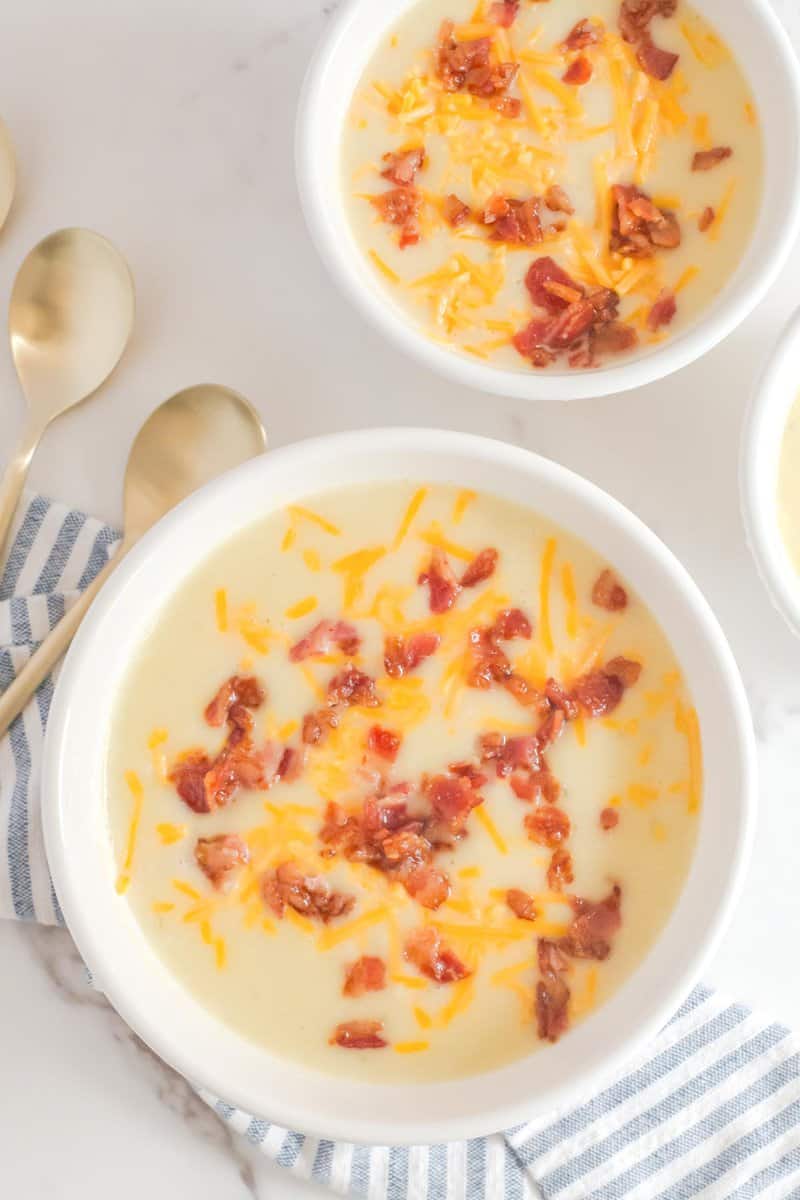 This post contains affiliate links. As an Amazon Associate, I earn from qualifying purchases.
What Makes La Madeleine Country Potato Soup So Good
Most people immediately think of chicken noodle when they need a comforting bowl of soup, but perhaps they should enjoy this potato soup instead. La Madeleine Country Potato Soup is a warm version of the classic French Vichyssoise recipes and contains heavy cream, leeks, onions, chicken stock, and herbs.
The ingredients give this soup the ideal texture and a fresh, earthy flavor that matches so well with potatoes. Top the soup with cheddar cheese and bacon bits; you have something special.
Why You Should Try This Country Potato Soup Recipe
Potato soup may not often appear on your dinner table, but it is a good time to change that. This potato soup recipe is quick and easy to prepare, affordable, and since there are endless ways to top it, you can make it as fancy as you want or keep it plain and allow your guests to customize it themselves!
Check out the "Optional Toppings" section below for more ideas.
Country Potato Soup Ingredients
For this La Madeleine potato soup recipe, you'll need:
Leeks
Yellow onion
Unsalted butter
Salt
Chicken broth
Russet potatoes
Fresh thyme
Heavy cream
Cheddar cheese
Bacon, cooked
Try making the bacon in the oven for great, hands-free results.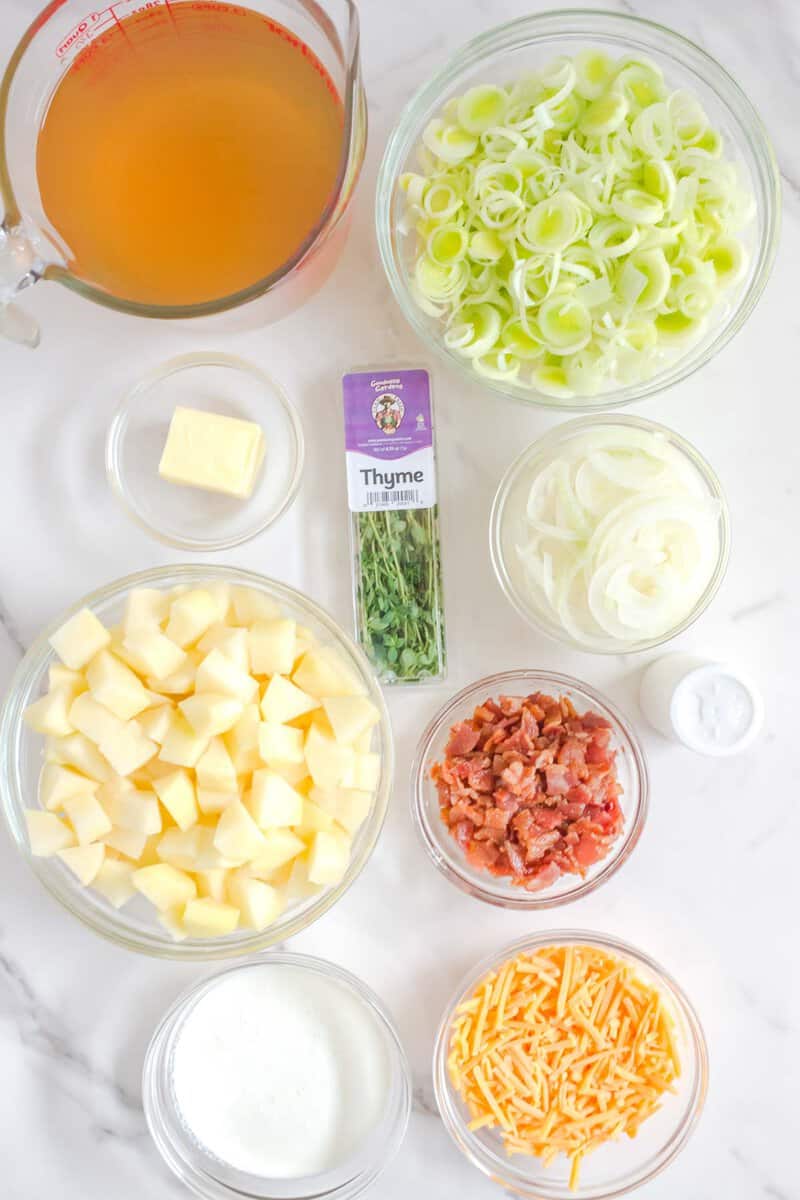 How to Make La Madeleine Country Potato Soup
To prepare this French-style potato soup:
Wash the leeks and slice them thinly on the bias. Peel and dice the onion into small pieces. Peel and cut the potatoes into quarter-inch slices. Set all the veggies aside for later.
Heat a large saucepan, soup pot, or Dutch oven over medium heat.
Put the butter in the pot, and when it melts, add the sliced leeks and diced onion to the heated butter.
Cook the leek and onion while stirring from time to time until they start to sweat, and the leeks darken in color. Be careful not to brown the vegetables.
Add the chicken broth, sliced potatoes, thyme, and salt. Simmer for 40 minutes while stirring frequently.
Puree the broth mixture with a regular or immersion blender.
Add cream and stir it in.
Serve garnished with bacon and shredded cheese.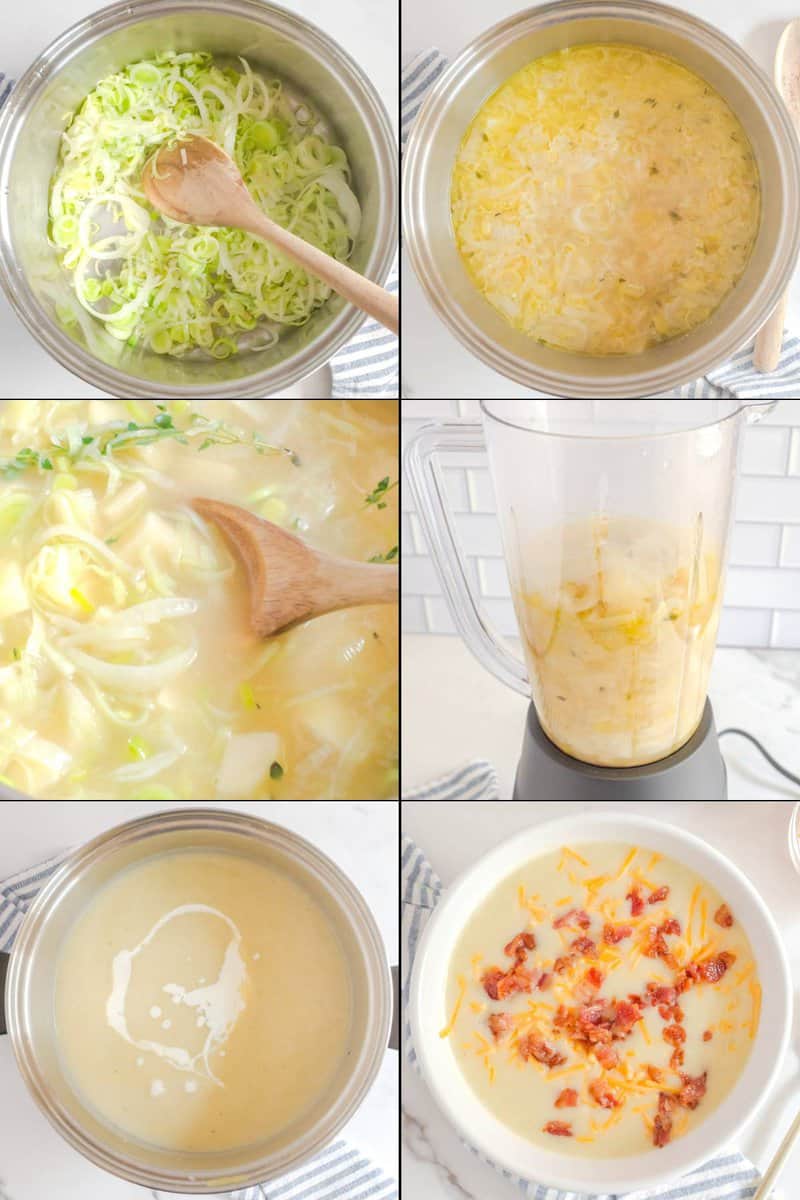 Optional Toppings
Bacon and cheddar cheese go well with this soup, but you have other options to garnish the soup:
Other types of cheese
Sour cream, creme fraiche, or Greek yogurt
Sliced chives or green onions
Fresh herbs such as parsley or thyme
Croutons
Crispy onions or jalapeno peppers
Hot sauce or salsa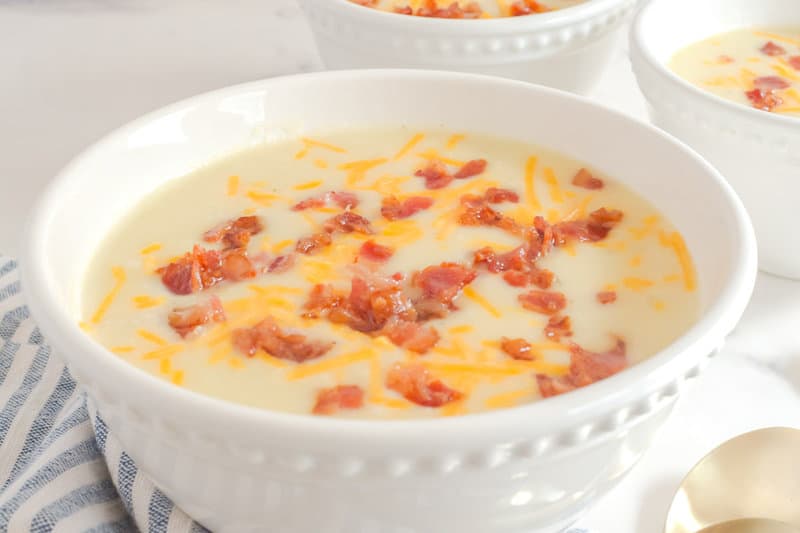 What to Serve With the Soup
Potato soup works as both an appetizer and a main course. If you serve this recipe as a starter, it pairs exceptionally well with grilled chicken or beef. You can turn this soup into a satisfying entree by adding one or two of the following sides:
Salad. A garden side with a tangy salad dressing like Russian or Blue Cheese helps balance out the creaminess of the soup.
Bread. Whether you choose garlic bread, crusty French bread, or sourdough rolls, bread is filling and allows you to clean your bowl.
Sauteed greens. Bitter greens such as kale or Swiss chard sauteed in olive oil with a touch of minced garlic and red pepper flakes would make a great side. Sauteed spinach is also another great option.
How to Store Country Potato Soup
The best way to keep extra soup is in the fridge:
Let the soup cool. You cut the time in half by placing the hot soup in a metal mixing bowl and then putting the mixing bowl in an ice bath.
Pour the cooled soup into an airtight container and keep it in the back of the fridge for up to three days.
How to Freeze It
Potato soup doesn't freeze very well because the dairy will separate, and the potatoes will dry out. However, if you find yourself with a huge batch of soup with no other options than freezing or throwing it away, you can freeze it in an airtight container for about a month. The soup will still be safe to eat, but the consistency won't be the same.
What's the Best Way to Reheat With the Soup Getting Gluey
With so much starch, you can easily wind up with gummy soup after warming it up. But here's the secret to a perfectly smooth and creamy texture:
Pour the soup into a cold, heavy-bottomed saucepan and place it over low heat.
Continuously stir with a flexible silicone spatula. Use the flat edge of the spatula to scrape down the sides of the saucepan and get into the corners where the sides meet the bottom.
Stir in some heavy cream or chicken stock to help thin out the soup.
Heat while stirring until the soup is warm enough to serve.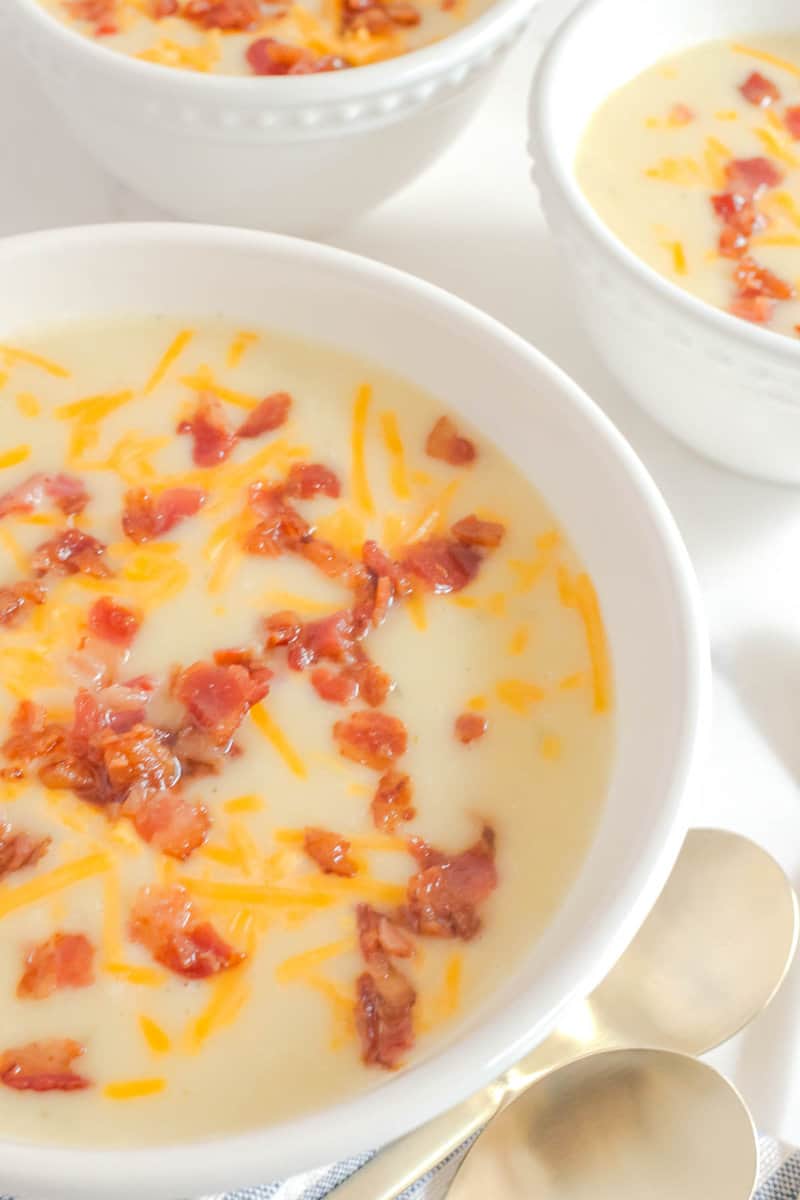 Love La Madeleine? Try these copycat recipes!
Favorite Soup Recipes
Check out more of my easy soup recipes and the best copycat fast food recipes here on CopyKat!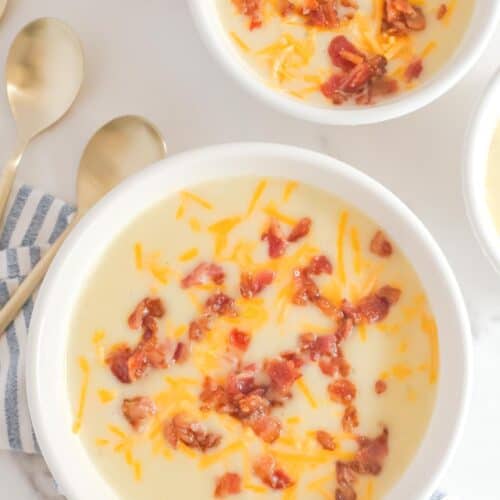 Ingredients
1/8

cup

unsalted butter

3

cups

thinly sliced leeks

1

cup

sliced yellow onion

salt

to taste

1 1/2

quarts

chicken broth

2

pounds

russet potatoes

peeled and sliced 1/4 inch thick

2

sprigs

fresh thyme

1/2

cup

heavy cream

1

cup

grated cheddar cheese

1/2

cup

bacon

cooked and diced
Instructions
Place the butter, leeks, and onions in a large saucepan over medium heat. Add a pinch of salt and sauté until the onions become translucent and the leeks change color.

Add the broth, potatoes, fresh thyme, and salt to taste. Cook for 40 minutes over medium heat, stirring frequently to avoid scorching.

Add cream and bring to a boil.

Serve hot, garnished with cheddar cheese and diced bacon.
Notes
This recipe is from Executive Chef Remy Schaal of la Madeleine French Bakery and Cafe. Founded in Dallas in 1983, la Madeleine has many neighborhood cafes and bakeries in five states and Washington, D.C. Excellent potato soup!
You may want to make modifications to this soup like:
If you like thick potato soup you can add an additional potato or two to this recipe.
You can add about 1/2 cup cheese to the soup to turn it into a cheesy potato soup.
Nutrition
Calories:
398
kcal
|
Carbohydrates:
36
g
|
Protein:
16
g
|
Fat:
21
g
|
Saturated Fat:
12
g
|
Cholesterol:
65
mg
|
Sodium:
503
mg
|
Potassium:
1025
mg
|
Fiber:
5
g
|
Sugar:
6
g
|
Vitamin A:
1355
IU
|
Vitamin C:
25.6
mg
|
Calcium:
234
mg
|
Iron:
6.6
mg