Enjoy homemade Russian salad dressing when you make it fresh. This traditional creamy salad dressing is great for salads and is the perfect addition to a Reuben sandwich. Did you know this dressing is also low carb?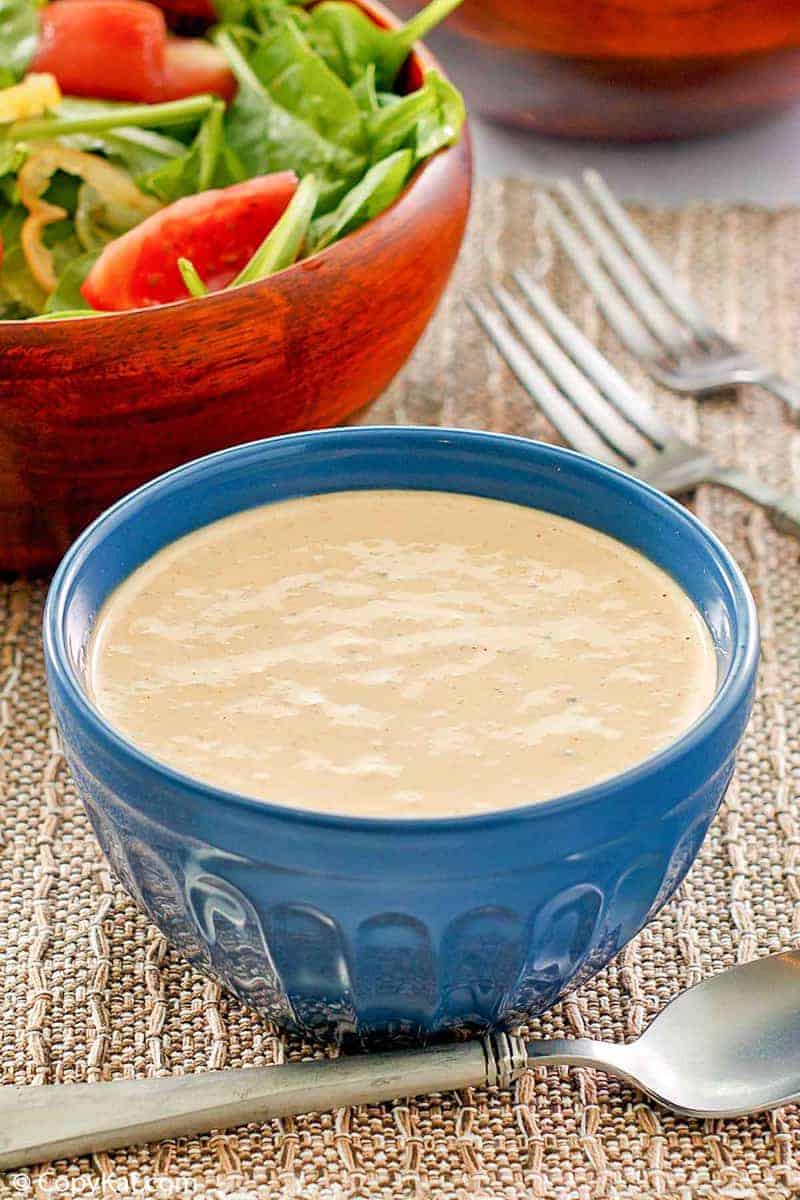 This post contains affiliate links. As an Amazon Associate, I earn from qualifying purchases.
Russian salad dressing has been a staple on salad bars and the shelves of fridges for generations, but not many people spend their time wondering what is actually in the stuff. Fewer still go through the effort to make their own. That is a shame. Good homemade Russian dressing is much better than anything that comes out of a jar. The following Russian dressing recipe may not be the simplest one out there, but it is definitely one of the best. Try it once, and you will love this keto Russian dressing.
So, What is Russian Dressing Anyway?
The Russian salad dressing we know today is not a culinary secret from czarist St. Petersberg, but from a small city in New Hampshire! So, what is up with the name? Legend has it that back in the early 1900s, James E. Colburn, a local wholesale grocer from Nashua, was the first person to begin bottling and selling a mayonnaise-based sauce under the 'Russian' moniker. Colburn drew inspiration from several sauces for vegetables and cold meat that used the very Russian ingredient: caviar. Colburn's version ditched the caviar but kept a similar flavor profile, and it soon became a hit.
Today, versions of Russian salad dressing range from the simple to the complex, but the defining characteristic of Russian dressing is the use of mayonnaise and chili sauce. These ingredients give the dressing a creamy, slightly spicy flavor with a fair bit of tang. Some Russian dressing recipes are not content with just using chili sauce, so they up the heat factor by adding horseradish to the mix. This spiciness is what differentiates Russian salad dressing from several other similar salad dressings like Thousand Island.
Although similar, Thousand Island dressing is an entirely different thing altogether. Yes, it is a mayonnaise-based sauce that sometimes contains chili sauce, but more often substitutes ketchup for the spicer chili sauce used in Russian dressing. Most Thousand Island dressing versions also contain sweet pickle relish and sweet paprika, further reducing the tanginess level to a mere hint of brightness. Sadly, commercial manufacturers of Thousand Island dressing often leave out the most crucial difference between the two dressings: Chopped hardboiled eggs. This omission further blurs the line between the two salad dressings and means that most people have never tasted Thousand Island dressing the way it should taste.
Tips For Serving and Storing Homemade Russian Dressing
Transform chicken into something extraordinary. Combine a half-cup of this Russian salad dressing with 2 cups of cold, leftover chicken or a store-bought rotisserie chicken for a sweet and tangy chicken salad. Serve as a sandwich or on top of a bed of greens for a light supper.
Build the best Rueben. A Rueben sandwich is a prime example of something that shouldn't taste as great as it does. Pastrami or corned beef on toasted rye bread with sauerkraut and melted Swiss cheese dripping in homemade Russian dressing is something you really have to try at least once.
Fresh is best, but you can store it in the fridge. Keep cold in an airtight container for up to two weeks.
Don't miss out on our newest recipes. Follow us on Instagram!
Russian Dressing Ingredients
Here's what you need to make creamy Russian dressing:
Mayonnaise
Sour cream
Chili sauce
Fresh lemon juice
Dill pickle
Green bell pepper
Green onion
Freshly grated horseradish or drained bottled horseradish
Worcestershire sauce
Tabasco – Sriracha could also be used
Sugar
Salt
Freshly ground black pepper
Paprika
Fresh Parsley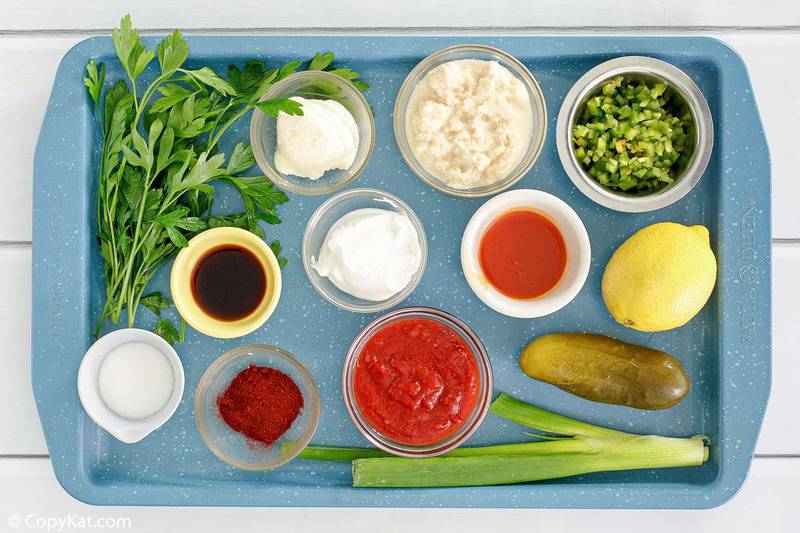 How to Make Russian Dressing
Place all ingredients in a food processor or blender.
Blend until thoroughly mixed but do not over blend.
Refrigerate in a covered jar until serving.
Stir before using.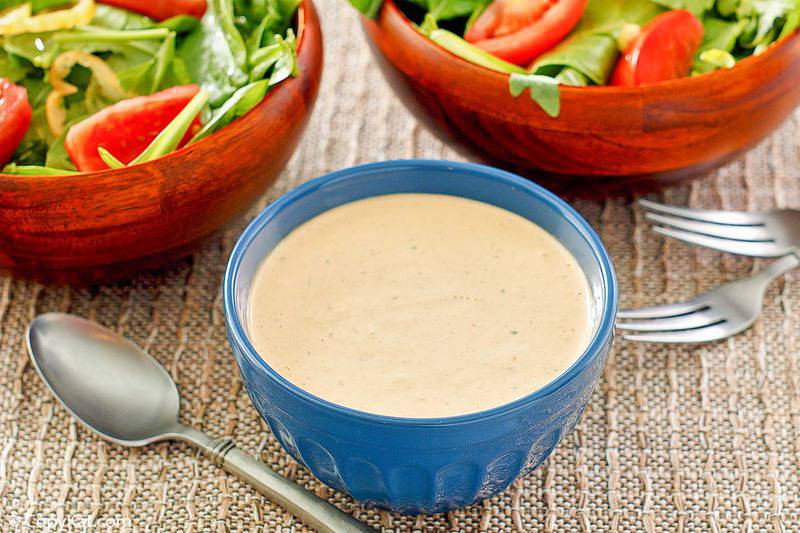 Love homemade salad dressing? Try these recipes
Most Popular Restaurant Salad Copycat Recipes
Be sure to check out more of my easy salad dressing recipes and the best restaurant salad copycat recipes.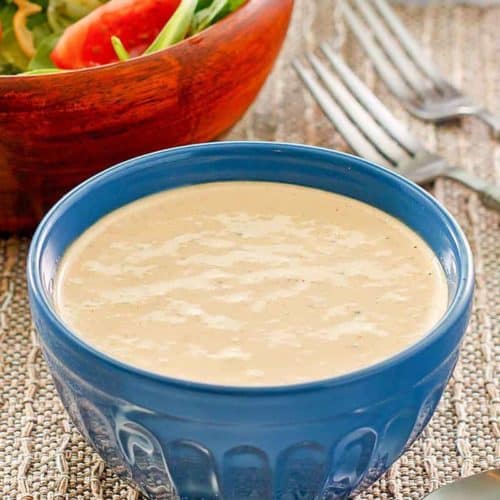 Ingredients
1 1/2

cup

mayonnaise

1/2

cup

sour cream

2/3

cup

chili sauce

(this is a condiment typically sold near cocktail sauce)

1

tablespoon

fresh lemon juice

2

tablespoons

minced dill pickle

1

tablespoon

minced green pepper

2

tablespoons

minced green onion

4

teaspoons

fine grated fresh horseradish or drained bottled horseradish

2

teaspoons

Worcestershire sauce

1/2

teaspoon

Tabasco

2

teaspoons

sugar

1/2

teaspoon

salt

1/8

teaspoon

freshly ground pepper

1/2

teaspoon

paprika

1

tablespoon

minced parsley
Instructions
Combine all ingredients in a food processor or

blender

. Blend until thoroughly mixed, but do not over blend. Refrigerate in a covered jar until serving time. Stir before using.
Nutrition
Calories:
115
kcal
|
Carbohydrates:
2
g
|
Protein:
0
g
|
Fat:
11
g
|
Saturated Fat:
2
g
|
Cholesterol:
8
mg
|
Sodium:
264
mg
|
Potassium:
43
mg
|
Fiber:
0
g
|
Sugar:
1
g
|
Vitamin A:
130
IU
|
Vitamin C:
2.5
mg
|
Calcium:
9
mg
|
Iron:
0.1
mg