Commander's Palace is a famous New Orleans institution. Their salad is a perfect start for a meal. Crisp greens, bacon, Parmesan cheese, and croutons are tossed with a creamy dressing.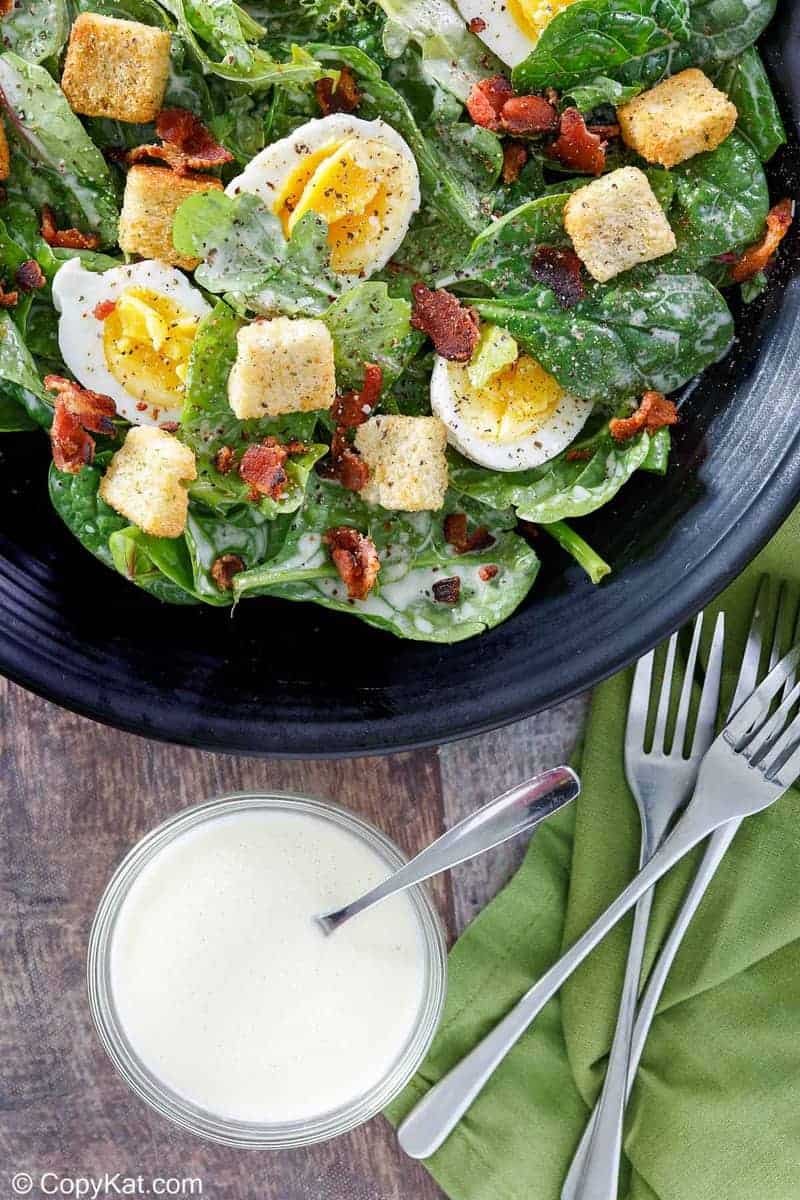 This post contains affiliate links. As an Amazon Associate, I earn from qualifying purchases.
A lot has changed over the last 100 years in New Orleans, but one restaurant in the Garden District has been delighting diners with its classic New Orleans cuisine and impeccable service since 1896. Commander's Palace has long-held its well-deserved reputation as a must-visit culinary landmark for anyone spending time in The Big Easy.
With seven James Beard Foundation Awards and countless other accolades, Commander's Palace is truly a world-class restaurant. A fine example of the refined simplicity of the menu is the classic Commanders Palace Salad. This salad, dressed in a vinaigrette fortified with fresh egg yolk, has been a popular dish for decades. If you cannot reserve a table at Commander's Palace, you can at least indulge in one of its most beloved appetizers by making your own version with the recipe below.
Choose and Cook Your Ingredients With Care
When you are working with just a handful of ingredients, you must ensure they are of the highest quality. That means for this Commander's Palace Salad recipe, you need to start with fresh, preferably organic greens. If you must buy pre-packaged mixed greens, remove the greens from the bag and take the time to pick through them. Toss any greens that are overly soggy or wilted. Be sure to dry the mixed greens thoroughly before using them.
As for the bacon, go for the premium quality. Now is the time to break out the thick-cut variety if you have it, but leave the flavored bacon in the fridge. Line a rimmed sheet pan with tinfoil. Place an oven-safe cooling rack on top of the tinfoil. Lay the bacon on the rack and cook in a 400-degree preheated oven for 15 – 20 minutes for thick-cut bacon or 10 – 12 minutes for regular bacon.
You probably already own the secret to perfectly cooked hard-boiled eggs. It is the microwave. And yes, you definitely should give this method of cooking hard-boiled eggs a try. Even the test tasters at American Test Kitchen preferred hard-boiled eggs made in the microwave to those boiled on the stove. Start by filling a bowl with hot water. The bowl must be large enough to submerge the eggs you want to cook entirely. Use a sterile pin to poke a small hole on the bottom (that's the less pointy end) of the egg, and place them in the bowl of hot water. Cover with a plate and microwave at 50 percent power for 4 minutes. Leave the bowl for one or two minutes, depending on how set you prefer your yolks.
When it comes to the cheese, use the best block of parmesan you can find. Whatever you do, stay away from anything that comes in a shaker.
How to Make a Vinaigrette
What makes this salad stand out is the Commander's Palace salad dressing. It is a typical vinaigrette with the addition of a raw egg yolk. Some people feel uncomfortable consuming raw eggs, and if you have concerns, leave it out. However, it is the egg yolk that gives this vinaigrette its creamy texture and delectable mouthfeel.
To make this vinaigrette, combine all the ingredients except the oil in a blender. Turn the blender on low and slowly drizzle the oil into the blender until emulsified.
Tips for Serving and Storing Commander's Palace Dressing and Salad
Pre-making the vinaigrette salad dressing is okay. You can make the vinaigrette the same day you plan on serving it, but if you use the raw egg yolk, you should not store the dressing overnight.
You can store each component of the salad separated for a day or two. Avoid keeping any dressed salad overnight.
Our recipes not only taste great, but they look darn pretty. See for yourself on Instagram!
Ingredients
Here's a list of what you need:
Vegetable oil
Eggs
Salt
Fresh ground black pepper
White vinegar
Minced onion
Mixed salad greens
Bacon, cooked crisp and crumbled
Fresh grated Parmesan cheese
Croutons
CopyKat Tip: If you are concerned about raw eggs, please use pasteurized eggs.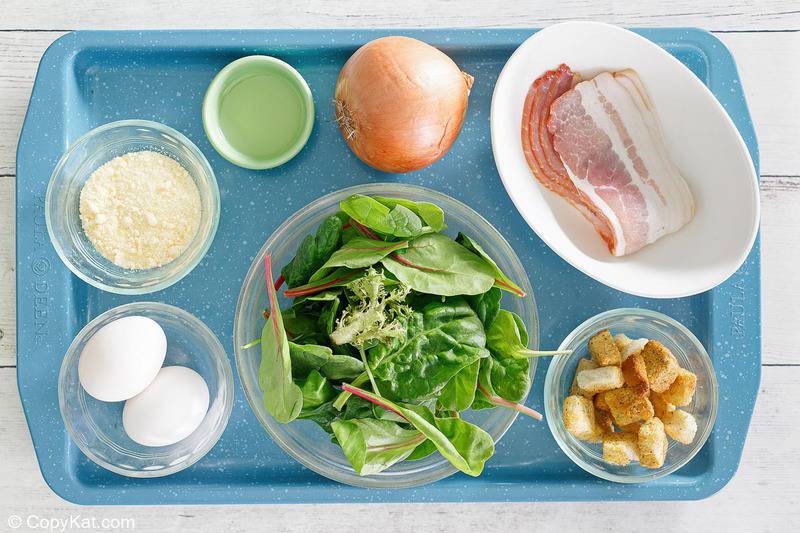 How to Make the Commander's Palace Salad and Dressing
Put a third of the oil, a raw egg, salt, pepper, vinegar, and onion in a blender or food processor.

Cover and blend at low speed.
Remove cover and gradually blend in remaining oil.
Wash and dry salad greens and tear into bite-size pieces.
Place salad greens in a bowl and top with bacon, cheese, and croutons.
Pour dressing over salad and toss.
Divide into individual salad plates or bowls and garnish each with a hard-boiled egg.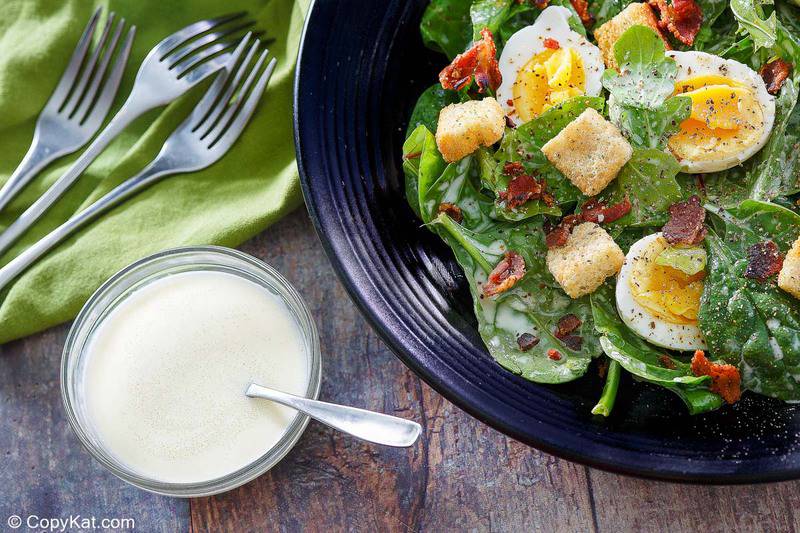 Love salad? Try these recipes!
Favorite Salad Dressing Recipes
Be sure to check out more of my easy salad recipes and the best homemade salad dressings here on CopyKat.com!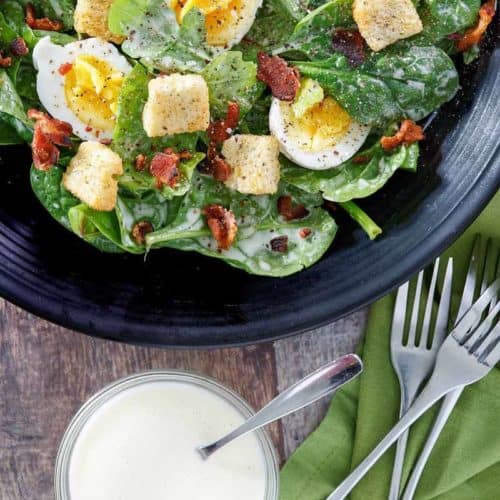 Ingredients
Salad
4

cups

mixed salad greens

4

tablespoons

bacon

cooked crisp and crumbled

4

tablespoons

fresh grated Parmesan cheese

1

cup

croutons

2

eggs

hard-boiled, halved
Salad Dressing
1 1/2

cups

vegetable oil

1

egg

at room temperature

1/3

teaspoon

salt

1/2

teaspoon

fresh ground black pepper

1/4

cup

white vinegar

3

tablespoons

minced onion
Instructions
Salad
Wash and dry greens and tear into bite-size pieces. In a salad bowl combine greens, bacon, cheese, and croutons.
Salad Dressing
Put 1/2 cup oil and remaining ingredients in a blender. Cover and blend at low speed. Remove cover and gradually blend in remaining oil.
To Serve
Pour 8 tablespoons dressing over salad and toss. Divide onto individual salad plates or into bowls and garnish each serving with a hard-cooked egg half.
Nutrition
Calories:
242
kcal
|
Carbohydrates:
8
g
|
Protein:
9
g
|
Fat:
19
g
|
Saturated Fat:
10
g
|
Cholesterol:
135
mg
|
Sodium:
482
mg
|
Potassium:
163
mg
|
Fiber:
0
g
|
Sugar:
0
g
|
Vitamin A:
670
IU
|
Vitamin C:
9.8
mg
|
Calcium:
89
mg
|
Iron:
1.2
mg