Wendy's Summer Berry Chicken Salad is one of Wendy's most popular seasonal salads. Now you can recreate this summery berry salad at home any time of the year.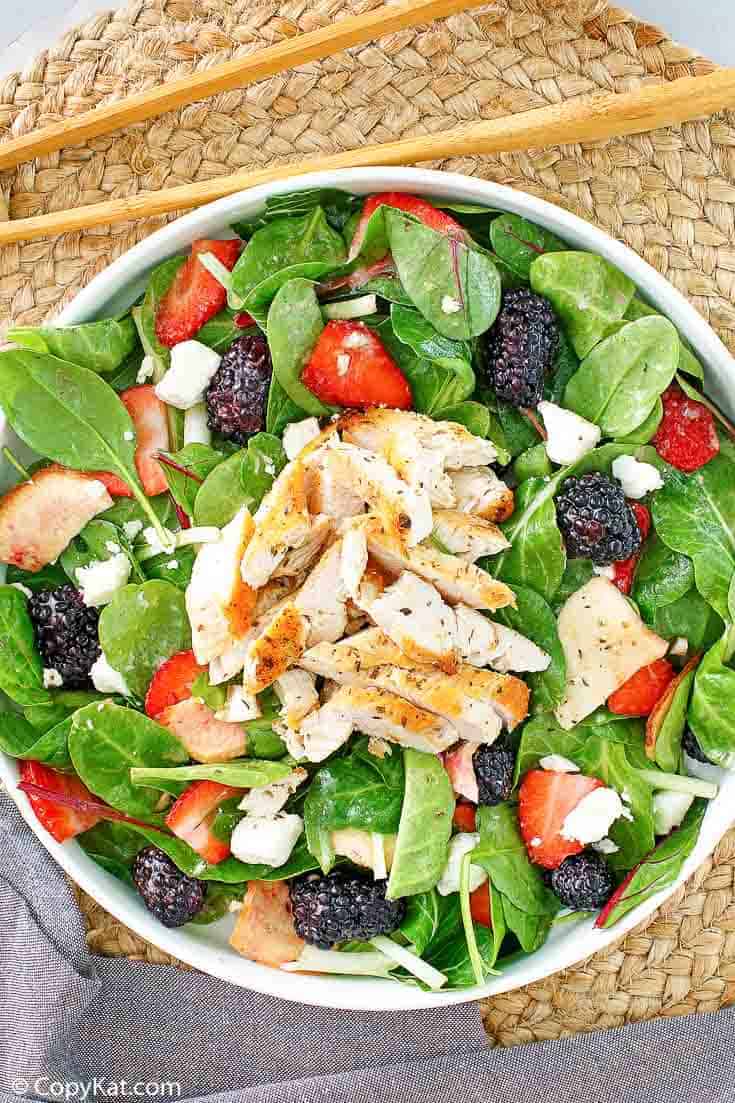 When dining out you can go to fast-food restaurants and still have a healthy lunch. Wendy's is one of my favorite places to go when I want to enjoy a bowl of chili, a salad, and sometimes a burger. Wendy's summer salad is typically a seasonal menu item. One of the biggest benefits of a copycat recipe is that it doesn't have to be restricted to just one season.
What's in a Wendy's Berry Salad?
Wendy's Summer Berry Chicken Salad can be put together in a jiffy. You will need fresh or frozen blackberries, strawberries, dried apple chips, and feta cheese. I used Marzetti Light Blackberry Vinaigrette but an online search doesn't find it anymore. You might be able to find a blackberry vinaigrette at your grocery store. Here's a link for Abbot Farms or you can make your own.
Wendy's summer salad features no less than eleven different types of lettuce, so I like to pick up a salad blend at the grocery store. Toss everything together, and you have an easy, delectable salad!
If you feel like being creative and adding some more variety, you could include a few toasted pecans.
Does Wendy's Still Have the Berry Salad?
You could get a Wendy's berry salad at one of their eateries in 2019 during the summer up until Labor Day. If you are focused on eating more salads this coming summer, keep your fingers crossed that this salad will be on the menu.
It's easy to be a bit skeptical of salads from a fast-food chain, but Wendy's salads are made with the healthy fresh ingredients you use at home. The restaurant also uses fresh chicken (not frozen). In addition to its seasonal salads, Wendy's has a full roster of salads that are on the menu year-round.
How Long Will a Salad Last in the Fridge?
Your senses are usually the most reliable instruments to tell if your salad is still edible or should be added to your composting pile. Discard your salad if you see discoloration, too much moisture, and a rotten smell.
To help salads stay fresh longer, store them in your refrigerator immediately after use in specially designed Tupperware containers. Lettuce already moist with salad dressing is likely to become soggy and undesirable after only one day. On the other hand, a dressed cabbage salad (coleslaw) will stay crisp for several days.
Freezing is not the way to go for any type of salad – lettuce and mayonnaise do not freeze well.
More copycat Wendy's recipes
More Delicious Salad Recipes
Find your favorite restaurant salad recipe and top restaurant recipes to make at home.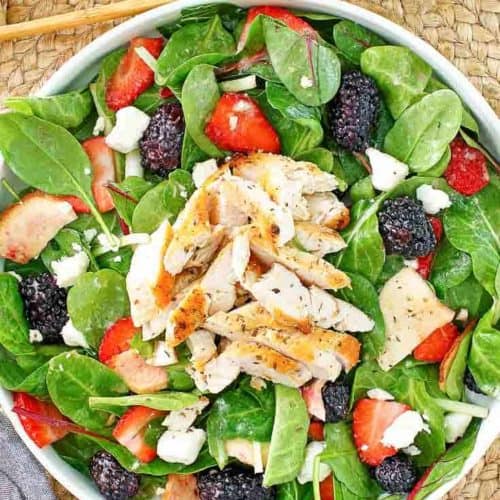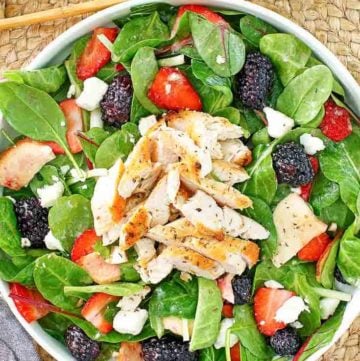 Ingredients
1

chicken

breast

1/8

teaspoon

salt

1/8

teaspoon

ground black pepper

1/8

teaspoon

garlic powder

1/4

teaspoon

dried parsley

2

teaspoons

vegetable oil

4

ounces

lettuce mix

1/4

cup

blackberries, washed

1/4

cup

sliced strawberries

1

tablespoon

feta cheese

5

or

6 pieces of dried apple chips

2

tablespoons

Dressed® Light Blackberry Vinaigrette
Instructions
Season chicken breast with salt, pepper, garlic powder, and dried parsley. Place a small skillet over medium heat. Add vegetable oil to the skillet. Allow the pan to get hot, the oil should almost smoke, add the chicken. Cook chicken on each side for 5 to 7 minutes or until the chicken is done. Remove chicken from skillet. Allow the chicken to rest about 5 minutes before slicing into bite sized pieces. In a large bowl add salad, blackberries, sliced strawberries, feta cheese, and apple chips. Add cut up pieces of chicken to the salad. Pour over Marzetti® Simply Dressed® Light Blackberry Vinaigrette as you desire.
Nutrition
Calories:
315
kcal
|
Carbohydrates:
14
g
|
Protein:
4
g
|
Fat:
28
g
|
Saturated Fat:
12
g
|
Cholesterol:
15
mg
|
Sodium:
498
mg
|
Potassium:
273
mg
|
Fiber:
4
g
|
Sugar:
10
g
|
Vitamin A:
720
IU
|
Vitamin C:
31.9
mg
|
Calcium:
115
mg
|
Iron:
0.7
mg