If you have never tried Newks Chicken salad is the perfect combination of tender white chicken pecans, grapes, and more. This chicken salad is perfect in a sandwich or even enjoyed on its own. Enjoy this delicious chicken salad that is so easy to make, you don't need to leave home.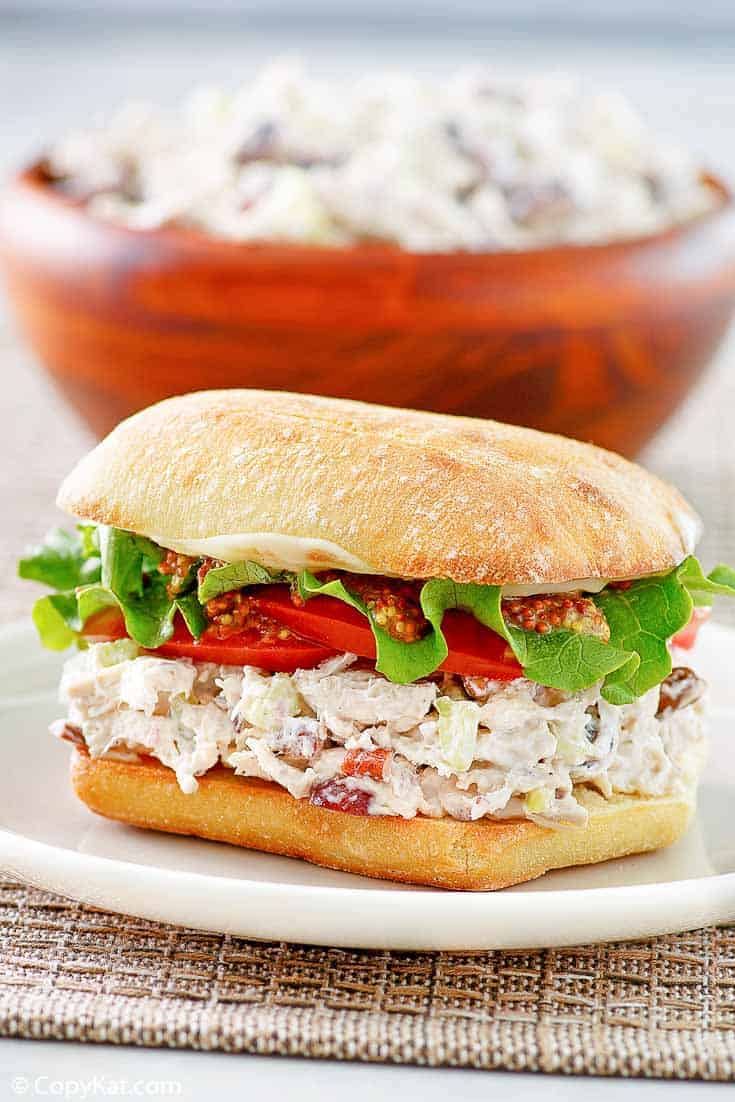 Some people can't get enough of chicken salad, and then others just have never had a good chicken salad before. This easy chicken salad recipe is inspired by the version served at Newks restaurant is a real treat!
Thousands of Newks' customers would never dream of walking out of the restaurant without picking up a container or two of this famous chicken salad to enjoy at home — it is that good! So, if you can't make it to a local Newks, do yourself a favor and whip up a batch of Newks chicken salad recipe to see what all the fuss is about.
Ingredients
Want a delicious chicken salad? Start with easy to find ingredients. This chicken salad can be made in no time at all, and you will need:
chicken breast or chicken tenders
lemon juice
pecans
red onion
celery
red grapes
mayonnaise
salt & pepper
sugar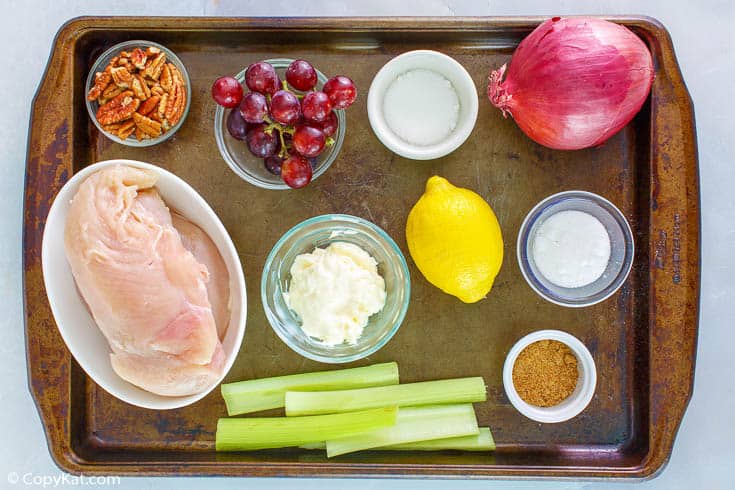 How to make Newk's Chicken Salad
For the best-tasting chicken salad, you must prevent the flavor of the chicken from getting lost among all the other ingredients. That means the method you use for cooking the chicken is essential.
Many recipes suggest the best way of preparing the chicken is by poaching. While this method can help ensure the chicken stays moist, it tends to leave the meat waterlogged and tasteless. A better option is this unique (but simple) method that combines careful sauteing and steaming.
How to cook chicken for chicken salad
Start by removing the chicken from the fridge. While it is coming up to room temperature, lay a sheet of cling wrap on a cutting board. Place the chicken on the cutting board and lay another sheet of cling wrap on the top. Use a meat pounder or a rolling pin to gently pound the chicken into a uniformed thickness. Don't hit too hard, or you will tear the meat and spray chicken juice all over your kitchen!
Heat a saute pan that is large enough to cook all the chicken in a single layer over medium-high heat. While the pan is heating up, season the chicken generously with salt and pepper on both sides. When the pan is hot, add enough olive oil to coat the bottom and place the chicken in the pan.
Cook for exactly one minute, turn the chicken over and reduce the heat to low. Cover the pan and set a timer for 10 minutes. When the timer beeps, turn off the stove but leave the cover on the pan for another 10 minutes. When the time is up, remove the lid, and the chicken should be perfectly cooked through without being dried out.
Let the chicken cool and then pop in the fridge for at least an hour before making the chicken salad.
Other hints for serving and storing chicken salad with grapes and pecans:
Toasting or grilling the slices of bread you use to make a sandwich will help prevent them from getting soggy.
Store any leftover chicken salad in an airtight container for up to three days in the fridge.
Turn the chicken salad into a pasta salad by adding any cold, cooked short pasta.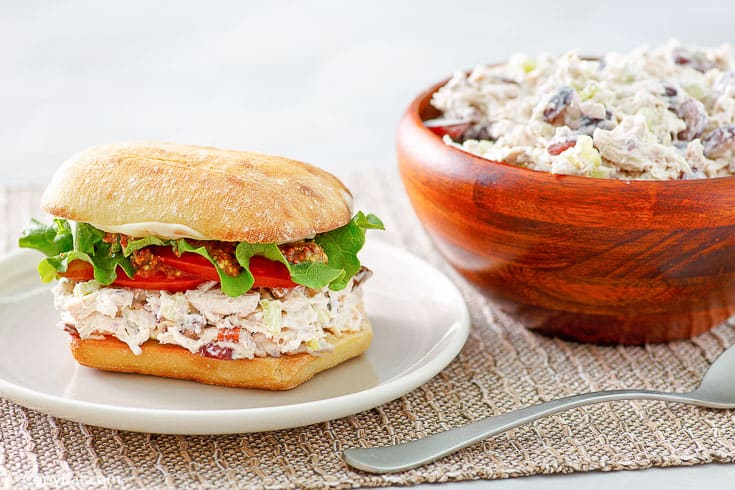 Love chicken salad? Make these recipes
More Salads with Chicken:
Popular Sandwiches
Find the best restaurant salad recipes and popular chicken recipes.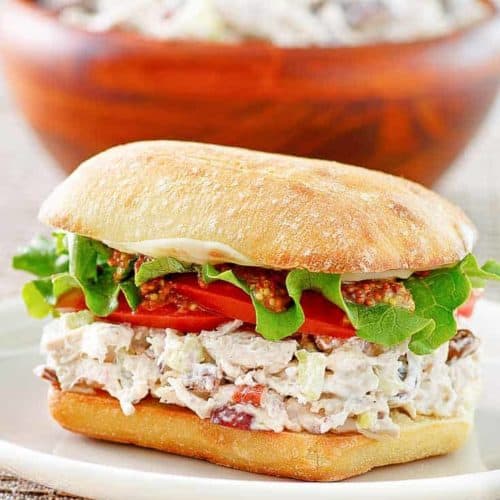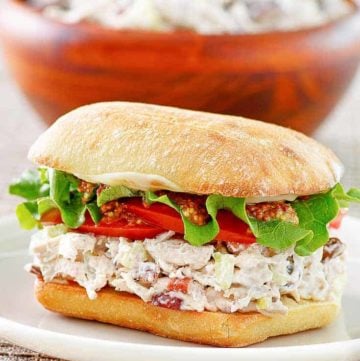 Ingredients
3

teaspoons

lemon juice

2

cups

mayonnaise

1/2

teaspoon

ground black pepper

1

teaspoon

sugar

1/2

teaspoon

salt

1

teaspoon

seasoned salt

2.5

pounds

cooked white chicken

3/4

cup

chopped pecans

1/8

cup

diced red onion

3/4

cup

finely diced celery

1

cup

sliced red grapes
Instructions
In a medium-sized bowl combine lemon juice, mayonnaise, ground black pepper, sugar, salt, and seasoned salt.

Stir the salad dressing very well.

Add in the cooked white chicken, chopped pecans, diced red onion, finely diced celery, and stir well. After the salad is well combined, gently fold in the sliced red grapes.

Placed the salad in an air-tight container, and allow the salad to rest in the refrigerator for at least 30 minutes before serving.
Recipe Tips for the Cook
Additional tips for making chicken salad. 
Want super tender chicken salad, start with cooked chicken tenders. 
Toast the pecans so their flavor really pops. 
Nutrition
Calories:
505
kcal
|
Carbohydrates:
5
g
|
Protein:
25
g
|
Fat:
42
g
|
Saturated Fat:
6
g
|
Cholesterol:
91
mg
|
Sodium:
771
mg
|
Potassium:
511
mg
|
Fiber:
1
g
|
Sugar:
4
g
|
Vitamin A:
107
IU
|
Vitamin C:
3
mg
|
Calcium:
20
mg
|
Iron:
1
mg