Dairy Queen Dude is a chicken fried steak sandwich that's a tasty take on your everyday hamburger. When I was in college I worked at a Dairy Queen. I made plenty of sandwiches like these while I was there, this tastes just like them.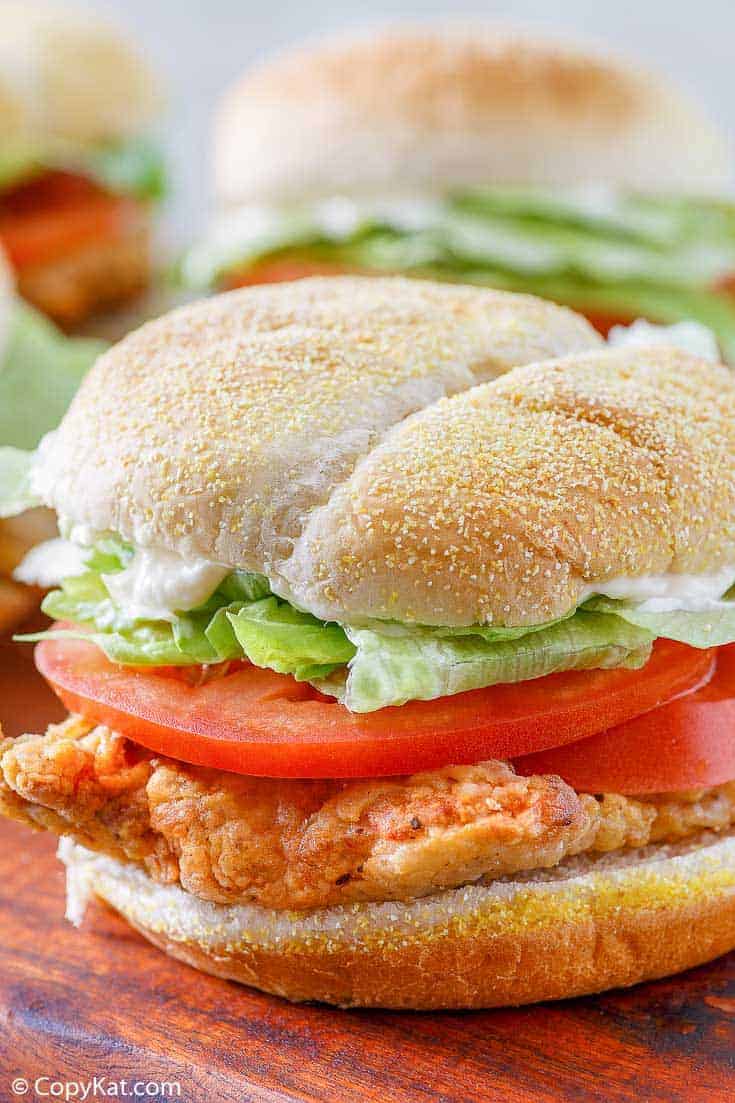 The Best Chicken Fried Steak Sandwich
A chicken-fried steak sandwich is a classic living in the southern part of the country. While you can't have a full-on chicken fried steak at any meal, you can have a Dairy Queen Dude chicken fried steak sandwich whenever you like.
By dipping steak cutlets into buttermilk and seasoned flour you get a tangy and crunchy crust that is difficult to beat.
What Is a DQ Dude?
The DQ Dude is a chicken fried steak sandwich they sell at Dairy Queens in Texas. It's quite a treat! If you are ever in Texas, stop in at a DQ and try one. If not, you can always make your own at home with my copycat recipe.
How To make a Dairy Queen Dude Sandwich
This is one of the easiest sandwiches you'll ever make. It's a delicious lunch or dinner. Here's how I made my favorite chicken fried steak sandwich.
Ingredients
Beef cutlets – You can use any type of beefsteak for them. Top sirloin, cube steak, or round steak are all perfect options.
Flour – If you eat a gluten-free diet, you can substitute with your favorite gluten-free flour, including almond flour.
Buttermilk – If you don't have any, you can make your own with milk and vinegar. Just add about a teaspoon of vinegar to your milk. Then, stir it until it curdles a little.
Hamburger Buns – Use your favorite kind. For a fun twist, you can use pretzel buns.
Hamburger Toppings – Add all the toppings you love, including tomatoes, mayo, and pickles.
Make chicken fried steak
The most time-consuming part of this recipe is making the chicken fried steak. This is really easy though.
All you do is dredge the steak through the flour mixture, then the buttermilk, and then the flour mixture again.
Let your meat rest for about 10 minutes before frying it.
Then, fry the steaks in hot oil. After both sides are crispy, let them cool and drain on paper towels.
You are going to love this recipe!
Favorite Copycat Steak and Burger Recipes
Favorite Copycat Treat Recipes
Look for more burger recipes and ice cream recipes here on CopyKat.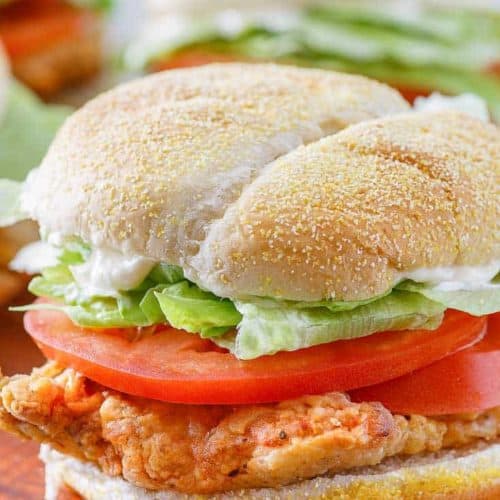 Ingredients
4

4 ounce

tenderized beef cutlets

- you can use top sirloin, cube steak, round steak

2

cups flour

1

teaspoon

salt

1/2

teaspoon

pepper

1

cup

buttermilk

1/2

cup

water

4

hamburger buns

8

slices

tomatoes

8

pieces

iceberg lettuce

4

tablespooons

mayonnaise

vegetable oil

for cooking
Instructions
Preheat oil in a deep skillet to 350 degrees. Add enough oil to cover the bottom 1 1/2 inches of the pan. Prepare seasoned flour by adding flour, salt, and pepper in a shallow dish. Stir dry ingredients together with a fork. In another shallow dish mix together the buttermilk and the water. Season beef cutlets with salt and pepper.

Dredge the meat in the flour, then the buttermilk, and then the flour. Ideally, allow the floured cutlets to rest for 10-15 minutes before cooking. Cook meat cutlets in the hot oil, flip over when the bottom has browned. When both sides are browned remove and allow cooked meat patties to drain on paper towels.

Assemble the sandwich by placing the chicken fried steak patty on the bottom bun, then build by adding 2 sliced tomatoes, and then the lettuce. Spread mayonnaise on the top bun and place the top bun on the sandwich. Variations: You can add pickles and onions, and even a slice of cheese.
Nutrition
Calories:
544
kcal
|
Carbohydrates:
30
g
|
Protein:
30
g
|
Fat:
34
g
|
Saturated Fat:
19
g
|
Cholesterol:
76
mg
|
Sodium:
940
mg
|
Potassium:
728
mg
|
Fiber:
2
g
|
Sugar:
9
g
|
Vitamin A:
1140
IU
|
Vitamin C:
11.1
mg
|
Calcium:
177
mg
|
Iron:
4
mg