White Castle Hamburgers are perfect anytime really. These mini-sized hamburgers are known as sliders. They are some of the first ones that were created. So you can see where everyone else got their inspiration from.
No need to run out of the house to by these famous hamburgers. You can enjoy these classic sliders straight out of your own kitchen.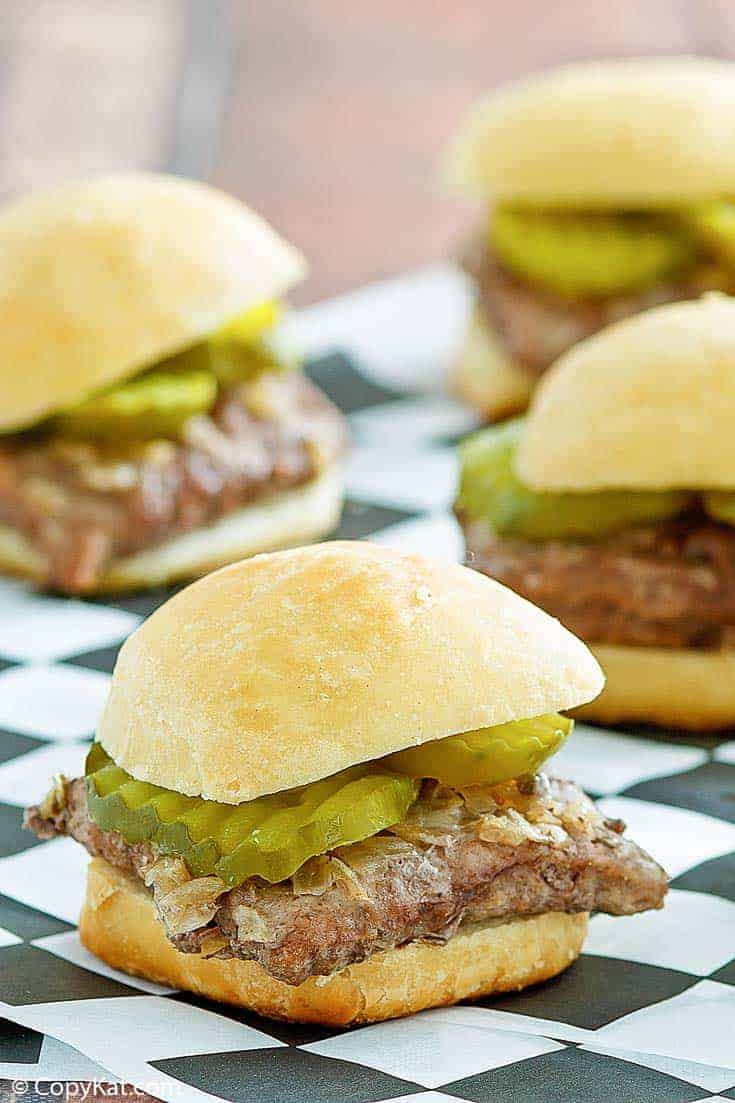 White Castle Burgers
These little sliders are incredibly addicting. If you have ever eaten at a White Castle before, you know how amazing they are.
Well, now you can make your own White Castle hamburgers right in your own kitchen. I'll even show you how to make the hamburger patties nice, thin, and square. These homemade mini burgers taste like takeout from the restaurant.
What are the ingredients in a White Castle burger?
The ingredients are pretty straightforward and simple.
Ground Beef
Water
Salt
Onion
Beef bouillon
Dill pickle slices
Dinner rolls
That's it!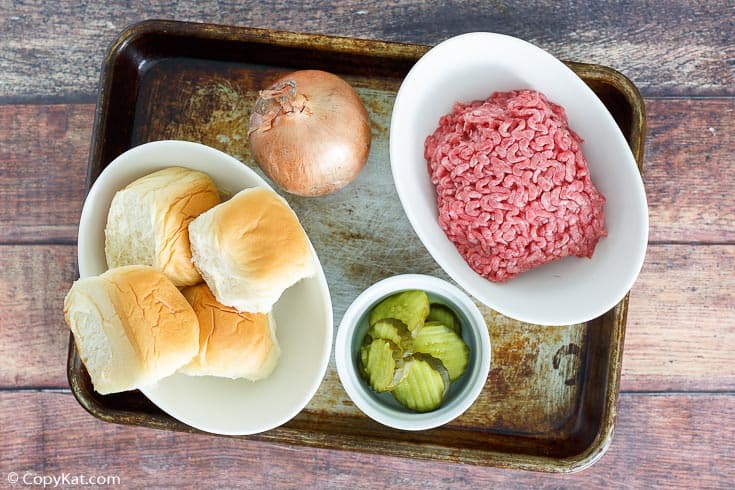 Best Buns for Sliders
Use dinner rolls for them. They are a perfect size and look just like the real thing. Some people like sweet rolls. But White Castle doesn't use sweet rolls. If you want to stay authentic, use regular dinner rolls.
How to Make White Castle Burgers at Home
One of the most difficult things about making homemade burgers is making the beef patties stay thin. White Castle hamburgers are known for being really thin.
To do this, I actually use a food processor to mix my ground beef up with some salt and water. Watering down the beef helps them stay flat when you fry them.
Then, I roll out the beef mixture to 1/4-inch thick and cut it into 3-inch square patties. You need them to be this size or else they won't look right.
Another thing that keeps the patties thin is poking holes into them. This gives the meat some steam holes so they don't swell up.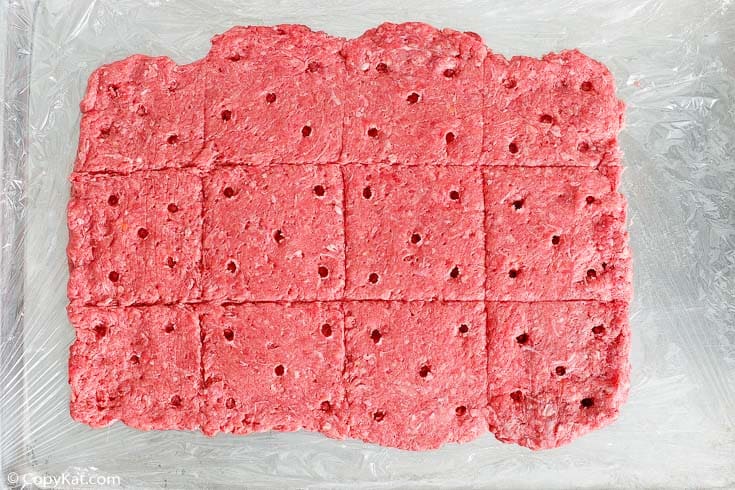 Finally, fry your beef patties in a pan with water in the bottom.
Believe me, if you follow these steps, you will have the most amazing little patties.
How do you dice the onions so small?
I prefer to use a food processor to chop my onions this small. I know there are lots of hacks for chopping onions and not crying, but it's easier to let the food processor do the work for me.
You can also buy frozen chopped onions, saving you all the work entirely.
Once the onions are diced, they are cooked with beef bouillon for authentic White Castle flavor.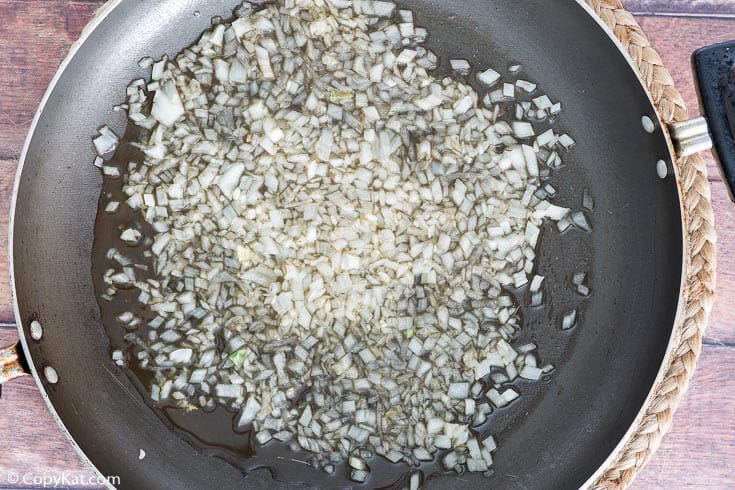 How do you make White Castle burgers in the oven?
The most authentic way to make them is by frying the patties. But if you want, you can bake them in the oven too.
Thyme for Cocktails has a fantastic recipe for them. Basically, it involves baking the hamburger meat on a cookie sheet and then cutting them up into squares after.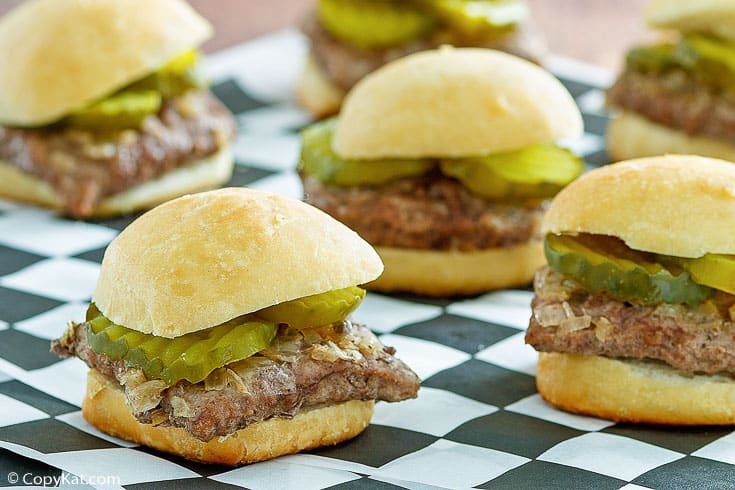 Popular Fast Food Recipes
Want to try some more fast food recipes? Here are some of my favorite ones.
Homemade Burger Recipes
Check out all my restaurant copycat recipes and tasty game day eats.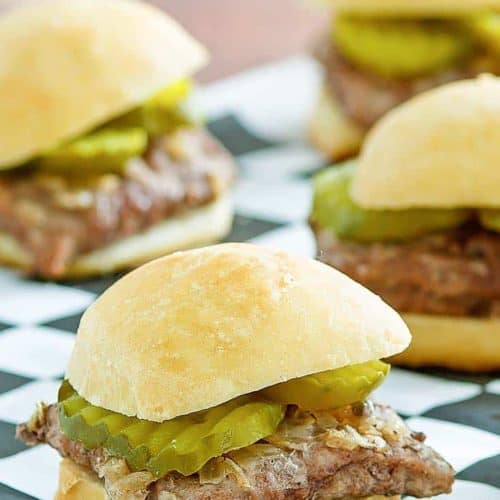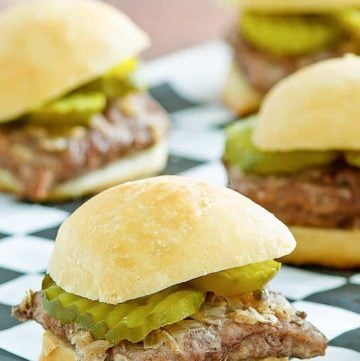 Ingredients
1

pound

ground beef

1/2

cup

water

for beef

1/2

teaspoon

salt

3/4

cup

onion

diced

1

beef

bouillon cube

1/2

cup

water

for onions

12

dinner rolls

(Parker house shape, 2 1/2″ x 2 1/2″ size)

dill

hamburger

slices
Instructions
In a food processor place ground beef, salt, and water. Process for a few seconds so water and salt are blended through ground beef and meat should look a little pasty.




Place plastic wrap on the bottom of an 11 x 13-inch jelly roll pan. Place blended hamburger in the middle and cover it with another piece of plastic wrap. Roll the hamburger out to 1/4-inch thick.

Remove the plastic wrap and cut the meat into 3-inch squares. Leave the ground beef pieces on the tray. You should get between 12 and 14 squares.

Perforate each piece five times with the end of a plastic straw, this will give the meat little steam holes. Cover the hamburger with plastic wrap and place it in the freezer until the meat is partially frozen but not solid.

Place onions, beef bouillon, and 1/2 cup water in a frying pan over medium-low heat. Saute and stir onions until they are clear, more water may be added as needed. Turn the heat off until ready to cook hamburger patties.

When beef patties are ready to prepare, turn the heat to medium-low heat and add enough water to onions just so the bottom of the frying pan is covered. Place patties in pan and cover with lid. Frying time is just a few moments.

Turn the patties and cook until done but not dry. The patties should be juicy. When hamburgers are finished cooking, place on top of a roll, add pickles, cover hamburgers so they will steam slightly or pop them in the microwave covered just for a few seconds until ready to serve.
Nutrition
Calories:
652
kcal
|
Carbohydrates:
62
g
|
Protein:
30
g
|
Fat:
30
g
|
Saturated Fat:
10
g
|
Cholesterol:
80
mg
|
Sodium:
1106
mg
|
Potassium:
498
mg
|
Fiber:
5
g
|
Sugar:
3
g
|
Vitamin C:
2.2
mg
|
Calcium:
254
mg
|
Iron:
6.8
mg