Starbucks Iced Toasted White Chocolate Mocha is a delicious and creamy coffee drink. There's no need to go to the coffee shop when you can make this tasty drink at home and save money too!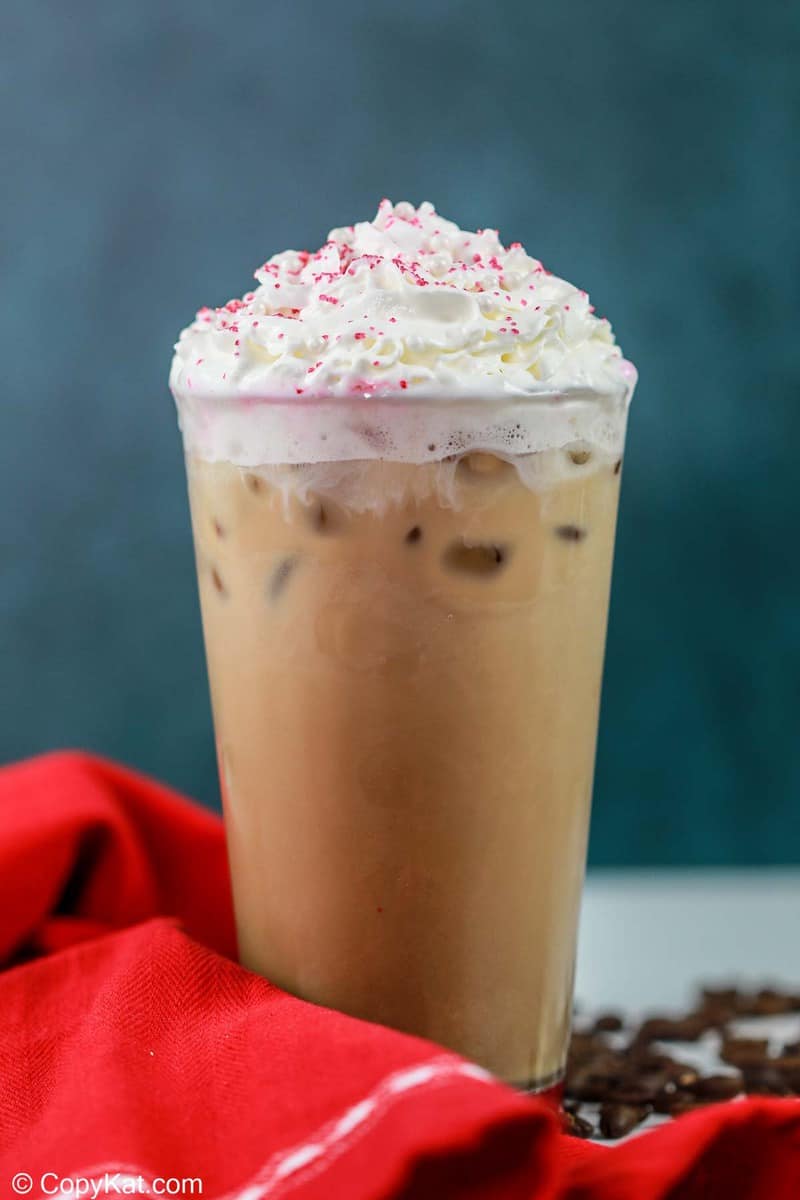 This post contains affiliate links. As an Amazon Associate, I earn from qualifying purchases.
Starbucks Coffee Drinks
It's getting to the point where it seems every month Starbucks is introducing a new flavored coffee drink to its menu. Many come and go, but a few of them are good enough to stick around, at least in some areas.
The Iced Toasted White Chocolate Mocha is one of them. This espresso-based drink combines silky smooth white chocolate sauce with luscious caramel sauce and tops it all off with whipped cream and festive holiday sugar.
If the location near you doesn't offer this drink all year round, don't worry, you can make it using this homemade Starbucks Iced Toasted White Chocolate Mocha recipe.
How Does Toasted White Chocolate Mocha Taste?
With white chocolate and caramel sauces, whipped cream studded with pearl and sanding sugars, milk, and espresso, drinking a Toasted White Chocolate Mocha is a bit like sipping a high-end candy bar.
Is it sweet? Absolutely, but the bitterness of the espresso tamps down the sweetness. The large pieces of pearl sugar add a good bit of crunch and a lovely mouthfeel.
Why This is the Best Recipe
This copycat Starbucks Iced Toasted White Chocolate Mocha recipe is spot on when it comes to matching the flavor and texture of the original drink. And in this drink, getting the texture right is a big deal.
It's just not the same beverage without pearl sugar and the larger granules of sanding sugar. Many other recipes for this drink don't include both types of sugars; a huge mistake.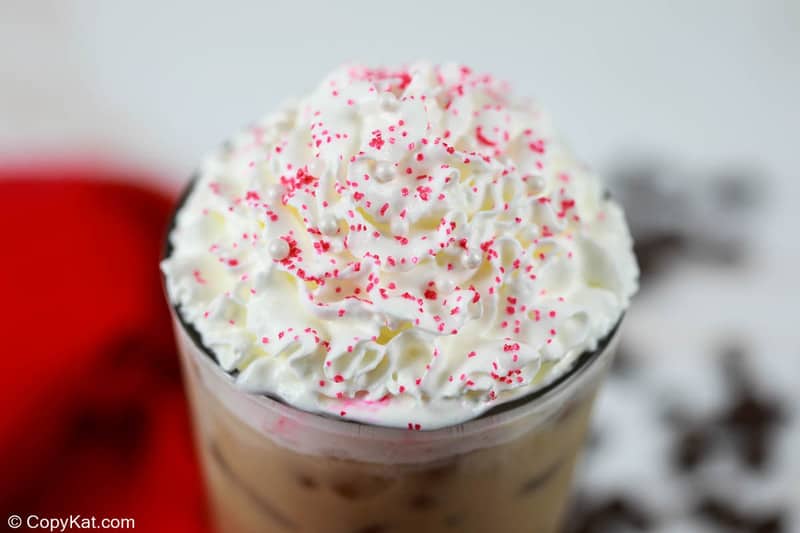 Recipe Ingredients
A few ingredients in the Starbucks Iced Toasted White Chocolate Mocha recipe are a bit unusual. Read the notes below to find out more.
To make an Iced Toasted White Chocolate Mocha, you will need:
Espresso or strong brewed coffee
Milk – Starbucks uses 2% milk, you can use whole milk if you desire, milk with less fat tends to froth better. So if you have skim milk it will also work well.
Whipped cream
Red sanding sugar – if you can find them try some holiday sugar sparkles
Ice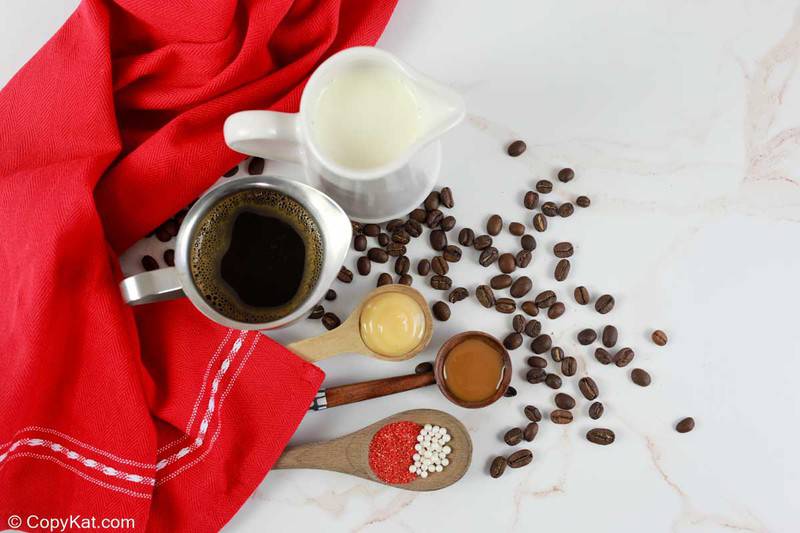 Ingredient Notes
Select sauces that are particularly formulated to work in iced coffees. Ghirardelli White Chocolate Sauce and Ghirardelli Caramel Flavored Sauce are both highly-rated options, but, of course, you can choose your favorites.
Both the red sanding sugar and the sugar pearls are rather unusual ingredients in most kitchens.
Sanding sugar is nothing more than larger granules of dyed everyday sugar, like Wilton Sprinkles Red Sanding Sugar.
But things get a bit complicated when talking about pearl sugar. The pearl sugar you want for this recipe is decorative pearl sugar, like Wilton Sugar Pearls, not the type of pearl sugar you can find in liege waffles.
How to Make Starbucks Iced Toasted White Chocolate Mocha
Fill a tall glass with ice and add white chocolate syrup.
Add caramel syrup.
Add espresso.
Add milk. Stir until everything is combined.
Top with whipped cream.
Sprinkle red sanding sugar and sugar pearls on top.
Tips for Frothing Milk Without a Fancy Milk Frother
You can find an inexpensive milk frother online, but if you don't want to buy one, you can still get a decent froth for your coffee drinks by using things you probably already have in your kitchen.
French Press Method
Pour warm milk into a French Press Pot no more than a third of its total volume. Hold the press pot firmly on the counter with one hand and move the plunger up and down. After about 20 to 30 seconds, you will have good quality froth.
Jar Method
Pour the warm milk into a jar with a lid. Make sure you don't fill the jar more than a third full. Put the cover on the jar and shake vigorously for a minute or two. The quality of the froth is lower than the French Press Pot method above, but it is a good alternative if you don't own one.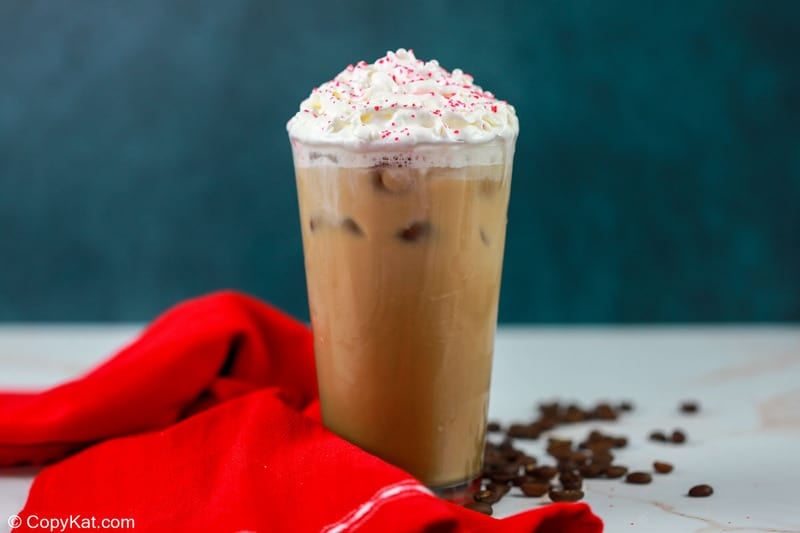 How to Make Stronger Coffee Using a Brewer You Already Own
You can shell out hundreds of bucks on an espresso machine or use instant espresso powder in this recipe, but there are also a few tricks to brewing more robust coffee from the brewer you use every day. These tips will work whether you use a drip, manual pour-over, or French Press Pot brewing method:
Change your style. Darker beans mean a more robust flavor. Look for Italian and French roasts for the full-body flavor you want. Don't worry. Darker roasts only taste stronger. They actually contain slightly less caffeine than lighter roasts.
Increase the amount of coffee you use. An extra scoop or two of coffee grounds is a sure-fire way to give your coffee an extra-bold taste. Remember to keep the amount of water and brewing time the same.
Use a metal filter. Paper filters can block the oils from the coffee from passing through to the cup. These oils are essential for creating a stronger, bolder cup, so it is worth picking up a metal filter for your coffee machine.
What Goes With an Iced Toasted White Chocolate Mocha?
You don't want anything too decadent on the side to compete with the flavor of this drink. A crisp almond biscotti or a good shortbread cookie is an ideal pairing.
I hope you give this recipe a try. While this may be one of those holiday drinks Starbucks serves, you can enjoy this drink any time of year.
More Starbucks Frappuccinos and Iced Drinks
Favorite Fast Food Drinks
Check out more of my easy recipes for drinks and the best Starbucks recipes here on CopyKat!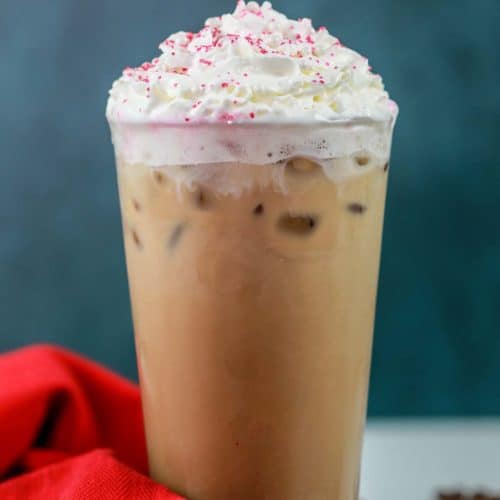 Ingredients
2

tablespoons

white mocha syrup

1½

teaspoons

caramel syrup

2

ounces

espresso

1

cup

milk

¼

cup

whipped cream

¼

teaspoon

red sanding sugar

1

teaspoon

sugar pearls
Instructions
Fill a tall glass with ice.

Add milk. Stir to combine.

Top with whipped cream.

Sprinkle red sanding sugar and candied pearls on top.
Nutrition
Calories:
355
kcal
|
Carbohydrates:
57
g
|
Protein:
8
g
|
Fat:
12
g
|
Saturated Fat:
7
g
|
Polyunsaturated Fat:
1
g
|
Monounsaturated Fat:
3
g
|
Cholesterol:
36
mg
|
Sodium:
179
mg
|
Potassium:
445
mg
|
Fiber:
1
g
|
Sugar:
48
g
|
Vitamin A:
509
IU
|
Vitamin C:
1
mg
|
Calcium:
304
mg
|
Iron:
2
mg